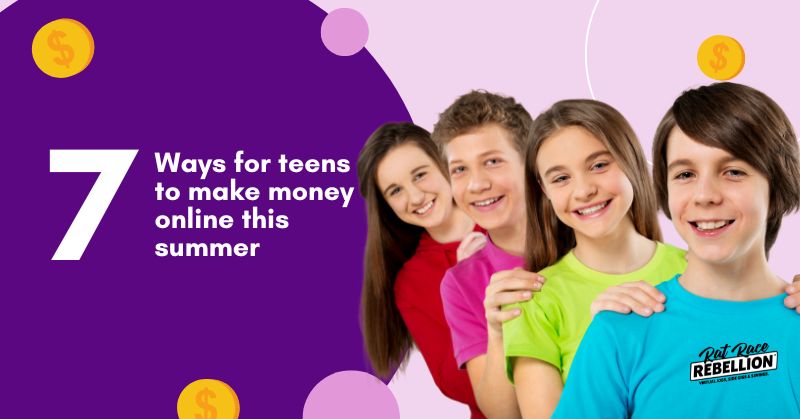 By Laura Durst, Contributor       Jul. 5, 2022
Summer is a fantastic time for teenagers (in some instances, as young as 13) to jump into making their own cash – whether to tuck some cash aside for a car or to purchase that new Playstation game everyone is talking about, there are a number of safe online avenues to earn money while at home or in a local coffee shop. This list is not exhaustive, but is a really great place to begin your search.
U-haul (ages 16+)
One of the more conventional options of the list here, U-haul regularly hires teenagers from ages 16 and up to work as a remote customer service representative. There are some requirements that need to be met to be considered for employment – these include required minimum internet speeds, access to a high quality headset, software that isn't run by Mac, and a secure wi-fi connection. As a customer service position, there are scheduling requirements as well. For example, if you provide customer service support for Arizona, you would need to be sure to have availability to work in accordance with Arizona's time zone.
The following job description is taken directly from U-haul:
"Start helping customers as soon as the first week after self-paced and instructor-led education and participate in professional development with weekly coaching and ongoing education. This is a part-time position and is 100% work from home – perfect for students and teachers, or someone looking for a second job!"
Pay starts at $13/hr with the opportunity to earn more based on sales. Also worth noting is that full time employment with U-haul provides access to some robust benefits and discounts. These include discounts for cell phone plans, computers, hotel discounts, car discounts, and a discount when using U-haul for moves.
To apply, click this link and then > search for call center jobs and note under the subcategory that you are looking for "customer service and sales – work from home."
---
Etsy (Ages 13+ with parent or guardian sponsorship)
A staple of the homemade community, Etsy is a space where individual entrepreneurs and makers sell a variety of products ranging from bath products, baking mixes, print shirts, purses, crocheted dolls, jewelry…the list is practically endless. For young people with a talent in the arts, creating an Etsy shop is a low risk place to grow in entrepreneurship. Teenagers across the United States are using the platform to build up a clientele and are growing a business – just take a look at the link here for real examples.
The policy for teenagers between the ages of 13-17 is as follows, though you are encouraged to take a look yourself by following this link:
Minors between the ages of 13 and 17 are permitted to use Etsy's services only if they have the appropriate permission and direct supervision of their parent or legal guardian. The account must be registered with the parent or legal guardian's information.
Their parent or legal guardian is responsible for any and all account activity conducted by a minor on the account.
If your child is between the ages of 13 and 17 and wishes to use Etsy, the account must meet the following criteria:
All financial information on the account must be under the parent or legal guardian's name. 
The full name on the account must be the parent or legal guardian's name. 
If a minor has a shop, the parent or legal guardian must be listed as the owner on the shop's About page. Minors may not be listed as a shop owner. 
The email address on the account must be registered to the parent or legal guardian. 
So if you are a felting fanatic, embroidering entrepreneur, or woodworking wonder and think Etsy might be a great place for you to begin, click this link and explore what opening an Etsy shop looks like. Keep in mind that if you are 13-17, a parent or guardian must be a part of the journey as well.
---
Taking Surveys Online (ages 13+) 
Maybe you have a little less time this summer to earn, but the sound of a little extra cash is calling your name. Taking surveys online about products, games, and lifestyle is a great way to accrue points or cash that can be cashed out in the form of gift cards or personal checks. The following sites have surveys that can be completed in the time it takes it wait in line for a latte or can be substantially longer. One thing to note is that the more in depth the survey is, the higher your earnings.
Swagbucks (ages 13+) – by signing up for Swagbucks and completing a short profile, users may be tasked with watching entertaining videos, playing games, searching the web, or answering surveys. Upon completion of a task, the user will be awarded with points applied towards to gift cards ranging from Walmart to amazon to PayPal.
Survey Junkie (ages 13+) – after signing up and completing a short profile, users start completing surveys for small monetary amounts that can be cashed out for gift cards or transferred directly to a bank account.
Lifepoints (ages 18+) – directly in line with the two prior named survey sites, Life Points pays users for contributing to customer research through PayPal gift cards.
---
Slice the Pie (ages 13+)  You have opinions about the songs on the radio, TikTok, and YouTube. You see accessories and fashion statement clothing and think, "never ever in my life" or "where can I get that?" Slice the Pie is a company that pays users from ages 13 and over for expressing their honest and well written opinions about songs, fashion items, accessories, and commercials BEFORE they are released to the public. That feedback goes directly back to the designer or artist in question. Once you have earned at least $10 in reviews, you can cash out your account via paypal. Please note that  you must use a PC to access Slice the Pie, though the site does note that mobile apps are coming soon.
---
Mistplay (ages 13+) – Mistplay is an app where users download games, play through those games, and earn rewards for doing it. Games and offers on the app are region specific, and users must choose games available in the Mistplay library to earn. Please note that the only offered pay out available for Mistplay is gift cards, and is only available as of now to google play/ android users.
---
---
Website Testing (Ages 18+) If you have the time to help web developers find bugs, flaws, or ways to improve user experience, this is another possible avenue to make money online from home. One example is Usertesting – after submitting a quick application by taking a sample "test", users browse testing opportunities. Once you begin to accrue cash for completing tasks, pay can be deposited via Paypal.
---
Fiverr (ages 13+) – If you have a skill, you can promote and sell it on Fiverr.
Fiverr is a popular site that enables people to sell their skills to a global marketplace of buyers. Many people list their price at $5, but you can charge more.
In their words,
Be creative! You can offer any service you wish as long as it's legal and complies with our terms.
Maybe you'd be a great spokesperson for companies selling to teens.
If you're a gamer who has a talent for a particular game, sell your strategies to other gamers.
If video isn't your thing, perhaps you'd like to do voiceover work.
Perhaps you're a mathematical ace who can help other teens understand math in a way their parents and teachers can't.
You could use your art skills to create logos or make custom drawings of people's pets.
There are over 100 categories you can browse to get ideas… Sign up for free, set up your Gig, and offer your work to our global audience.
Please note – this is an open online marketplace. Be sure to ask your parents or guardians to help you ensure you're sending the right message and not communicating with people who don't have your best interests in mind. There is money to be had on Fiverr for people who can code, transcribe, or do basic data entry, but it is always vitally important to protect yourself online first.
Before leaving you to your job hunting, I suggest doing a quick Youtube search to hear from teenagers across the world making money online in ways beyond influencing, making videos, and streaming games. A quick search "successful teenagers on Fiverr" produced some really interesting videos to watch and to learn from. There is a wide community of teenage entrepreneurs online – take a moment to learn from them before taking that big jump. Best of luck!
---
For more work from home jobs and gigs, see our Newest Jobs & Gigs page. To be the first to hear about jobs like these, like our Facebook page and check your feed for our posts. May you be working from home soon!
PLEASE SHARE this post – turn your friends into Rat Race Rebels!