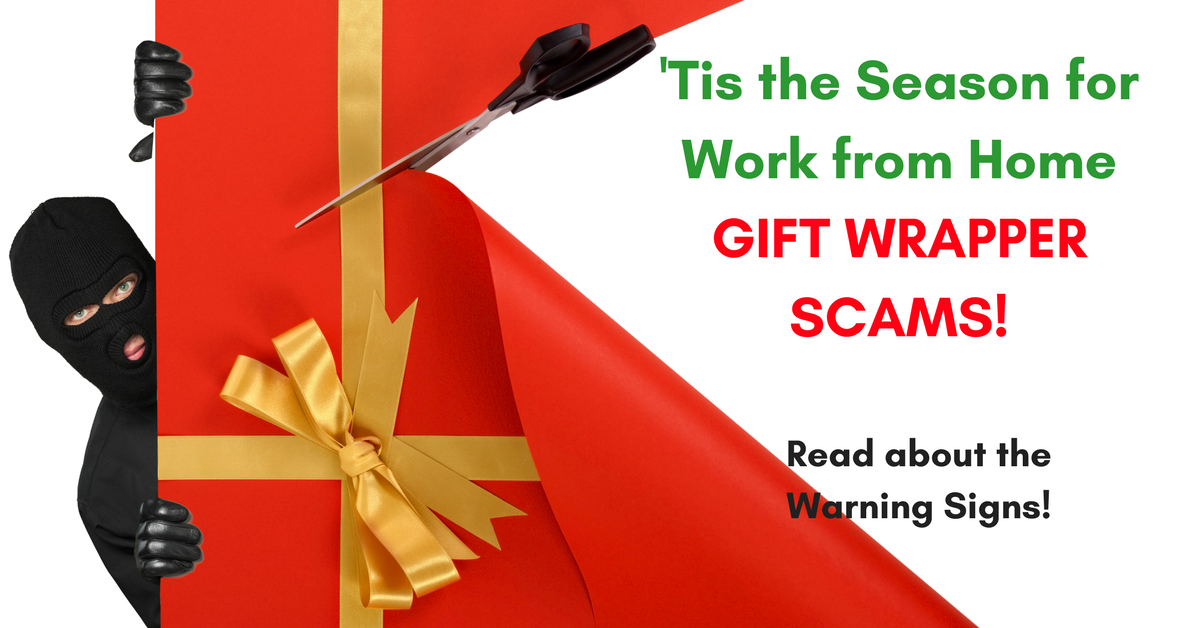 For some real work from home jobs, see our recent post, U-Haul Now Hiring More Part-Time Work from Home Agents
by Chris Durst Nov. 3, 2017
Work from Home Scams — This One is Making the Rounds Now — Don't Be a Victim!
This week, we've heard from several people who have been offered "Gift Wrapper" jobs from a "printing company."
Unfortunately, this is a popular scam this time of year and you need to be VERY careful about these types of offers.
WORK FROM HOME GIFT WRAPPING USUALLY = REPACKAGING SCAM
Right off the top, it's important that you know that "Wrapping" jobs — where the company proposes to send items to your home for unpacking, gift wrapping, and shipping — are usually "REPACKAGING SCAMS." (Note: Most REAL gift wrapping jobs are on-site in stores where customers can have gifts wrapped while they wait.)
Essentially, they want you to receive packages and sometimes even go to a retailer to pick up items they have purchased. Then, you will:
Unpack the items
Remove ALL paperwork – instructions, warranties, everything
Scan and send them receipts, and copies of all paperwork removed from the package
Pack the items in a different box and wrap in wrapping paper (not all repackaging scams involve gift wrapping)
Send the items to the addresses provided (some may be overseas)
Any alarms going off? They should be!
Screened Ad: Get Paid to Answer Simple Questions – Ipsos i-Say: Answer simple opinion questions for points redeemable for rewards like PayPal cash or a wide variety of gift cards. Another legitimate extra-income option.
The items you're receiving have been bought with stolen credit cards. And you, if you reship them, have just become involved in the distribution of stolen goods.
But that's not all – it's the scam that keeps on giving!
If you are shipping overseas and you've removed the paperwork and repackaged for shipping, you are also defrauding Customs. How? The items are being sent as "gifts" instead of purchased merchandise.
In a nutshell, your "job" is to commit several crimes, and to help the con men get away with theirs. Oh, and did I mention, you won't really get paid, either?
So there you have it, dear Rebels. Steer clear of this scam and any others that carry the same or similar earmarks, and stay safe! For some legitimate work from home jobs, see our Newest Jobs & Gigs page. May you be working from home soon!
PLEASE SHARE this post – turn your friends into Rat Race Rebels!