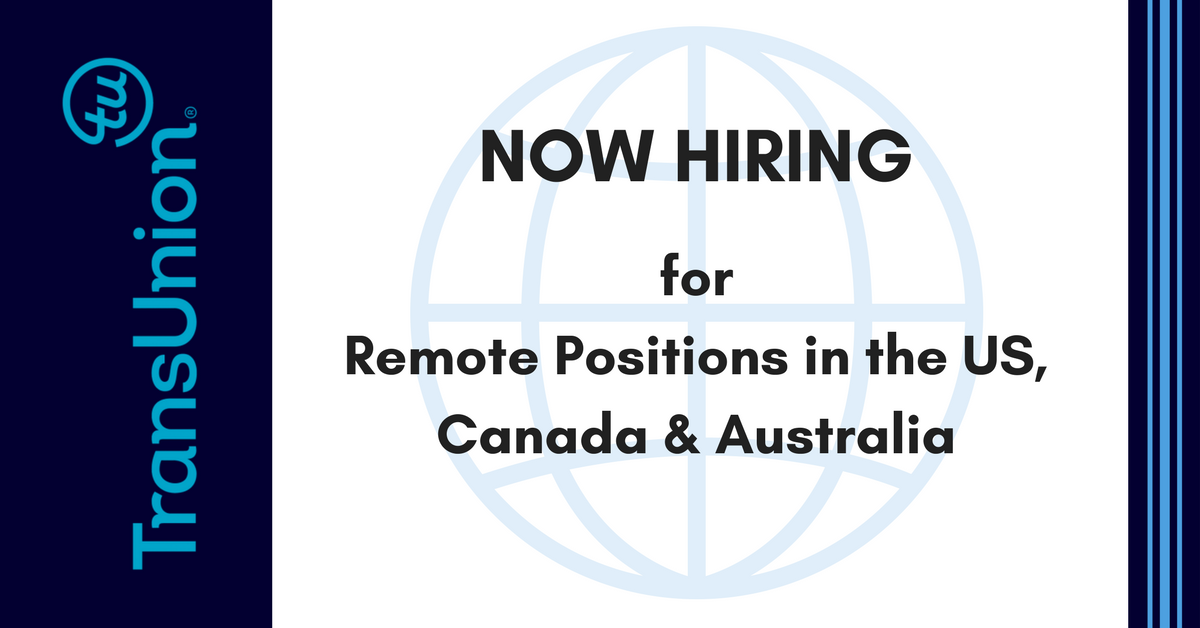 by Chris Durst      Feb. 9, 2018
If you have ever run your credit report, you are probably familiar with TransUnion – they're one of "the three" credit reporting agencies (along with Equifax and Experian).
The company hires remote employees in the United States, Canada, and in Australia for a variety of positions in Sales, Analytics, Technology, Corporate and other areas of expertise.
Here's what they have to say about their hiring process:
"Our Candidate Promise
Timely communication – If you're qualified for a position, you can expect to hear from us promptly after applying and throughout each stage of the hiring process
Future consideration – If your unique background does not currently meet our needs, we will continue to review your application and reach out when an opportunity does become available
Realistic Job Preview – We will provide you with an honest and candid preview of the position at hand
Fairness – You will be treated fairly for employment opportunities
Positive Candidate Experience – You will be treated with respect and care during the recruiting process
Positive Onboarding Experience – We will give you the tools you need to succeed on Day One"
To see all of their remote jobs, click here > type the word REMOTE into the "Location" field and you'll see the various country options > select the country you would like to see the remote jobs in and the list of jobs will automatically adjust to show your choice.

PLEASE SHARE this post – turn your friends into Rat Race Rebels!