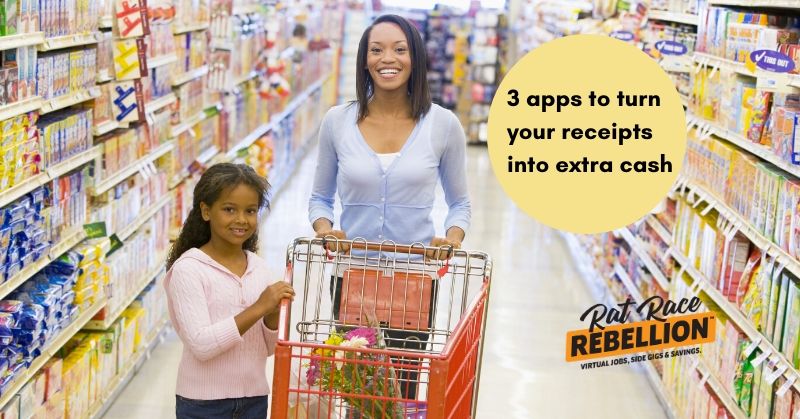 By Mike Haaren, Co-Founder Rat Race Rebellion – Updated Feb. 25, 2020
Are you looking for simple ways to get extra income for frills or bills? Scanning your store receipts is probably one of the easiest.
Here are three apps that will help turn some of your outgoing cash (aka purchases) into PayPal cash, Visa gift cards, and other rewards. (The links below include affiliate links, which pay us a small fee if you use them. Helps us keep the computers running. Thanks!)
Not everyone has to make a car payment or put a child through college. But we all have to eat. That's where Fetch comes in. It's all about the groceries. If you decide to sign up, enter the promo code FETCH3K to get $3.00 free in your account.
Grocery expenses are among the biggest that many of us face. Fetch simplifies things by automatically reviewing your receipts for any participating brand, product or special offer. Just snap the receipt, and the app does the rest. Redeem your points for Visa or MasterCard gift cards, or cards for Amazon, Kohl's or hundreds of other brands. Refer a friend for $2 for each of you. For Android, click here.   For iOS, click here.
Ibotta has been around for years. But if you're not using it yet, you probably should — and take advantage of the $10 welcome bonus. They also give PayPal or Venmo cash rewards for purchases at any of 300 retail chains, restaurants, movie theaters, convenience stores, home improvement centers, pet stores, and pharmacies nationwide.
Ibotta involves a few more steps than Fetch. Before you shop, use the app to find the offers you're interested in. Buy those products or services at one of their partner retailers. Snap your receipt, and the company says you'll get the cash in your Ibotta account within 48 hours. Click here for more.
Formerly known as eBates, Rakuten also offers a $10 welcome bonus. What's unusual about the app is that it often has triple-cash-back (or more) special offers in addition to its normal cash-back percentages. And you can apply cash-back percentages after you've taken advantage of a brand's sales.
For example, for a limited time you might get 18% cash back on your purchases at, say, JCPenney — after you've shopped any holiday or other sales the store might offer. Or let's say you accept Kohl's offer of 15% off your next order if you sign up for their email alerts. You can add Rakuten's cash-back offer of 3% or 6% — or whatever it might be — on top of the brand's 15% discount. For more, click here.
No matter how you fight the good fight to keep costs down, rebates are definitely some arrows you want in your quiver. Good luck in your next extra-cash moves, and don't forget to check our Daily Jobs & Side Gigs for more!
PLEASE SHARE this post – turn your friends into Rat Race Rebels!