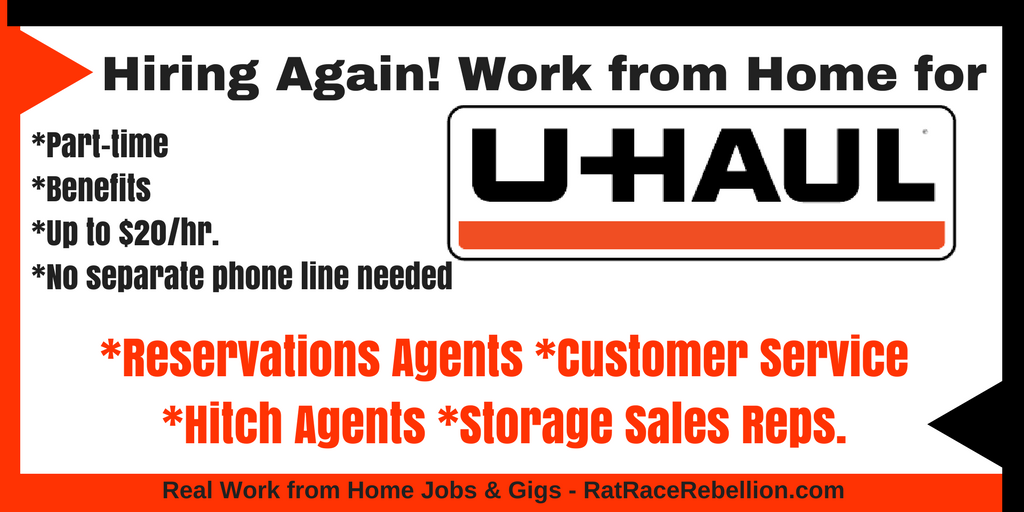 By Mike Haaren – Feb. 17, 2017
Work from Home Jobs – 4 Different Positions at U-Haul
U-Haul has listed four different work from home jobs it's hiring for. All are part-time, with benefits. No experience or college required. Paid training. No separate phone line required. "Work from anywhere in North America."
Pay reportedly ranges from $8.25 to $20 per hour (with bonuses).
The positions are:
— Reservations Agents (Incoming calls)
— Customer Service Agents (Incoming calls)
— Hitch Central Agents (Incoming calls)
— Storage Sales Representatives (Incoming calls)
Benefits
Benefits for part-time positions include:
— Limited-care medical plan
— Dental plan
— 401(k)
— Stock ownership plan
— Credit union
— U-Haul discounts
— Travel insurance
For more detail on benefits, click here.
To go straight to the jobs, click here. For a pay reference, one of our Facebook members posted about his Reservations job: "I make much more than $14/hr…. I average $20/hr and I've been doing it for 3 years." Of course, your mileage may vary, but some U-Haul jobs do appear to pay well. Good luck!
PLEASE SHARE this post – turn your friends into Rat Race Rebels!