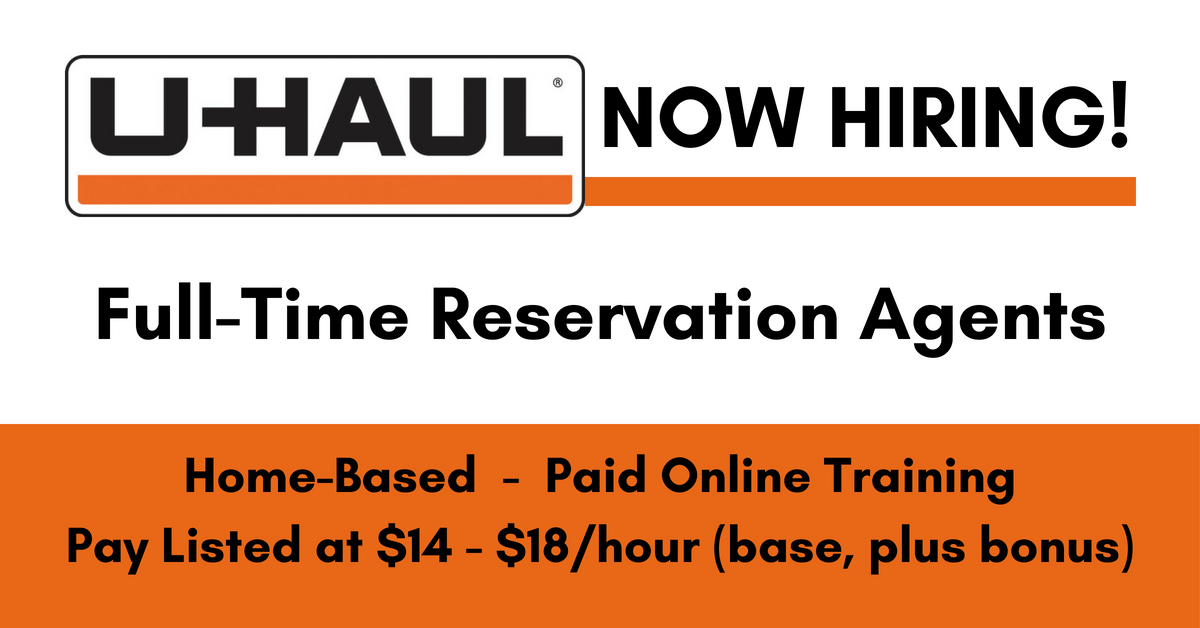 by Chris Durst      Aug. 14, 2018
U-Haul has posted openings for full-time work from home Customer Service Agents. While you do NOT have to live in Arizona, you do have to be available to work AZ time hours.
Potential to earn $14-$18 per hour average (base plus bonus)* – see details below.
Training is virtual and paid.
Here are the details from the U-Haul website:
"Reservation agents take back to back incoming calls from customers utilizing both the U-Haul toll free 1-800-GO-UHAUL number and calling specific U-Haul Moving Centers across the U.S. and Canada. Agents answer general product/rental inquiries and secure/schedule reservations for U-Haul trucks, trailers, towing devices, hitches and storage rooms. Agents maintain close working relationships with U-Haul staff and personnel while also assisting U-Haul customers with their moving and storage needs.
Full time position
Work from home (various States)
Incoming calls only – no outbound calls
Three weeks of instructor-led paid training/education
Potential to earn $14-$18 per hour average (base plus bonus)*
Preferred background
Must have one year of call center experience within last 3 years
Basic keyboarding and computer skills
Ability to navigate multiple programs at one time
Excellent verbal communication and listening skills
Clear speaking voice
General knowledge of U.S. geography
Positive business attitude
Enjoy working with people
SERIOUS ABOUT FINDING A WORK FROM HOME JOB? Then reading this post is just your first step. Be sure to check the Rat Race Rebellion DAILY JOB LEADS every day, like us on FACEBOOK, and sign up for our free daily EMAIL bulletin.
Full time requirements:
Base schedule 40 hours/5 days per week between the hours of 10:30AM to 8:30PM (Arizona Time). One day off during the week and one day off on the weekend day. Overtime scheduled as needed during peak business (up to 10 hours per day and/or up to 6 days per week).
Performance Compensation Bonus*
Week 4 thru 8 of employment – Achieve 3.0 confirmed reservations per hour worked and be paid $2.05 per piece of equipment reserved.
Week 9 of employment and beyond – Achieve 3.25 confirmed reservations per hour worked and be in compliance with a weekly monitored call, and be paid $2.05 per piece of equipment reserved.
Payment of bonus is determined weekly by the employee's confirmed equipment reservation average per hour worked based on phone talk time."
Click here for full details and to apply. For more jobs like these, check our Newest Jobs & Gigs page. To be the first to hear about jobs like these, like our Facebook page. And if you'd like to see more Customer Service Agent positions, check our Customer Service Jobs page. Good luck!
PLEASE SHARE this post – turn your friends into Rat Race Rebels!