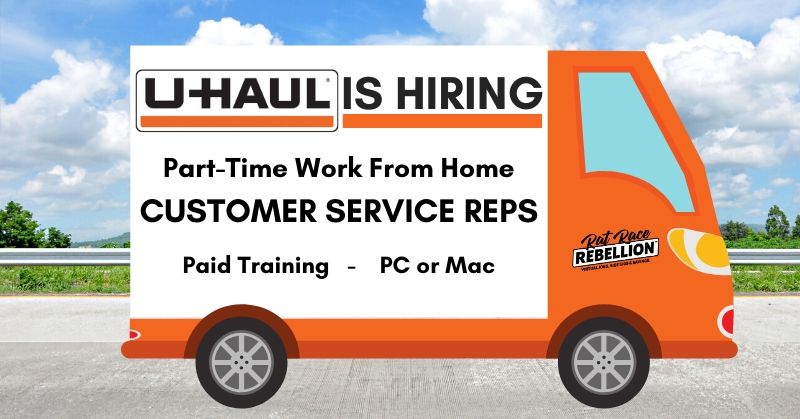 by Chris Durst         Feb. 26, 2020
U-Haul has posted openings for part-time work from home Customer Service Agents. While you do NOT have to live in Arizona, you do have to be available to work AZ time zone hours.
Pay is not listed in the job posting, however, we've heard from many RRRebels who currently work in this role — some report making over $14/hour while others report a starting rate closer to $11/hour.
Training is virtual and paid.
Hiring in all states/cities/counties except the following – CA, DC, Chicago, New York City, Seattle, and Montgomery County (MD).
Here's what U-Haul says about this opportunity:
"Are you a communicator and a problem solver? Would you like to make a living helping people, all from the comfort of your own home? If so, consider becoming U-Haul's newest Customer Service Agent!
In this role you will take back-to-back, incoming customer calls, working to resolve customer concerns & assist with post-rental help. You will provide general assistance to customers before, during, and after their rental as it pertains to customer service-related issues. Customer service agents also work internally with company team members as needed and assist them with resolving customer concerns. Customer service agents are also required to keep detailed, written notes regarding their work with each customer. Customer service agents are also expected to assist customers with new business/sales as needed, as well as offer new products and services to existing customers.
U-Haul offers its Customer Service Agents:
Train and work from home – various schedules!
Contact center career path available including work from home!
Part-time benefits include: Medical Reimbursement Indemnity Plan, Rx Savings Plus Discount Plan, Dental Plan, Vision Plan, Retirement Savings 401(k) Plan
Training/Education:
We offer on-the-job education which allows you the opportunity to learn and begin performing some of your job duties right away while helping customers. This role offers hands-on education working with your manager from day one, and self-paced education at our very own U-Haul University online.
Customer Service Agent Minimum Qualifications:
Basic keyboarding and computer skills
Excellent verbal communication and listening skills
Clear speaking voice
General knowledge of U.S. geography
Scheduling:
Must be available between the following times, based on Arizona time.
Mon – Fri: 10 am – 8 pm
Sat and Sun: 8 am – 8 pm
We need you to work at least one weekend day. If you want to work both that's great!
Working holidays is required. We are open and customers need our help.
A note about how we schedule: Availability to work that aligns with the business need may increase the opportunity to be scheduled more hours. We pride ourselves on being flexible with schedules, especially for students and teachers. However, if availability to work does not align with the needs of the business the result may be less hours scheduled.
Pay Structure:
Hourly base, no bonus.
Base pay increases as you learn and perform additional job duties.
Opportunity for base pay merit increases based on performance
The following is required to work from home:
Quiet, private work area
Dependent and child-care arrangements must be made as if you were working at a U-Haul site
All work duties including education must be performed at your home address
The following technical requirements must be met to work from home:
Non-wireless USB headset with a microphone
Minimum Internet speed requirements: 5MB down / 2MB up, or greater. Preferred Internet speed for a better experience: 10MB down / 5MB up.
Windows or Mac OS allowed; If Windows then Windows 10 is required
8GB of RAM or greater
Windows: CPU score of 2500 or greater
The following are not permitted when working from home due to compatibility, performance, security, or other concerns:
A wireless or non-USB headset
A PC/laptop or Internet that does not meet the minimum requirements
Mobile hot-spot, tethering, satellite Internet service or similar
Using a Proxy server or third party network
Compute stick or similar device
Windows XP, 7 or 8, and Vista operating systems
Rental, rent-to-own or public computer/laptop
Working in a public place or using a public internet connection
Unsecure Wi-Fi or one that does not meet with the other Wi-Fi requirements
Running any non-work related programs on your computer while working
Having any other anti-virus installed/in use on your computer while working other than the Company provided anti-virus software. This is a PCI (payment card industry) requirement
Click here for full details and to apply. For more jobs like these, check our Newest Jobs & Gigs page. To be the first to hear about jobs like these, like our Facebook page. And if you'd like to see more Customer Service Agent positions, check our Customer Service Jobs page. Good luck!
PLEASE SHARE this post – turn your friends into Rat Race Rebels!