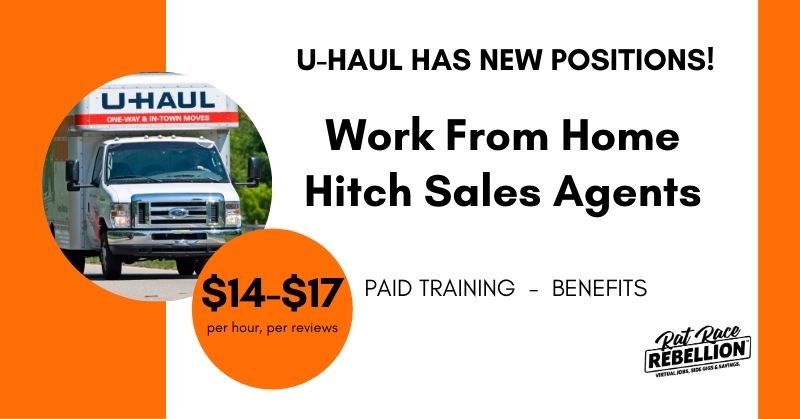 by Chris Durst        May 3, 2020
U-Haul has posted openings for work from home Part-Time Hitch Sales Agents.
In this role, you will take incoming call from customers who have questions about rentals and reservations.
Benefits are available for part-time employees; paid training.
Pay is not listed in the job post, however, Glassdoor puts it in the $14-$17 per hour range.
Here's what the company has posted about this opportunity:
"Part-Time Hitch Sales Agents take back to back incoming calls from customers utilizing both the U-Haul toll free 1-800-GO-UHAUL phone number and customers calling specific U-Haul Moving Centers across the U.S. and Canada. Agents answer general product and rental inquiries, as well as secure and schedule reservations for U-Haul hitches.
Train and work from home – Flexible schedules!
Contact center career path available including work from home!
Part-Time benefits include: Medical Reimbursement Indemnity Plan, Rx Savings Plus Discount Plan, Dental Plan, Vision Plan, Retirement Savings 401(k) Plan
Great opportunity for students, teachers, second job!
PERFORMANCE COMPENSATION BONUS
Your Manager will discuss the bonus structure with you during Training. There is no bonus during the training period. After new team members are out of training, they will qualify to earn a bonus (Manager will discuss), and are in compliance with weekly monitored calls.
REQUIREMENTS
Basic keyboarding and computer skills
Excellent verbal communication and listening skills
Clear speaking voice
General knowledge of U.S. geography
THIS JOB MIGHT BE FOR YOU IF
You have sales experience
You are a dependable team player with a positive attitude
You enjoy a fast-paced training and work environment
You enjoy speaking with and helping customers
You are comfortable with online learning and remote supervision
You are comfortable navigating multiple computer programs at one time
TRAINING / EDUCATION
We offer on-the-job education which allows you the opportunity to learn and begin performing some of your job duties while helping customers.
This role offers hands-on education working with your manager from day one.
You will spend 2 hours within the first 3 days at a U-Haul Center for training purposes.
Expect to be on the phones taking live calls by day 2 of training with your manager.
SCHEDULES
Any 6 hour block between 7 am to 7 pm Monday through Sunday (Arizona time).
We need you to work at least one weekend day. If you want to work both that's great!
Working holidays is required. We are open and customers need our help.
THE FOLLOWING IS REQUIRED TO WORK FROM HOME
You must have a quiet, private work area.
Dependent and child-care arrangements must be made as if you were working at a U-Haul site.
All work duties including education must be performed at your home address.
THE FOLLOWING TECHNICAL REQUIREMENTS MUST BE MET TO WORK FROM HOME
Must have a non-wireless USB headset with microphone.
Must have high speed internet with 2MB up 5MB down (or greater) and ping below 70.
5MB up 10MB down is preferred for a better experience.
Must have a PC or laptop with the following:
Windows 10 OS & Mac OS.
8G of RAM or greater (Windows or Mac).
Windows OS: CPU score of 2500 or greater.
Mac OS: A core i5 processor or greater.
Must install and use the required Company software including a Company provided anti-virus software.
THE FOLLOWING ARE NOT PERMITTED WHEN WORKING FROM HOME DUE TO COMPATIBILITY, PERFORMANCE, SECURITY OR OTHER CONCERNS:
A wireless or non-USB headset.
A PC/laptop or Internet that does not meet the minimum requirements.
Mobile hot-spot, tethering, satellite ISP or similar.
Compute stick, tablet or similar device.
Windows XP or Vista operating system.
Rental, rent-to-own or public computer/laptop.
Working in a public place or using a public internet connection.
Unsecure Wi-Fi or one that does not meet with the other Wi-Fi requirements.
Running any non-work related programs on your computer while working.
Having any other anti-virus installed/in use on your computer while working other than the Company provided anti-virus software (this is a payment card industry requirement)."
CLICK HERE for full details and to apply. To see more jobs like these, check our Newest Jobs & Gigs page. To be the first to hear about jobs like these, like our Facebook page and check your feed for our posts. May you be working from home soon!
PLEASE SHARE this post – turn your friends into Rat Race Rebels!