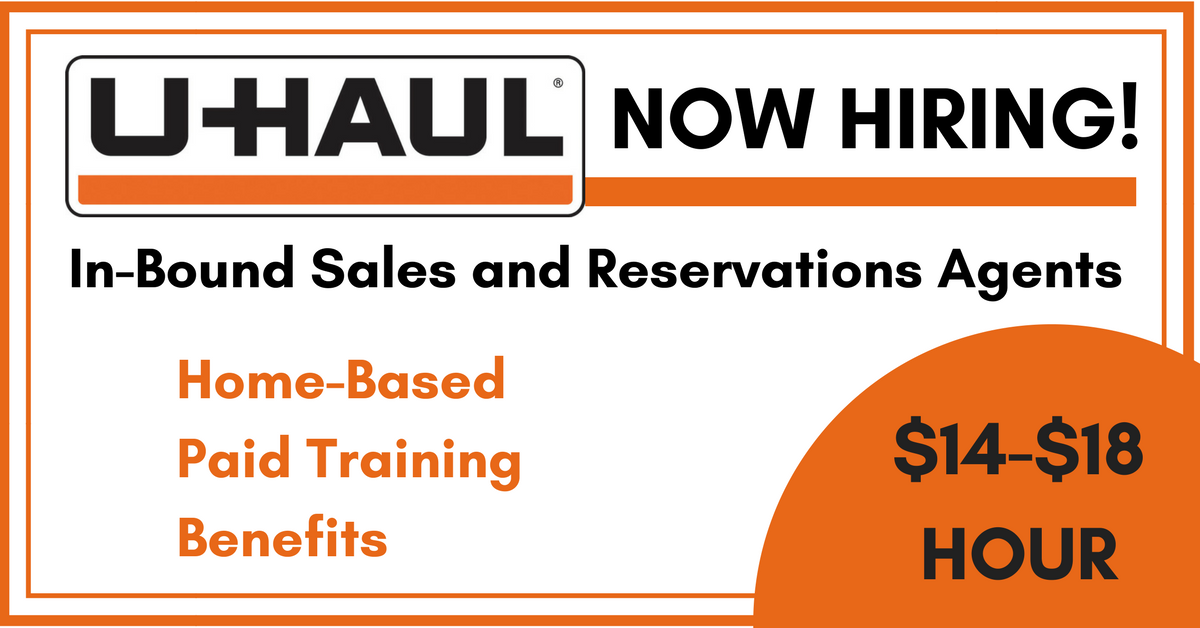 by Chris Durst         Apr. 9, 2018
Many RRRebels are already working for U-Haul and report that they enjoy their roles with the company. So, we make sure we post here whenever they post new work from home openings.
U-Haul just posted openings for In-Bound Sales and Reservations Agents in the US.
Here's what they have to say about these jobs:
"Reservation agents take back to back incoming calls from customers utilizing both the U-Haul toll free 1-800-GO-UHAUL phone number and customers calling specific U-Haul Moving Centers across the U.S. and Canada. Agents answer general product and rental inquiries, as well as secure and schedule reservations for U-Haul trucks, trailers, towing devices, hitches and storage rooms.
Great opportunity for students, teachers, second job
Work from home – No commute
Take incoming calls only – No outbound calls
Three weeks of instructor-led paid training/education
Base plus bonus – Potential to earn $14-$18 per hour (average base plus bonus)*
Moonlighter benefits include: Medical Reimbursement Indemnity Plan, Rx Savings Plus Discount Plan, Dental Plan, Vision Plan, Retirement Savings 401(k) Plan
Schedules
Working Mondays, Fridays and one weekend day is required.
You must be available to work holidays.
You must be able to work one weekday availability option and one weekend availability option below.
The options below represent when you are available to work.
Shift start/end times, days scheduled and total hours scheduled each week will vary based on call volume.
You will have the option to select your preferred day(s) off for Tuesday, Wednesday, Thursday.
Weekday (Monday thru Friday)
Option 1: 10 am to 4 pm (Arizona time)
Option 2: 11 am to 5 pm (Arizona time)
Option 3: 12 pm to 6 pm (Arizona time)
Option 4: 1 pm to 7 pm (Arizona time)
Weekend (Saturday, Sunday)
Option 1: Saturday 6 am to 2:30 pm (Arizona time)
Option 2: Saturday 8 am to 4:30 pm (Arizona time)
Option 3: Saturday 10 am to 6:30 pm (Arizona time)
Preferred background
Basic keyboarding and computer skills
Excellent verbal communication and listening skills
Clear speaking voice
General knowledge of U.S. geography
Positive business attitude
Must meet technical eligibility requirements (see details below)
Who you are
You enjoy a fast-pace environment with back-to-back customer calls
You are self-motivated and enjoy a challenge
You enjoy speaking with and helping customers
You take the initiative to reach out for help when you need it
You are comfortable with selling and using a script for quality customer care
You are comfortable with online learning and remote supervision
You are comfortable installing computer programs
You are comfortable navigating multiple computer programs at one time
Training/Education
Three weeks of instructor-led paid training/education. Week one is accelerated classroom education with an instructor. Week two and three are hands-on education in small groups with an instructor. After initial education work independently with additional continued education courses and counseling from the manager, assistant manager and team coach.
Performance Compensation Bonus*
Payment of bonus is determined weekly and paid $2.05 per piece of equipment reserved. There is no bonus during the education/training period. After training new team members starting in week four through eight of employment will qualify to earn bonus if they achieve 3.0 confirmed reservations per hour worked. Starting week nine of employment team members will qualify to earn bonus if they achieve 3.25 confirmed reservations per hour worked and are in compliance with a weekly monitored call.
Technical Eligibility Requirements
The following are required:
You must have a USB, non-wireless headset.
You must have broadband/high speed internet (see requirements below).
You must have a PC or laptop (see requirements below).
You are required to install and use company programs.
You are required to install and use a company provided anti-virus software and may not have/use any other anti-virus software according to PCI (payment card industry) standards.
The following are not permitted:
Unsecure Wi-Fi.
Mobile hot-spot, tethering, satellite ISP or similar.
Compute stick, tablet or similar device.
Windows XP or Vista.
Rental, rent-to-own or public PC/laptop.
Working in a public place or using a public internet connection.
Other requirements may apply.
Internet Speed Requirements
Minimum speed: 2MB upload and 5MB download with a ping below 70.
Preferred speed: 5MB upload and 10MB download with a ping below 70.
Click here for full details and to apply. For more jobs like these, see our Newest Jobs & Gigs page. To be the first to hear about jobs like these, like our Facebook page. Good luck in your work from home plans!
PLEASE SHARE this post – turn your friends into Rat Race Rebels!