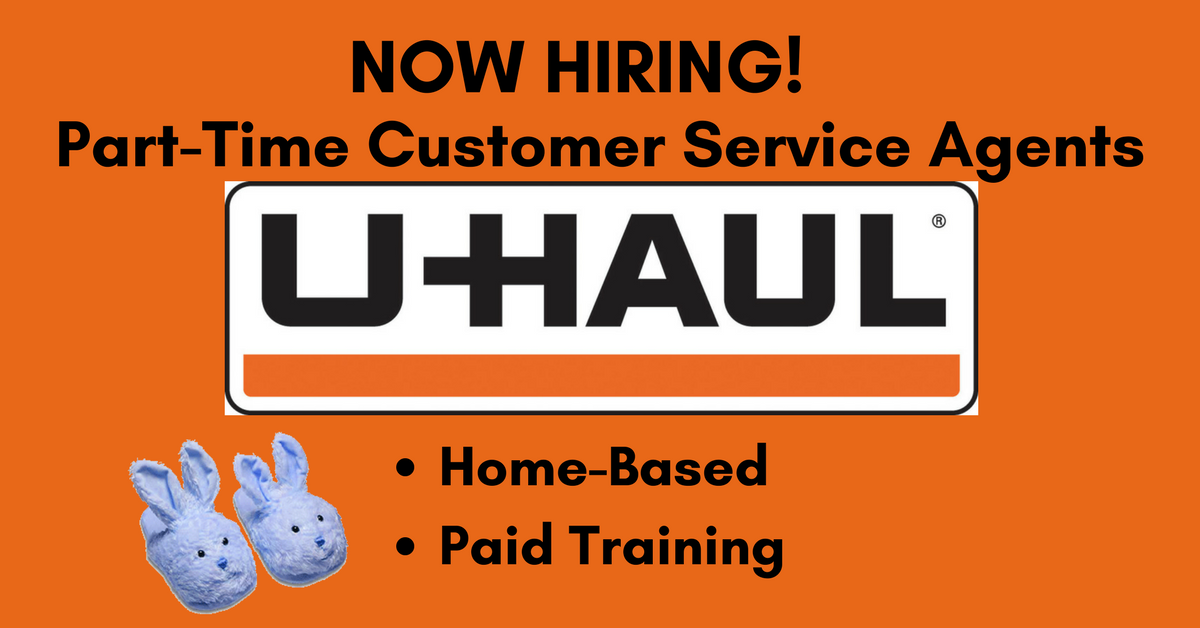 By Mike Haaren – Rat Race Rebellion Co-Founder – May 4, 2018
Work from Home Jobs – P/T Seasonal Customer Service at U-Haul
U-Haul just posted openings for part-time seasonal work from home Customer Service Agents. While you do NOT have to live in Arizona, you do have to be available to work AZ time hours. These jobs will last through Oct. 1.
Pay rates aren't mentioned in the job listings. According to Glassdoor, based on employee reviews the pay ranges from $8 to $15/hr. However, U-Haul hasn't confirmed the rates.
Training is virtual and paid.
Here's what the company has to say about these positions:
Our state-of-the-art Call Center provides a variety of in-bound call support. Call center team members take back-to-back, incoming customer calls and provide customers with general assistance before, during and after their rental.
Answer incoming calls and provide technical support and assistance with regards to our truck and trailer rentals, hitch products and all other services.
Receive and handle a large number of inbound calls daily.
Listening to customer concerns, documenting them and, resolving when able.
We are seeking people that can "WOW! our customer and continue to earn that customer's loyalty.
This job might be for you if:
You enjoy helping people, have an outgoing personality and have a customer focused attitude.
You thrive in a fast-paced environment with a focus on quality and attention to detail
You live for a challenge, are goal oriented, be willing to learn different systems, and easily navigate between multiple screens
You can handle multiple phone lines and easily handle stressful situations.
You communicate efficiently through an instant messaging program
You can work independently delivering practical solutions and you thrive in a collaborative team environment
You have the perfect home-office which includes being free of distractions and background noise
You have a good understanding of U.S. geography
If you are looking for a part-time work
Join our team today and embark on your home career with ample room for growth and exciting opportunities.
Technical Requirements
•    Must have a non-wireless USB headset.
•    Must have broadband/high speed internet with at least 2MB upload and 5MB download with a ping below 70. 5MB upload and 10MB download is preferred for a better experience
•    Must have a PC or laptop that meets the following requirements.Windows 7, 8 or 10 is preferred.
•    Windows: You must have at least 8G of RAM, 5GB of hard disc space available.
•    Windows OS: You must have a processor with a CPU mark of 2500 or greater.
Check Computer Requirements
•    Windows OS
•    To find your total RAM and processor name Press the windows key  and the "R" key on your keyboard at the same time to launch the Run prompt
•    Type dxdiag and click OK
•    Click No for prompt to check if drivers are digitally signed.
•    To check the CPU mark for your processor go to [https://www.cpubenchmark.net/cpu_list.php ] this website. Type the name of your processor in the space provided (do not copy/paste).
•    The number in the first column is the CPU mark.
Anti-Virus:
Install/use the Company provided anti-virus software. When connected to VPN anti-virus policies are governed by UHI. When not connected to VPN anti-virus policies are governed by the user. This is a PCI (Payment Card Industry) compliance requirement.
Installing Programs/Anti-Virus Requirement
•    You will be required to install and use Company programs on your computer. Payment Card Industry (PCI) standards require you install and use the Company provided anti-virus software and have no other anti-virus software installed/in use on your computer while training or working.  Note: When connected to the VPN anti-virus policies are governed by UHI.  When not connected to VPN anti-virus policies are governed by the user.
The following are not permitted due to compatibility, performance, security or other concerns:  
•    Using a mobile hot-spot, tethering, satellite ISP or similar.
•    Using a compute stick, tablet or similar device.
•    Windows XP or Vista operating system.
•    A rental, rent-to-own or public computer/laptop.  
•    Working in a public place.  a public internet connection.
•    ​Running any non-work related programs on your computer while working. 
Click here to learn more and to apply.  The company also just listed more p/t seasonal Roadside Assistance jobs. For more jobs like these, check our Newest Jobs & Gigs page. To be the first to hear about jobs like these, like our Facebook page. And if you'd like to see more Customer Service Agent positions, check our Customer Service Jobs page. Good luck!
PLEASE SHARE this post – turn your friends into Rat Race Rebels!