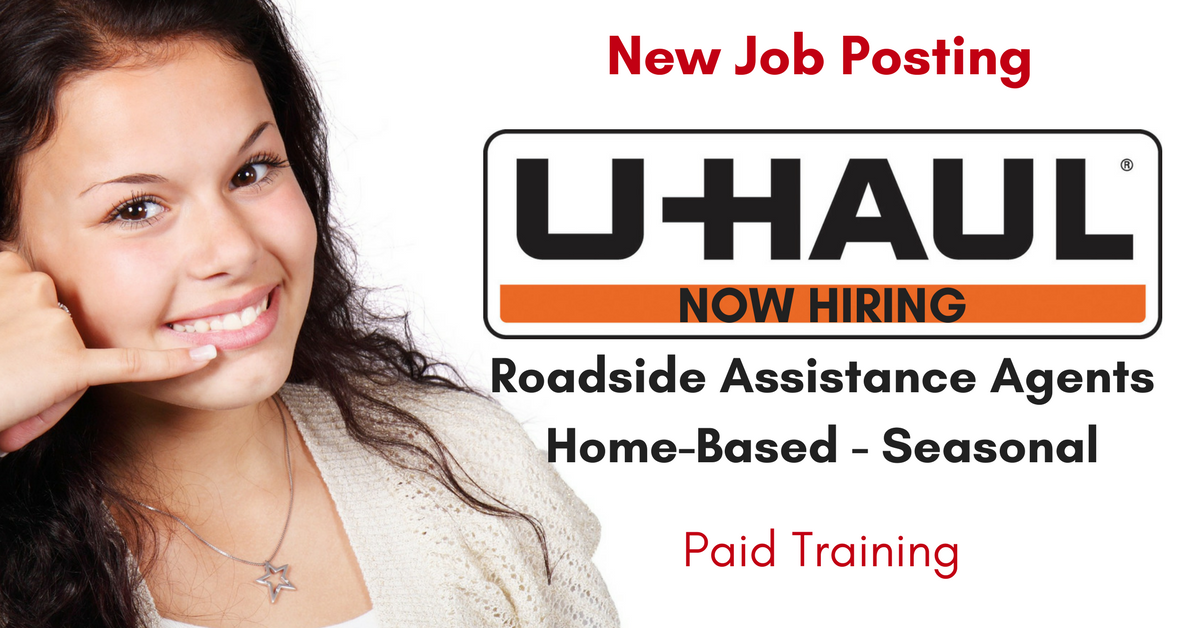 By Mike Haaren – RRR Co-Founder – Updated May 3, 2018
New Work from Home Jobs at U-Haul – Seasonal Roadside Assistance Agents – Avg. Pay $12/Hr. per Employee Reviews – Virtual Training Provided – No College Required
U-Haul just announced that it's hiring more seasonal Roadside Assistance Agents. They also list openings for Customer Service Agents and (inbound calls) Sales Agents.
These jobs may be part-time or full-time, as work is available "up to 40 hours a week." The jobs will last through Oct. 1, the company says.
Hiring States
In its earlier job listings, U-Haul said, "Work from anywhere in North America." That appears to still be true, though it isn't included in their recently-changed job format. Facebook Rebels who work at U-Haul also say these jobs are multi-state. (We'll post here if we learn otherwise.) That said, you'll need to be available to work Arizona hours.




In the company's words:
Seasonal, Full-Time opening through October 1st with scheduling needs of up to 40 hours a week. Must be available Monday – Friday 10 am – 11 pm, and Saturday or Sunday for 10 hours between 10 am – 11 pm (AZ Time)
Training Requirements for this position
100% attendance is required for the first 90 days of employment.
Orientation – May 21st & May 24th  @ 12 pm-2 pm (AZ time)
Educational period begins – 
Week of Tuesday, May 29th @ 11:30 am – 4:30 pm (AZ time)
Week of June 4th & June 11th, Monday – Friday 11:30 am – 4:30 pm (AZ time)
Must be available to work Holidays.
Our state-of-the-art Call Center provides a variety of in-bound call support. Call center team members take back-to-back, incoming customer calls handling and determining a resolution to escalated calls during their rental.
Provide exceptional customer service with a sense of urgency by identifying the problem, selecting and dispatching appropriate repair services.
Rationalize certain situations and make decisions based on reason and best judgment. Comprehension of policy and procedures will play a critical role in performance of these expectations.
Adding details and maintaining essential documentation for all rental contracts.
Your primary job responsibility is to diagnose mechanical issues and arrange service for the customer that will be time sensitive. This will include walking the customer through mechanical complications over the phone, and explaining technical assistance in a way the customer will understand.




In the company's words, this job might be for you if:
If you are looking for a part-time position
You enjoy helping people and love being rewarded for your performance
You thrive in a fast paced environment with a focus on quality and attention to detail
You live for a challenge, are goal oriented, be willing to learn different systems, and easily navigate between multiple screens
You communicate efficiently through Instant Messenger
You have the perfect home-office free of distractions and background noise
You have a good understanding of U.S. geography
This position prefers an individual that is mechanically inclined or has a general knowledge of mechanical and automotive skills.




For more detail and to apply, click here. For more jobs like these, see our Newest Jobs & Gigs page. To be the first to hear about jobs like these, like our Facebook page. Good luck in your work from home plans!
PLEASE SHARE this post – turn your friends into Rat Race Rebels!