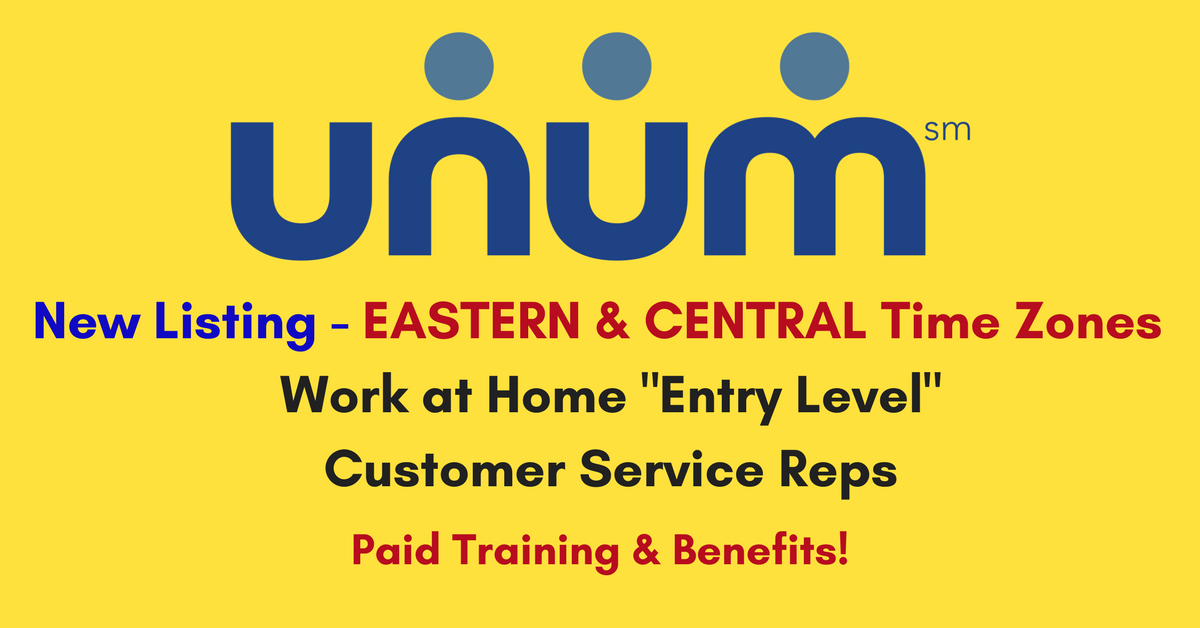 By Mike Haaren – Rat Race Rebellion Co-Founder – Updated Sept. 27, 2018
Update Sept. 27 — Still recruiting for these openings. If you decide to apply, good luck!
—
Recently we posted about Unum's Customer Service openings for folks who live in the Pacific and Mountain time zones. Now the company is hiring again from the Eastern and Central time zones. Average total pay is $31,000 per employee reviews online. The reported range without cash bonuses is $30,500 to $32,000. However, Unum hasn't confirmed this.
The company PROVIDES EQUIPMENT and BUSINESS CLASS INTERNET.
Here's how they describe the position:
Looking for a company that makes an impact? Unum and Colonial Life are committed to protecting the financial well being of our customers through our benefit offerings… Customer issue resolution is a priority and we strive to resolve issues on the first call… This entry-level role provides a strong foothold into an organization and company with multiple career paths.
Principal Duties and Responsibilities
Respond to external customers inquiries with timely and accurate information
Follow documented processes/workflow while looking for ways to reduce customer effort
Meet or exceed individual performance goals
Accurately navigate through various system platforms
Meet the expectations of the quality/productivity standards
Share process improvements to enhance customer service and/or efficiency
Ensure privacy of our customers remains the utmost importance
Shifts may vary outside the standard 8:00 a.m. to 5:00 p.m. EST
May perform other duties as assigned
Job Specifications
High school diploma or equivalent required
Prior relevant experience, military service and/or college degree preferred
Strong customer service skills with the drive to meet/exceed customer needs
Strong verbal/written communication and interpersonal skills
Demonstrated ability to work in a fast paced, structured environment, handling large call volumes
Ability to make sound business decisions, with attention to detail
Computer proficiency essential
Strong work ethic with consistent job attendance history
Detail oriented with a focus on quality and consistently meeting goals
Self-directed with the ability to perform both as part of team and individually
Solution oriented individual demonstrating critical thinking and problem-solving skills
Ability to adapt and work effectively in a continuously changing environment
Requirements for remote workers:
Must be located in the Eastern/ Central Time Zones.
Must have access to a broadband cable internet service provider.
A separate, quiet dedicated work space must be established at remote site for the purpose of performing work duties. This area must be maintained in a safe condition, free from all hazards.
Career Opportunities:
Our training and development programs will provide you with in-depth knowledge of our products and a strong base for launching your career with Unum. Our Customer Service Specialists are typically promoted within or outside of the department during their first 12-18 months. Other career opportunities include:
Monthly development time and ongoing training
Options to work from home
Potential to move into a hybrid position after your first year of employment, allowing you to split your time between the Customer Contact Center and another participating department
Career ladder that includes advancement within the role, mentoring, quality auditing, training, process improvement and management roles within the department
Benefits:
Medical, Dental, and Vision benefits available on the first day of employment
Defined Contribution Plan along with 401K matching help you plan for your retirement
Paid Time Off, holiday and leave programs
Flexible Breaks
Tuition Reimbursement
Employee assistance programs
Business casual dress code
Onsite fitness and dining facilities
Volunteer opportunities
Employee resource groups with a strong focus on diversity and inclusion
To go to the jobs, click here. Then click on "View Open Positions," then search with keyword "remote" without quotes. Their jobs pages have been loading slowly lately, so you may have to check back later. For more jobs like these, check our Newest Jobs & Gigs page. To be the first to hear about jobs like these, like our Facebook page. Good luck in your next steps toward working from home!
PLEASE SHARE this post – turn your friends into Rat Race Rebels!
[social_warfare]