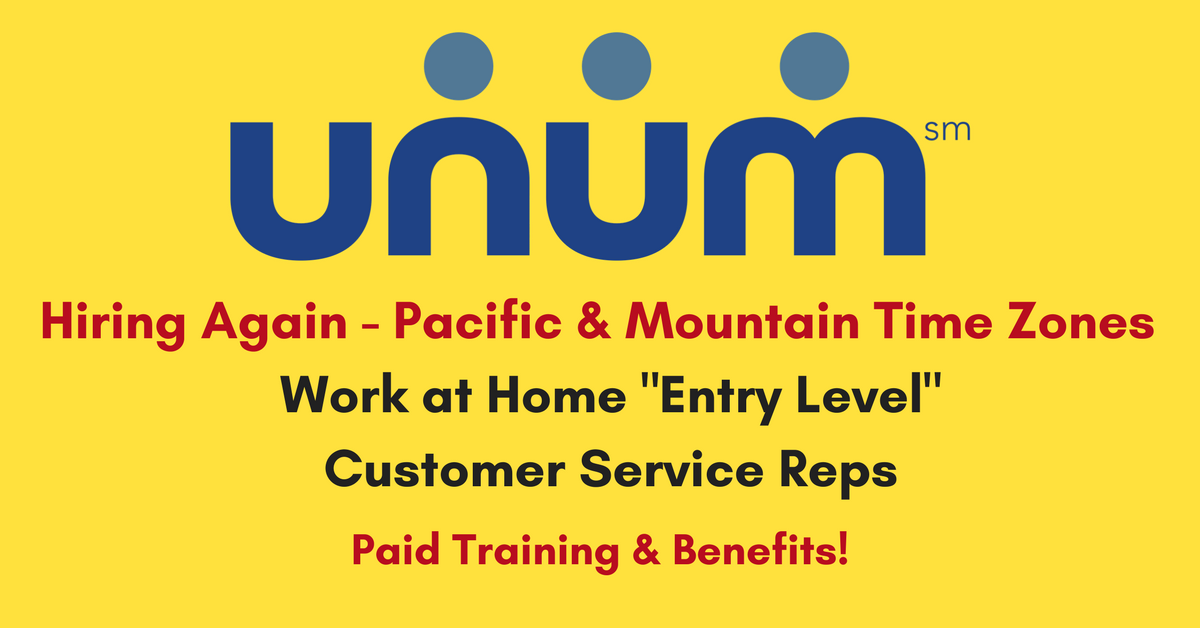 By Mike Haaren – Co-Founder – Sept. 12, 2017
Calling All Californians and Other Pacific or Mountain Time Zone Residents — Customer Service Specialists Needed at Unum – Benefits
Unum, the Fortune 500 insurance company, seeks Customer Service Specialists who live in the Pacific or Mountain Time Zone. The job includes paid training and benefits.
You'll handle inbound queries about benefits, claims, and the like. Compensation and benefits are described as "generous."
Requirements
Requirements include strong customer service skills, an eye for detail, solid computer skills, relevant business experience, and demonstrated ability to handle large call volumes. Extra points if you have a bachelor's degree or equivalent, but it isn't required.




In Unum's words,
· Bachelor's degree preferred or equivalent, relevant business experience required
· Strong customer service orientation with demonstrated commitment to meet/exceed customer needs
· Strong verbal/written communication and interpersonal skills
· Demonstrated ability to work in a fast paced, structured environment, handling large call volumes
· Ability to make sound business decisions, which balance customer satisfaction and financial integrity
· Strong computer proficiency essential
· Self-directed with the ability to perform both as part of team and individually
· Ability to adapt and work effectively in a continuously changing environment
· Solution oriented individual demonstrating critical thinking and problem solving skills
· Ability to seek out developmental opportunities and continuously improve skills/performance
· Consistently demonstrate a high level of professionalism through a strong worth ethic that positively influences the work habits of the team
· Detail oriented with a focus on quality and consistently meeting goals
· Meets the standards for this position, as defined in the Talent Management framework
You'll also need a quiet work space and broadband cable internet.




The job listing also notes that "on rare occasions remote employees may be required to come to the office." The office location isn't specified, but the listing notes that "Unum has significant U.S. operations in Portland, Maine, Worcester, Massachusetts and Glendale, California with over 35 field offices nationwide. Colonial Life is headquartered in Columbia, South Carolina with over 40 field offices nationwide."
For job details, click here. For more jobs like these, check our Newest Jobs & Gigs page. To be the first to hear about jobs like these, like our Facebook page and check your feed for our posts. May you be working from home soon!
PLEASE SHARE this post – turn your friends into Rat Race Rebels!