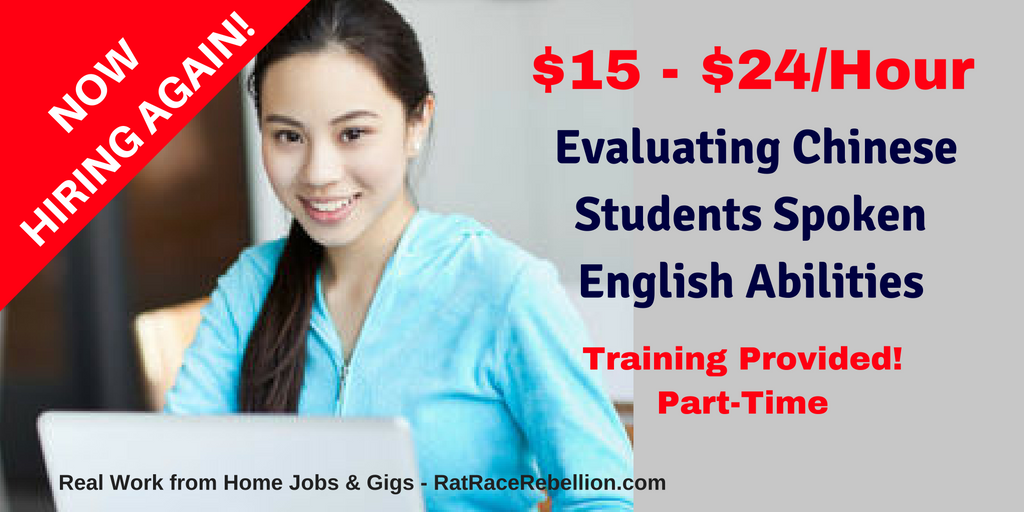 by Chris Durst       September 6, 2016
HIRING AGAIN! On September 2nd, we received the following message from the folks at Vericant:
"Hey Chris – Just wanted to let you know we have opened up our hiring for the coming season."
Vericant is looking for Remote Raters to evaluate how well Chinese students speak English.
In their own words:
"Being a Remote Rater with Vericant means playing a role in international admissions. As a Remote Rater, you will assess the spoken English ability of Chinese students applying to North American schools by watching video interviews and using Vericant's Spoken English Evaluation (SEE) rubric."
Work starts in early September, so hiring and training is happening NOW!
As a Remote Rater, you will view video interviews that are approximately 8-10 minutes long, so you will be able to watch 3-5 videos per hour depending on your speed and the complexity of the videos.
You will be scoring the students in 5 areas including the range of words, accuracy of grammatical rules, fluency, conversational interaction, and coherence.
Training is provided and we are told between pay is between $15 and $24 per hour (depending on your speed/accuracy).
_________________________
Earn cash for surveys — not points — plus a $5 signup bonus at InboxDollars, one of our Top 5 Survey Site Picks.
_________________________
Basic Qualifications:
Native Speaker of North American English
Able to commit 5-15 hours per week from September 1st until March 31st
Good command of English grammar
Experience working remotely
Experience teaching ESL in a professional or academic setting
B.A. degree
To learn more about these positions, click here.
PLEASE SHARE this post – turn your friends into Rat Race Rebels!
BE SURE TO CHECK OUT OUR OTHER RECENT POSTS FOR MORE JOBS