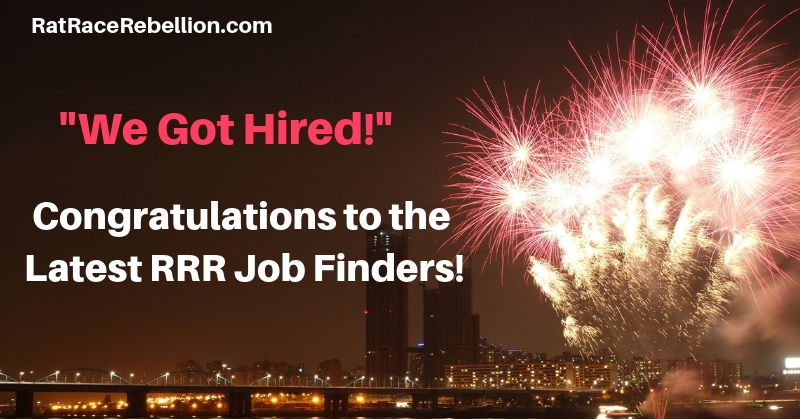 By Chris Durst & Mike Haaren – Founders, Rat Race Rebellion — April 4, 2019
"We Got Hired!" – Congratulations to the Latest RRR Job Finders! 
Please join us in congratulating the latest group of RRR job finders! And thank you again for emailing us and posting your wonderful news on our Facebook page! Your messages totally make our day!!!! Thank you so much for the referrals, too — and the pats on the back! We've excerpted some of your messages below. 
(There were so many posts and emails, we'll do a second post tomorrow!)
~*~*~*~*~*~
"I received offers from Teleperformance, KellyConnect and Hilton recently. This time I chose Hilton because they are a direct hire. I love this site and share constantly. I've worked from home for 8 years and RatRaceRebellion is the only site I use. Thanks guys, you literally changed my life!" – Tonya Good
~*~*~*~*~*~
"I just recommended this site to my cousin and was reading some of the success stories and realized I never told mine. I was hired by HSN 12/2016 and also by UHaul (part time). I only worked at UHaul for a while to save up for the house I just bought. I'm starting my 3rd year with HSN. Thank you for helping realize my WAH dreams!" – Jeannie Fuller
~*~*~*~*~*~
"I just wanted to say Thanks to Rat Race Rebellion for all the leads in finding a Work from Home job. I got hired with Amazon and i start April 19th! I can not wait!!!" – Cristie Merritt
~*~*~*~*~*~
"It took me a bit, but I just accepted an offer from American Express Travel! Thanks RRR! I am SO EXCITED!!!!" – Debra Groh
~*~*~*~*~*~
"I got hired at Hilton!! Thank you RRR, you guys rock!! Congratulations to all!!!" – Dametra Mankins
~*~*~*~*~*~
"Hi! Just wanted to say thank you for all your postings and let you know that I got hired at Amazon to work from home pt @$15/hour!" – Adriana C.
~*~*~*~*~*~
"I'm so excited – I start for Hilton on Tuesday!! Thank you RRR!! Congrats to my fellow newly employed folks! Woo Hoo!" – Carla Sheehan
~*~*~*~*~*~
"I have been getting emails from you folks for a while and it wasn't until a couple if weeks ago, I saw an opportunity for transcribing with Rev. I took their tests and was hired in less than 48 hours. The initial pay per minute is fairly low and it is meticulous work, with research involved, so it takes quite a bit of time, which some people may not feel is worth it. However, you can move up and your price per minute does go up after you have successfully completed 60 minutes of transcriptions and got high scores on accuracy. I was fortunate and got promoted after only doing five short transcriptions, but I received perfect scores on all of them, so a few days in, I'm already making 25% more than I was yesterday. 😊 Thank you for all you do RRR!" – Kat Taylor
Kat, congratulations on your success at Rev! Thank you for sharing your experience and your tips for optimizing income there! ~ Chris & Mike
~*~*~*~*~*~
"Just started my second round with Concentrix! Love this site!" – Mindy Steed
~*~*~*~*~*~
"I got hired by AMERICAN EXPRESS, y'all! My start date is 3/11/19!" – Carmella Patrick-Holloway
~*~*~*~*~*~
"You guys are more than awesome!! I got my start date for Amazon this morning. I would have never known about this job without you!! Thank you so much!!!!!!" – Jennifer Hord Wagner
~*~*~*~*~*~
"Started at Telenetwork this week, thanks RRR!" – Liz Daley
~*~*~*~*~*~
"I just got hired on as an independent contractor [at Appen] for a project, not sure if it's temp or perm, but rate is $11/hr, 20 hours per week. After 10 years of being unemployed while going to college, this is a breath of fresh air. They also pay fairly quickly for small projects. I did a survey for $5, that came via Paypal yesterday." – Jillian Tyre
~*~*~*~*~*~
"Was just hired at NexRep for Grubhub." – Lashay
~*~*~*~*~*~
"Got hired with KellyConnect whooo hooo…. start training on Monday super excited your site rocks…" – Rashaunda Smith
~*~*~*~*~*~
"I got a job with Lawnstarter through Rat Race Rebellion. Love my new job. Best call center I have ever worked at. Thanks Rat Race Rebellion!" – Sara Sanchez
~*~*~*~*~*~
"Hi! Just letting you know that I was hired by ExecOnline as a part-time Student Retention Specialist and I start tomorrow!!! Thank you for including them in your email!!!! – Janelle K.
~*~*~*~*~*~
"Thank you Rat Race Rebellion, I got my first WFH job with Amazon!! I start April 8th!! I'm excited!!" – LaTisha Smith
~*~*~*~*~*~
"I am hired! Did orientation now waiting for equipment and start training! Thanks RRR!" – Cindi Bray
~*~*~*~*~*~
"I got hired at Appen as a Web Search Evaluator! Thanks, RRR! Also, I am awaiting a response regarding my evaluation from Yardi Matrix! Thanks, again!!!" – Cathy Milne-Ware
"I just got hired. I'm working on the onboarding and orientation process now." – Leah Holamon
~*~*~*~*~*~
"Hey RRR! I started training with Williams-Sonoma today. Was a great day. Your Facebook page has been a Godsend." – Eva Correll
~*~*~*~*~*~
"I was hired!!!" – Jenny Pallen
~*~*~*~*~*~
"I got hired! Aspire reservations. Start Monday. Thank you!" – Brad Whitney
~*~*~*~*~*~
"I was hired with Appen. Now need another PT job. Thanks RRR." – Alegria Garcia
~*~*~*~*~*~
"I got hired and am in paid orientation" – Maria Pyles
~*~*~*~*~*~
"Thanks RRR for all that you do! I received a job offer from Amazon for a virtual customer service rep position…YAY! I am waiting for my background check to clear and have an appointment for the I-9 verification on Tuesday the 19th but once all of that is completed, they will ship me the equipment needed and I will start training on 4/8/19! 😊😊😊" – Mary French
~*~*~*~*~*~
"Rat Race Rebellion is awesome… I finally found a great PT job that is perfect for me… All of their posts have been verified or they post otherwise…" – Kathy Swatosh
~*~*~*~*~*~
"My husband has been with Kelly for going on 2 years and is now a team lead. Thanks again for your post Rat Race Rebellion!!" – Erica Calloway
~*~*~*~*~*~
"I have found [a job], no it is not a sales position like Avon or any other company that requires a buy in… AND! Equipment was provided, came home today and it was delivered to my front door!" – Crystal Mahoney
~*~*~*~*~*~
"I was just offered a position… with them. It's taken a while as I applied in the last wave. So excited, thanks RRR! I start training April 15!" – Jody Girman Szaller
~*~*~*~*~*~
"I got hired on as a transcriptionist at Rev.com! My day job has me working 12 to 14 hours a day so I try to get through the training on weekends. So far, I like it." – Clifton Brown
~*~*~*~*~*~
For screened work from home jobs & side gigs, see our Newest Jobs & Gigs page. To be the first to hear about jobs & gigs, follow our Facebook page and select "See First" in the dropdown menu under "Follow." May you be in our next "We Got Hired!" post!
PLEASE SHARE this post – turn your friends into Rat Race Rebels!