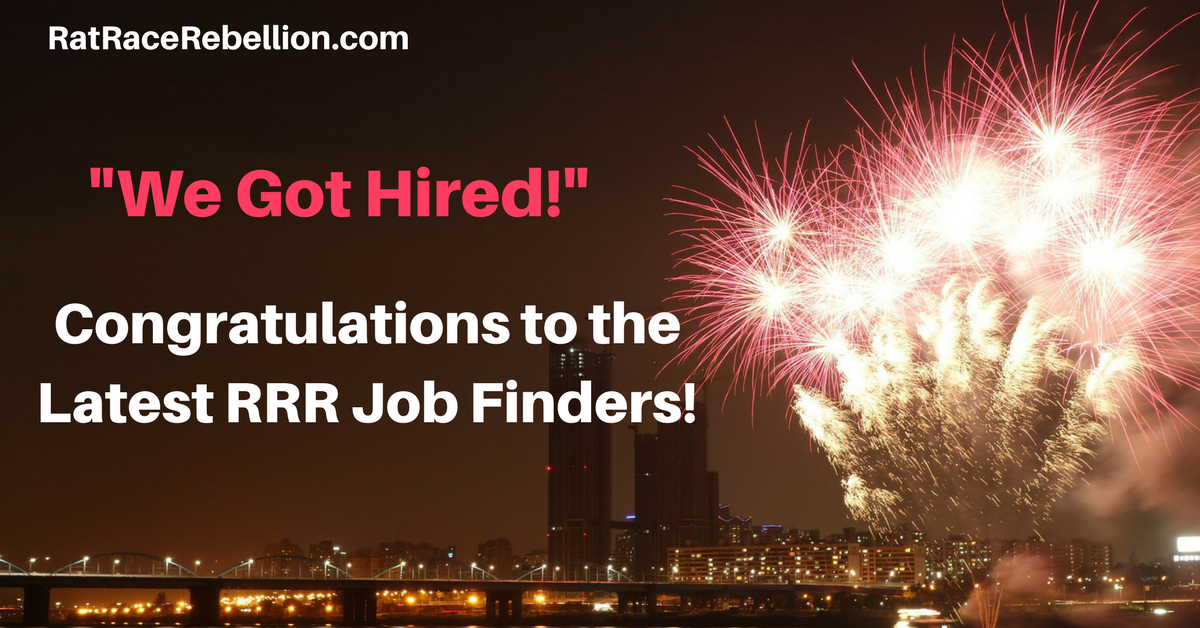 By Mike Haaren – Rat Race Rebellion Co-Founder – Aug. 13, 2018
Work from Home Jobs – "We Got Hired!" – Congratulations to the Latest RRR Job Finders!
Please join us in congratulating the latest RRR job finders! And thank you all for emailing us and for sharing your wonderful news on our Facebook page! (We've excerpted some of your messages below.) Well done to everyone! And thank you so much for your referrals — they're very much appreciated!
~*~*~*~*~*~*~*~
Just wanted to say thanks! I got hired as a call center specialist at Walgreens! – Angela Rose
~*~*~*~*~*~*~*~
Hey! I just wanted to let you know that I got hired [for data entry] at Sigtrack! – Becky Hunter
~*~*~*~*~*~*~*~
Hyatt Hired me today thanks to RRR. – Ranz B.
~*~*~*~*~*~*~*~
I wanted to thank you. I finished training for Williams-Sonoma. $12 a hour with benefits and no commute. I love you guys. Thank you again. – Ashley J.
~*~*~*~*~*~*~*~
Just stopping by to say thanks! I followed this page and the website for months until finally I landed a job with Conduent! I start this Friday and couldn't be more excited!!! – Emely C. Bryan
~*~*~*~*~*~*~*~
I got hired! Will start with Amazon on August 20. Thanks, RRR! – Eric McDowell
~*~*~*~*~*~*~*~
Thanks Rat Race I got hired with U-Haul! – Sabrina M.
~*~*~*~*~*~*~*~
Hey Rat Race Rebellion I got hired !!! Officially start in September with Aspire! So happy. Thank you for posting the job. Y'all rock! – Jen Felicio
~*~*~*~*~*~*~*~
Thank you RRR ! I just got hired for TWO positions! One full time scheduled 40 hrs a week with Broadpath AND One at Working Solutions, where I can schedule my own hours 
 Super excited to start both. ! BOTH have excellent starting pay 
~*~*~*~*~*~*~*~
I got hired with Validately, TryMyUI, Enroll, AND Rev. – Louis A.M.
~*~*~*~*~*~*~*~
Good morning! I wanted to share that I just got hired by Rev to be a transcriptionist! Thank you for the lead. – Heather K.
~*~*~*~*~*~*~*~
Just wanted to say thank you for having a site like this made. I was recently hired by KellyConnect as an Apple Chat Support agent and started on 7/2 because of a post I saw here! Thanks again and keep up the great work! – Angelo M.
~*~*~*~*~*~*~*~
I was also hired with KellyConnect! – Jessica J.
~*~*~*~*~*~*~*~
I've been WFH with Amazon for 14 months and will be starting my second WFH job with KellyConnect on July 23. Love working from the comfort of my home. – Christina M.
~*~*~*~*~*~*~*~
Thank you RRR, I got hired as a social media evaluator for Lionbridge and I start today 8/9/18. – Michelle Danielle
~*~*~*~*~*~*~*~
I just got hired as a video captioner with Rev. Thank you Rat Race Rebellion! I would have never known anything like this existed if it weren't for your newsletter. – Julie C.M.
~*~*~*~*~*~*~*~
I just got hired through Amazon have a start date of the 21st of August…thank you RRR for the daily emails and letting us know of legit home jobs!!! – Heather N.S.
~*~*~*~*~*~*~*~
I just got hired with Lionbridge. My start date is today! Thank you RRR. – Briona A.
~*~*~*~*~*~*~*~
I just got my welcome email from Rev.com. – LaKesha C-M
~*~*~*~*~*~*~*~
Sending a HUGE THANK YOU to the RRR crew on such an amazing and valuable tool to assist those seeking rat race relief. I GOT HIRED!!!! Within one week of submitting my application and evaluations of was offered a job with SITEL and am currently training to be a [email protected] tech support agent for COX MEDIA! All thanks to a lead from your site. Keep up the great work. Jobseekers and employers love you!! – Chadd K.
~*~*~*~*~*~*~*~
I finally got hired on at Amazon. Thanks RatRace – Taylor K.W.
~*~*~*~*~*~*~*~
I just started Training yesterday and I'm loving it! I originally just applied for a Customer Service position with the Macy's program from Alorica's website, but upon my 2nd interview and the Hiring Manager looking over my prior experience with call centers, he offered me a salaried management position instead!! Totally unexpected but such a blessing Alorica has been! If anyone wants holiday cash, Macy's is definitely ramping up right now with Alorica!!" – Amanda H.

~*~*~*~*~*~*~*~
I want to say thank you so much for giving me the information you have on your site because I finally got me a legitimate Work from Home Opportunity with SYKES!!! I started my orientation yesterday 7/23/18. I am super excited. Thanks again for taking the time to provide the information about companies that are hiring for work from home opportunities as soon as they come available. You Rock!!! – Monica S.
~*~*~*~*~*~*~*~
I'm not on Facebook so wanted to email to let you know, I got hired as a virtual customer service agent with Amazon, thanks to RRR.com! I've been working for about a month now and really loving it. Thank you for the service you provide through this website! – Abby
~*~*~*~*~*~*~*~
Wanted to pass along that I used your tip and was accepted as a transcriptionist thru Rev. Thank you so much for the lead on a side gig. I'm currently training, which isn't a lot of money, but it's fun and I should be able to make an extra few hundred dollars a month once I move to the next level. That's a blessing!! Anyone trying out Rev needs to be detail oriented and follow the application details closely. Plus, allot yourself plenty of time to do the assignments. – Wynelle T.
~*~*~*~*~*~*~*~
I just got hired at Concentrix! Thanks for the work you do as I never would have found this company without your hard work! – Crystallina G.
~*~*~*~*~*~*~*~
Great news…I was hired by Amazon! Thank you Rat Race Rebellion for always keeping info up to date! – Timicia S.
~*~*~*~*~*~*~*~
I am very pleased to tell you I am in Concentrix Training class 😊. Thank you guys so much. – M.J.V-W.
~*~*~*~*~*~*~*~
I got the Job thanks RRR (by KellyConnect). – Desmonique N.
~*~*~*~*~*~*~*~
Thank you guys. I got hired at KellyConnect (WFH). I start in two weeks and all because of your help. – Diane C.
~*~*~*~*~*~*~*~
Hi guys! I first want to say THANK YOU SO MUCH for your wonderful site! I really appreciate you for the hard work that you put into making RRR home for many, myself included of course. I got hired by Sigtrack this week and I'm so excited! Thank you again for providing all the right tools. Just when I started to lose hope BAM I get an email from them. All bc of you all! Much love to you! – Kay
~*~*~*~*~*~*~*~
Hi! First of all- your website and newsletter are AMAZING! I wish I would have found you sooner. Its the best and most thorough resource for work at home jobs. Second of all- I GOT A JOB!! After desperately searching for months, constantly getting turned down, not being the right fit, or having to lower my wage to insane amounts – I GOT A JOB! I was accepted by Time Etc. and am loving it! It's an amazing business to work for and fits perfectly with my PA skills and schedule. I would never have found this opportunity if it wasn't for you! Thank you!! – Christina F.
~*~*~*~*~*~*~*~
Just wanted to say thank you to RRR, I recommend you to all I know who are searching for work from home jobs. I got an offer from Unum, and start 8/13! – Monica M.
~*~*~*~*~*~*~*~
I've been a Captioner for Rev for almost 4 months and really enjoy it. It's very flexible when/how much you work and many of the videos are very interesting/you learn lots. Unless you're a super fast typist, the pay is low but it beats earning nothing doing nothing. Plus you can do it anywhere there's a good Internet connection.
It can also help you get other work-from-home jobs. I'd applied to U-Haul multiple times/always got turned down. But after working for Rev just a month, U-Haul FINALLY hired me. Sadly, I had to quit soon after starting due to very noisy, long-term construction work nearby. I'll continue to look for other non-phone jobs. Thanks, RRR! – Linda
~*~*~*~*~*~*~*~
I don't do social media, but l wanted to Thank you guys for posting Williams-Sonoma and TTEC. I got hired for both, but decided to take TeleTech because it was permanent . I did put your website down as a referral. – Tiffany A.
~*~*~*~*~*~*~*~
I got hired! I started with Rev.com about a month ago and I'm halfway to the Revver level which pays more per project. I also just interviewed and was offered a position with Sykes. I have an interview with Support.com. And tomorrow, I have an interview with Conduent. Thank you for the daily leads on jobs! For anyone in the job hunt, take the time to build a resume. It can make the difference between getting a job and not getting one. I got several "no's" until I made one with some flair. Keep your options open. Don't let the schedule or need for equipment or anything else hold you back. Apply for the job and figure the rest out later. – Aferdinand87
~*~*~*~*~*~*~*~
I got hired at Transcom! I start the 23rd! – Ashley R.
~*~*~*~*~*~*~*~
I just wanted to thank you from the bottom of my heart for the link you posted for Rev. I was hired 2 days ago and have already finished my orientation and submitted my first project. I'll get my first paycheck next week!! So far the company has been very easy to work with, very encouraging and very helpful in getting me started on the right track. This position is a Godsend, and came at just the right time. I appreciate everything you do!! – Jennifer W.
~*~*~*~*~*~*~*~
I am so happy to let you know that I just received notice from Sykes that I have been cleared to start working on Monday August 13! I have been diligently applying to various positions posted on RRR for the last year and my efforts have finally paid off! I am so excited! Thanks RatRace😉! – Bobby C.
~*~*~*~*~*~*~*~
I got hired with Rev.com! Thanks for your daily emails. I recently passed the application process and have begun working as a captioner. I would not have pursued this if I had not seen it on your site and a snippet from one of the previous applicants, who recommended studying the style guide. Thanks! – Danielle D.
~*~*~*~*~*~*~*~
Hey RRR Friends! I'm excited to tell you my four month WFH job search is finally over. I accepted a fantastic position as a remote stylist for StitchFix. My schedule is very flexible, and the pay is a lot more than I expected. It's an amazing company! I was also accepted as an independent contractor driving for Amazon Flex. I pick up shifts when I want and there is no pressure. This position pays well too. I'm super excited about these new opportunities and wanted to say THANK YOU! – Monica G.
~*~*~*~*~*~*~*~
I actually got hired by 3 different companies on your site. Currently I work for Concentrix and I was also employed with U-Haul. Thank you so much! – Natasha S.
~*~*~*~*~*~*~*~
I have to say thank you to you and your amazing team! I got hired as a Rookie Captioner at Rev. I look forward to applying to many more jobs! Gracias! – Izu N.
~*~*~*~*~*~*~*~
Thank you RRR, This month I made over $2,000 with Palfish. I decided to try them after seeing the company listed on your site. – Angel Huddleston
PLEASE SHARE this post – turn your friends into Rat Race Rebels!