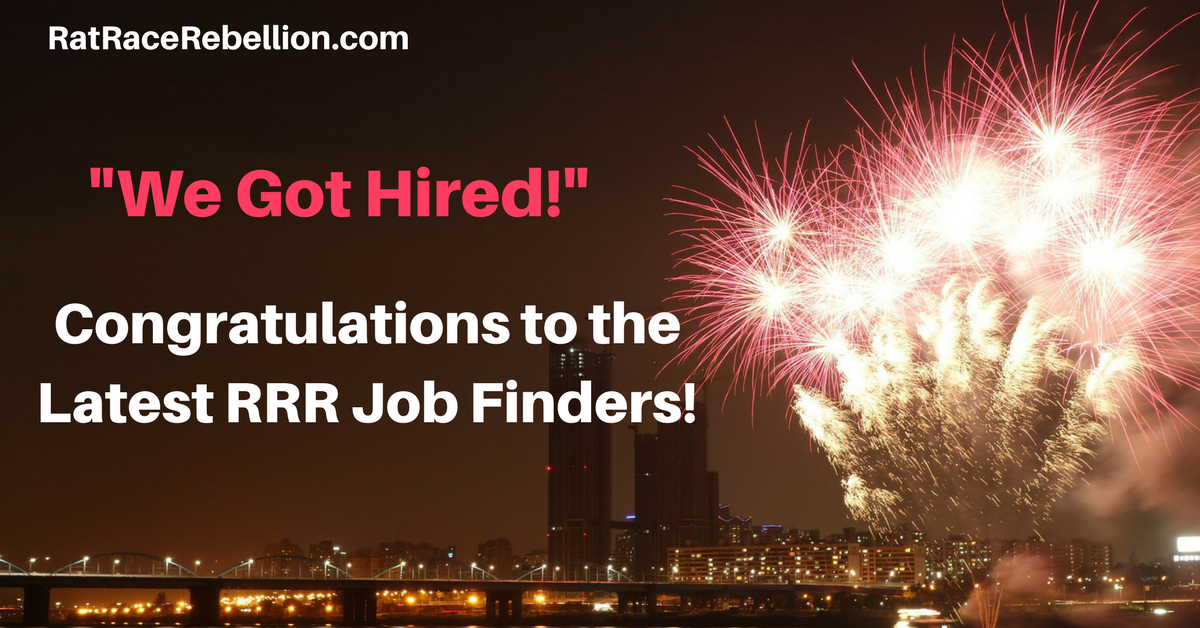 By Mike Haaren – Rat Race Rebellion Co-Founder – Sept. 13, 2018
Work from Home Jobs – "We Got Hired!" – Congratulations to the Latest RRR Job Finders!
Please join us in congratulating the latest RRR job finders! And thank you all for emailing us and for sharing your wonderful news on our Facebook page! (We've excerpted some of your messages below.) Well done to everyone! And thank you so much for your referrals — they're very much appreciated!
~*~*~*~*~*~*~*~
I have been trying for months to get into Amazon and they finally accepted me! Thank you guys for the daily posts!!! – Abbie M.
~*~*~*~*~*~*~*~
I just wanted to send in a testimonial. I GOT HIRED!!! I applied to Lionbridge for their Social Media Evaluator Position. Thank you so very much for posting all of these great work from home positions. – Loletta O.
~*~*~*~*~*~*~*~
I just wanted to say Thank You. I will be starting with Broadpath Health Solutions work at home on Sept 17th. – Lynda M.
~*~*~*~*~*~*~*~
I got hired by Time Etc. Been there over a year now. – Sharon B.
~*~*~*~*~*~*~*~
I got hired yesterday with U-Haul. I start Sept 17th. Thanks Rat Race Rebellion!!!! – Tara W.
~*~*~*~*~*~*~*~
I just wanted to let you know i got a job through a posting from you guys for Rev.com and i appreciate it so much!! I enjoy it so far and love i get paid every Monday from them! Thanks again for these emails!!! – Angel H.
~*~*~*~*~*~*~*~
I got hired at Kelly Services. Thank you so much! This site is indispensable. I tell everyone I know about it. – Jess
~*~*~*~*~*~*~*~
I received my first job on RatRaceRebellion back in 2007 with "West at Home" at that time, now it's "Alorica." No longer there after 5 years with them. A lot has happened in my life since then. Now things are settled where I am taking my career to the next level with working from home. By the way, you guys are Awesome. I got hired with "Amazon." Thanks guys and more to come. – Sherry M.
~*~*~*~*~*~*~*~
I just wanted to say thank you for this site. I got hired with Amazon and have a start date of 08/20/2018. All of my pre-hire tasks are completed and I am truly excited to start!! Thanks Rat Race!!! – Heather S.
~*~*~*~*~*~*~*~
I was hired by Kelly as a chat advisor, making more than when I was a senior adviser at another company! – Leona W.
~*~*~*~*~*~*~*~
Thank you for all the leads you have provided. I got an offer of employment today from Transcom. Start date is the 22 August. Thanks Again. – Joycelyn J.
~*~*~*~*~*~*~*~
I got hired! I am now a professional tutor with Revolution Prep, a job listing that I found right here on RRR! I just wanted to say thanks so much for providing this resource. It's really helped me over the past year, and I have referred several friends. – Mia W.
~*~*~*~*~*~*~*~
Hi. I just wanted to let you all know that I was hired through Sykes and am in my first week of training! Thanks so much! – Candace B.
~*~*~*~*~*~*~*~
I was hired by Conduent. – Melanie B.
~*~*~*~*~*~*~*~
Thank you! I was hired by Time etc. and already have 2 clients that are perfect for me. Thanks very much!! – Omega D.C.
~*~*~*~*~*~*~*~
I just wanted to say Thank you to Rat Race Rebellion for the WAH job for Concentrix. I got hired! Praise God! – LaToshia J.
~*~*~*~*~*~*~*~
I got hired at Sykes…. Started training on Monday. Thanks again for the info. – Brihana P.
~*~*~*~*~*~*~*~
Hey! I just want to say thanks, great site. I GOT THE JOB WITH SYKES! – Caroline P.
~*~*~*~*~*~*~*~
I am happy to say I finally did get a job with the help of RRR with Convergys. I'm so excited to start this new adventure and my training starts soon. Thank You! – Salina M.
~*~*~*~*~*~*~*~
Just wanted to say thank you I got hired at NexRep and have completed the certification training and I love it. – Jane B.
~*~*~*~*~*~*~*~
Just wanted to thank RRR. I am now working for Appen as a rater. I got hired last week. Thanks again. – Mamie J.
~*~*~*~*~*~*~*~
Hi Chris and Mike, I was hired by Concentrix and the starting date is September 24th of 2018. Thank you for all your hard work and checking to see if the companies are legit or not. Thank you so much!! – Maria P.
~*~*~*~*~*~*~*~
Hey, I was just stopping by to say THANK YOU!! I was able to land a job with Conduent. RRR Rocks!!!! – BreeAnnier H.
~*~*~*~*~*~*~*~
I just got hired at NexRep and am doing training this week. – Jane B.
~*~*~*~*~*~*~*~
I GOT HIRED!!! I work remotely for J. Lodge. – Patti Lynn B.
~*~*~*~*~*~*~*~
I got hired on at U-Haul going on my 4th month now doing great. I lucked out and get 38 hrs a week and my commission checks are the size of my regular paycheck. – Joseph C.
~*~*~*~*~*~*~*~
I got hired with Kelly Services starting 10/08 !!! Thank you RRR!! – Sadie M.
~*~*~*~*~*~*~*~
I got hired at Transcom! Start date is August 23! Thank you RRR for all of your WAH leads!! – Tara J.
~*~*~*~*~*~*~*~
I got hired through Concentrix! Wouldn't have had this opportunity without RRR. So excited for what this will mean for my family. – Virginia T.
~*~*~*~*~*~*~*~
Thank you RRR…I was hired yesterday with BroadPath!!!! I truly love working from home. Am involved in a 'Volunteer Ministry Program' and working with BroadPath supports my ministry. Am truly thankful, humbled and grateful!!!!! – Renee P.
~*~*~*~*~*~*~*~
Thank you so much for posting about Wellthy last yr. I was hired this year and get to enjoy helping others care for loved ones. Your site is amazing at publishing great jobs. – Amber S.
~*~*~*~*~*~*~*~
I started Amazon today, thank you! – Tiana R.
~*~*~*~*~*~*~*~
I got hired with Conduent! Thanks RRR!!! – Christopher J.
~*~*~*~*~*~*~*~
Thanks Rat Race Rebellion!! I just got hired by Rev to be a part of their transcription team. – Danielle W-F
~*~*~*~*~*~*~*~
Thank you Rat Race Rebellion… landed a job at Convergys thru your e-mails about WFH job postings!! Bonnie S.
~*~*~*~*~*~*~*~
I just got hired with Yardi Matrix, my first ever WAH job, and it's all thanks to you! – Amanda D.
~*~*~*~*~*~*~*~
Just got the news!!! Start my first WFH job!!! Part time! Thanks RRR! Start training in Sept! So grateful! And a shout out to my friend Ann A.! She is the one who told me about RRR! – Angie F.
~*~*~*~*~*~*~*~
Thank you for your great list of WAH positions. I was recently hired through one of your links and I refer your website to everyone that asks me how to get a legitimate work at home job. Please keep your site, it actually saves lives. – Lillian S.N.
~*~*~*~*~*~*~*~
Thanks to RRR I was hired on for U-Haul WFH I start my training next week I'm super excited thank you RRR for your awesome emails. – Shantia W.
~*~*~*~*~*~*~*~
I got hired and start my new part-time job thanks to RRR! My church employment office in Orlando Florida actually gave me the website — feeling thankful. – Pamela B.
~*~*~*~*~*~*~*~
Thank you guys so much! I got a job at Concentrix as an WFH Apple Tech customer service agent. AMAZING BENEFITS. Thank you so much!!!!!!! – Keema F.
 ~*~*~*~*~*~*~*~
Thank you so much! I have gotten a job with Rev and am awaiting word on a number of other jobs that I have applied for. Y'all are awesome!!! – Sabrina D.
~*~*~*~*~*~*~*~
Thanks for the lead! I've got a 6-week temp position with Yardi Matrix as a rent survey associate working from home for between 10-40 hours starting on Tuesday, September 4th! I really appreciate the jobs you guys find us! – Tiffany B.
~*~*~*~*~*~*~*~
Hey thanks guys! I just got hired at Sitel! My sister Rebecca A. told me about you and that listing and we both got hired! THANKS again! It was super easy and I start on 9/4! – James B.
~*~*~*~*~*~*~*~
Thanks Rat Race Rebellion I just got hired on with Concentrix. – Keisha M.
~*~*~*~*~*~*~*~
I got hired by NexRep and start work 9/1/18 we will see how it goes!! – Tina C.
~*~*~*~*~*~*~*~
I now have 3 jobs thanks to RRR!!! Starting Transcom and Lionbridge this week and have been working with Rev for 2 months. Thank you RRR!!! – Sabrina D.
~*~*~*~*~*~*~*~
Thank you, I start my new job on Monday with Holland America… this is a great resource. – Connie B.
~*~*~*~*~*~*~*~
I got hired at Concentrix. Thanks for the heads-up!! – Gloria G.
~*~*~*~*~*~*~*~
I got hired!! I start with Conduent 9/14! Been chasing that company for a few years now! They're still hiring and they have a variety of schedules but you need to act FAST! Great starting pay, great benefit package, and 401k! – Shelly K.
~*~*~*~*~*~*~*~
I wanted to say, Thank You Rat Race Rebellion about beginner transcribing jobs. Because of your list, I was able to apply and got hired at CrowdSurf and Babbletype. By being with these two companies, I know that my skills in transcribing will increase. – Jen A.
~*~*~*~*~*~*~*~
Got hired at TTEC for p/t customer service position. Started training this past week! Thank you RRR! – Cindy A.
~*~*~*~*~*~*~*~
Well, I just wanted to share with the RRR crew some positive information about this site. I have been able to exclusively pursue virtual opportunities with RRR. Since March of 2017, I have worked for: Wonder, Appen, Lionbridge, Cambly, Red Butler and Education First. I am continuing my work with Red Butler under their new business model, and I just started with Education First. I recommend RRR to anyone who is looking for virtual employment. #RRRRocks – M'Karyl G.
~*~*~*~*~*~*~*~
I love what you do. I refer you to most of my friends and also to the College Administrator where I am attending. I can thank you that my Sister Lisa got hired through your site for VIPKid several months ago. She loves it & is booked solid every week for classes. – Linda S.
~*~*~*~*~*~*~*~ 
THANK YOU! Your site has been a tremendous help and I am happy to say that I have been working with ACD Direct for a month now, but found the hours available to be lacking. BUT, today I got my official welcome letter from Lionbridge! I am now a full time ads evaluator. Thank You so much for the service that you provide to us that prefer to work at home! I couldn't have done it without you! – Christina S.
~*~*~*~*~*~*~*~ 
Just a quick thank you for all the leads to work at home jobs!! I just got hired today at BroadPath Health Solutions at Member service Supervisor from home!! So excited thanks again i been searching for 5 months but thanks to your leads i am now employed. – Patricia S.
~*~*~*~*~*~*~*~
Thank you RRR. This week I was hired as a Time, etc virtual assistant. YIPPEE. Thanks again. – Darlene M.
~*~*~*~*~*~*~*~
PLEASE SHARE this post – turn your friends into Rat Race Rebels!