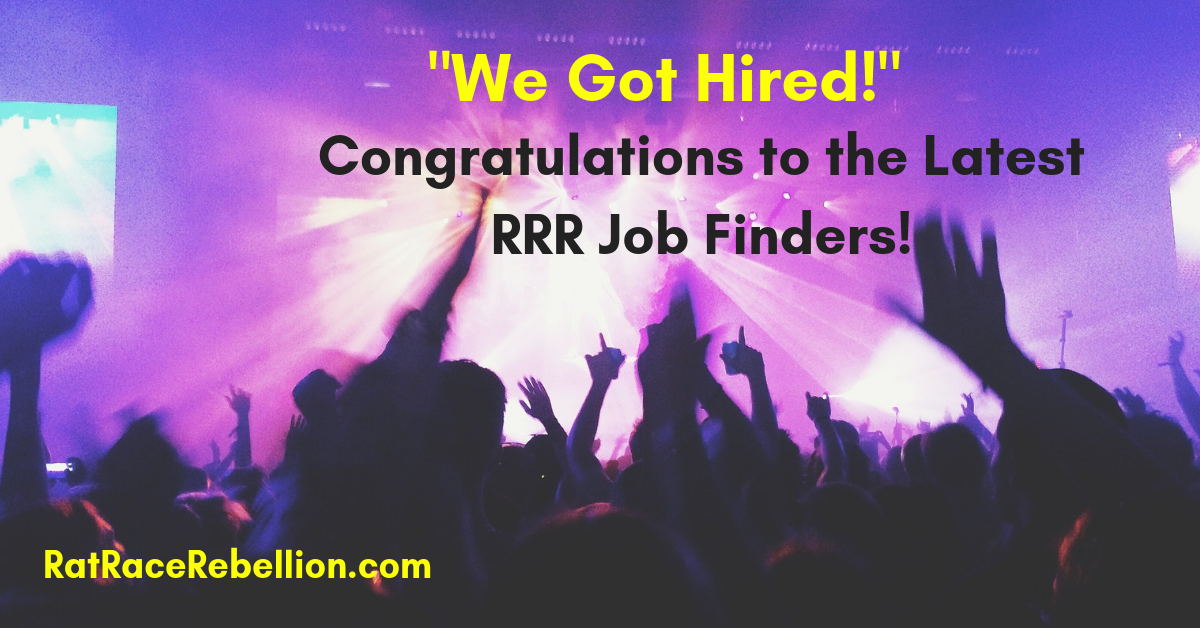 By Chris Durst & Mike Haaren – Founders, Rat Race Rebellion
Nov. 9, 2018
"We Got Hired!" – Congratulations to the Latest RRR Job Finders!
Please join us in congratulating the latest group of RRR job finders! And thank you all for emailing us and for sharing your wonderful news on our Facebook page! (We've excerpted some of your messages below.) Your messages totally make our day!!!! Well done to everyone! And thank you so much for your referrals — they're very much appreciated! And so are the pats on the back! 
~*~*~*~*~*~*~*~
I got hired at QuikTrak. – Jim K.
~*~*~*~*~*~*~*~
I was offered a position as a transcript editor with 3Play Media. 😁 I would have never known about this company if it wasn't for your website. Thank you! – Barbara J.
~*~*~*~*~*~*~*~
Just wanted to stop by and say THANK YOU SOOOO MUCH for what you do! I am absolutely in LOVE with RRR! I am starting @ BroadPath on 11/19/18, LiveOps on 11/26, I just started p/t at Instacart and hoping to start with Shipt and Door Dash very soon as well! I know it's a lot… but the holidays are around the corner! Thanks again and you will always have my support! – Joy K.
~*~*~*~*~*~*~*~
Because of you I got an amazing job working from home making more money than I've ever made before. Keep doing what you do. You're changing lives. I'm now booking travel for platinum clients with American Express. – Jessica V.
~*~*~*~*~*~*~*~
I Got Hired… At Appen. Thank You For All You Do! – Akilah G.
~*~*~*~*~*~*~*~
Thank you RRR! I got hired with Unum and I start Nov 26. I'm so excited! – Rhamaiah P.
~*~*~*~*~*~*~*~
I got hired by the U.S. Census Bureau as an assistant recruiter. I start training January 2nd in Florida. Thanks RRR for posting these jobs months ago. You are the best! – Anne P.
~*~*~*~*~*~*~*~
I have received a job offer with Hyatt! Thank you guys so much for providing a priceless resource to locate and obtain these virtual positions! I will have about 10 more hours a week with my 2yr old and I'm so excited to get started! – Amanda B.
~*~*~*~*~*~*~*~
I GOT HIRED with World Travel Holdings!! I start training on November 2nd. Thanks RRR. I couldn't have found this job without you!!! – Gerri A-E.
~*~*~*~*~*~*~*~
Hi! I'm a SAHM with a medically fragile son and being able to [email protected] is essential. Your blog is a lifesaver. I was offered a position with Williams-Sonoma AND Lionbridge. I accepted Lionbridge because the Williams-Sonoma hours didn't work for our family. Anyway, this will help our family so much. Thank you for your hard work!!! – An P.
~*~*~*~*~*~*~*~
Thank you RatRaceRebellion.com! I got hired with Amazon! Thank you for all of the time and work you put in to giving us legit work from home jobs! – Amanda W.
~*~*~*~*~*~*~*~
I just wanted to thank you for the job lead to Lionbridge. I successfully completed their three part exam and I am hired as a U.S. Rater. I was looking for part time and this will be perfect to subsidize my social security disability. Thank you. – Kathie S.
~*~*~*~*~*~*~*~
I was recently hired by Appen Global as an independent contractor thanks to your site! Thank you guys!!! – Erica M.
~*~*~*~*~*~*~*~
I just want to thank so much for all that you do on Facebook and on your website. I just got a job with KellyConnect!!! You just don't understand how hard we have been struggling off of one income! I feel so blessed and thankful for you! – Keya L.
~*~*~*~*~*~*~*~
I'm a fairly new subscriber to your newsletter and have been looking for a [email protected] side gig to supplement income as I'm building a small business. Just a couple of weeks ago, I applied for the Lionbridge position of Rater listed in your e-newsletter. I'm excited to say that I have been hired and start working part-time from home this Friday. Thank you so much for what you do! It has been a huge help – I'll be sending friends your way. – Maryellen M.
~*~*~*~*~*~*~*~
I got hired at Sitel from your posting! – Denise D.
~*~*~*~*~*~*~*~
Hello guys, Just wanted to say thanks, starting with TTEC today. Seasonal but that is exactly what I was looking for. Thanks! – Lisa H.
~*~*~*~*~*~*~*~
I started my new job with KellyConnect today! Thank you so much for the blasts and useful information! – Kayleigh I.
~*~*~*~*~*~*~*~
I just wanted to update you that I found a work from home position with BroadPath on your site and was hired! I don't start until January 7th but thank you for your continued listings of legit work from home jobs! – Tamara
~*~*~*~*~*~*~*~
Wanted to let you guys know I got hired by Lionbridge thanks for the lead! – M.M.
~*~*~*~*~*~*~*~
Hurrayy…. Onsource Inspector company has hired me as visual inspector on November 6th. My first assignment was on October 26th. – Ethel O.
~*~*~*~*~*~*~*~
Thank you sooo much RRR!!! I have gotten 2 job offers, one from Sykes and one from Williams-Sonoma. All thanks to you, I'll be starting with Williams- Sonoma on Nov. 12!! Thank you RRR!!! – Shanelia A.
~*~*~*~*~*~*~*~
Thank you for this awesome resource and it's free. Through your newsletter I obtained a work from home job with Williams-Sonoma! I'm so excited thank you so much. – Linda W.
~*~*~*~*~*~*~*~
I would love to thank you guys at RRR … I got a job at Williams-Sonoma as a Customer Service Rep!!!! I start on 11/5/2018. I'm super excited. – Misty S.
~*~*~*~*~*~*~*~
I just got a job working for Rev!!! Super excited!!! Thank you Chris and Mike for helping all of us [email protected] (ers) find these positions 💖 – Kathleen V.
~*~*~*~*~*~*~*~
I got offered a position at Jackson Hewitt! – Karen B.
~*~*~*~*~*~*~*~
Thank you Rat Race! I got hired with BroadPath and I start Nov. 5. I have already received my equipment. Thanks so much you guys! – LaTisha H.J.
~*~*~*~*~*~*~*~
Thank you Rat Rave Rebellion. I got an offer for Jackson Hewitt as a customer service rep. – Elizabeth C-S
~*~*~*~*~*~*~*~
Thank Rat Race Rebellion I just got hired with Babbletype. I have already shared your website with friends and family. You guys are awesome!!!! – Alicia B.
~*~*~*~*~*~*~*~
Just got a job offer from Jackson Hewitt thanks to RRR! – Ria R.
~*~*~*~*~*~*~*~
I'd like to thank RRR for their daily emails. I start with Amazon on Monday 10/29. The application process was simple and straightforward. They are very good at communicating with you throughout the entire hiring process. I received my equipment yesterday and am ready to start. Thanks again to RRR for the daily jobs and gigs list! – J'Vonne C.
~*~*~*~*~*~*~*~
I got hired at TTEC as a customer service rep!!! – Tonie A.
~*~*~*~*~*~*~*~
I got hired at REV as a Captioner! Thanks RRR!! – Nikera W.
~*~*~*~*~*~*~*~
Thank you so much! I just got hired on at Williams-Sonoma for seasonal help, this job really came at the perfect time! Thank you so much for your help in finding a job that I can stay at home and do! – Breezy E.
~*~*~*~*~*~*~*~
I got hired! I just got all the details and will be starting this week with iSoftStone as Search Engine Evaluator (Ads). Woo hoo! – Diane C.
~*~*~*~*~*~*~*~
I got hired as a mobile search reviewer at Lionbridge! Thank you so much RRR! – Pamela H.
~*~*~*~*~*~*~*~
I just got hired by Appen as an Social Media Evaluator! – Jo L.
~*~*~*~*~*~*~*~
Thank you so much Rat Race Rebellion…I received the email with the job hire with BroadPath Healthcare Solutions. Thank you, God Bless! – Chantess L.
~*~*~*~*~*~*~*~
I got accepted by Lionbridge and started working, not sure how much I will make yet. Thank you for the info. – Ed R.
~*~*~*~*~*~*~*~
Hey guys, my name is Dave. I don't even remember how I found you guys but I have been subscribing to you for over a year now. I usually read your newsletters casually and sometimes check out one here and there. But recently I was laid off for the winter for my seasonal job and new that I needed some supplemental income for my wife and I to get through the winter; so I started checking out your job posts in a more serious and thorough way.
I know that sometimes you publish comments when people are hired for positions that you posted. So I wanted to let you guys know that thanks to the both of you, I was hired by "Appen" as a consultant and Social Media Rater !! It's part time to start but that just fine!! Its definitely legit and it definitely pays real money!! They started me at @ $13/hr and pay through Payoneeer via bank account transfer, prepaid debit card that they will supply, paper check in the mail, or even through Paypal. It's only a couple hours a day to start but it's enough to pay some bills I was worried about being able to pay and it also gets my "foot in the door" with this company as an "independent contractor" and makes one eligible for future work and gives them notices about work opportunities before the general public!!
So any way, just wanted to thank you guys for what you do! And let you know about being hired by Appen this past week in October. I will def keep subscribing and viewing your newletters. This has given me some hope that with a little perseverance getting out of the "Rat-Race" of a 9-5 can actually be a reality!!  THANKS GUYS!! – David P.
~*~*~*~*~*~*~*~
Thanks to you amazing people at RRR, I'll be starting training for a full-time position with Mutual of Omaha in a few days. I went from wondering how I'm going to make bills next month to planning Christmas gifts for my family, and I cannot explain how enormous that is in words. I can never thank you guys enough. I wish I could hug you or bake you a cake or name my firstborn after you or something. Seeing as how my firstborn already has a name and I'm not in proximity for baking treats or hugging, I will just say THANK YOU, RRR! – Chani O.
~*~*~*~*~*~*~*~
I just wanted to inform you that I've accepted a offer with Appen Global for social media evaluator position. Thanks for what you guys do! – Rubin G.
~*~*~*~*~*~*~*~
I want to express my sincere thanks for sharing the Jackson Hewitt advertisement. I have been hired and wll begin my training in 19 days. Hooray for me. – Grayce M.
~*~*~*~*~*~*~*~
I got hired at Sykes…thank you so much RRR!!! – Sandra A.
~*~*~*~*~*~*~*~
Thanks to RRR I got hired at TTEC and William-Sonoma. Thanks RRR – Rucker
~*~*~*~*~*~*~*~
Actually I got hired on at Amazon too. Nervous a little because w don't know what to expect. Plus, it is just seasonal for right now… *Be Blessed* – Carvonda Y.
~*~*~*~*~*~*~*~
I got hired at Signet Jewelers! Your site is a great resource. Thank you! – Amber V.
~*~*~*~*~*~*~*~