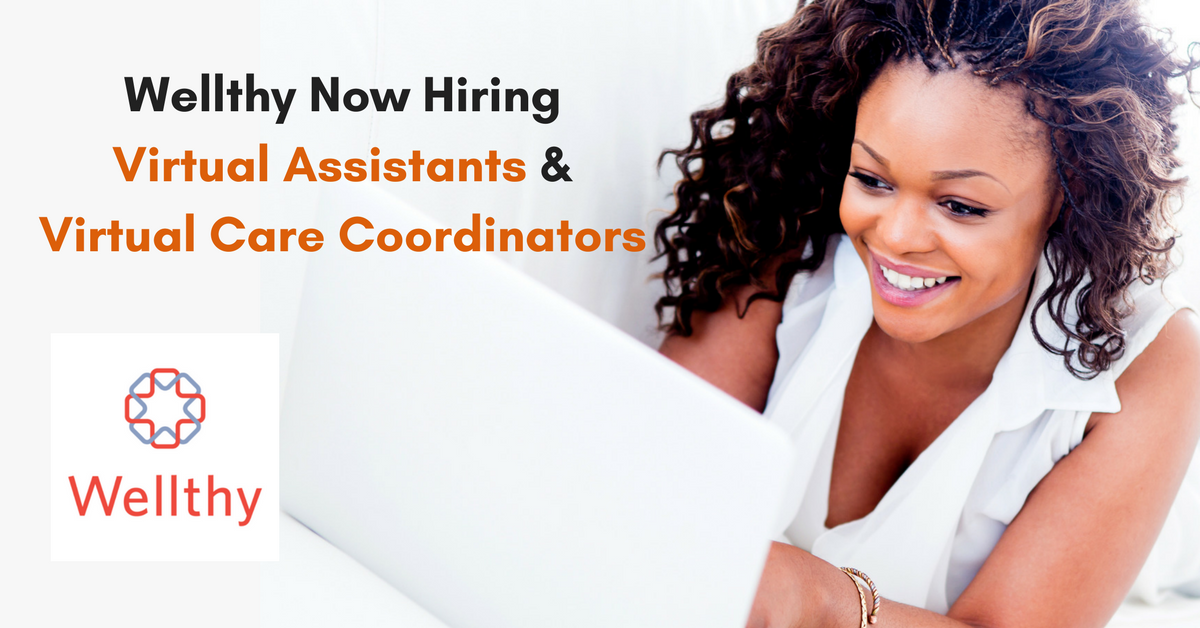 by Chris Durst     July 10, 2017
Wellthy is a healthcare concierge service company that "takes the pain out of healthcare – scheduling appointments, finding the right specialists, researching treatment options, managing insurance, organizing records, communicating with family members and much more."
Currently, the company has two types of work from home positions available – Virtual Assistants and Care Coordinators. Following are the job descriptions from their site:
Part-Time Virtual Assistants
As a Wellthy Assistant, you will work virtually with Wellthy Care Coordinators to help with tasks that such as researching living options, pricing and setting up transportation services, and much more!
Qualifications:
Able to handle multiple tasks at once
Well-organized
Flexible schedule (note: can handle tasks during working business hours)
Doesn't take "no" for an answer
Background in administrative support
Dependable and organized, great with details and timelines
Mission-driven to create a better healthcare system for everyone
Experience in the healthcare industry preferred but not required
Who We're Looking For:
You're scrappy with a knack for finding answers within healthcare. You have experience in administrative assistance and comfortable working on multiple tasks at once. You're creative and you don't back down when told "no." You have a flexible work schedule and passionate to help streamline healthcare complexities for families.
---
Part-Time, Virtual Care Coordinator
In the Care Coordinator role, you will work virtually with families to help manage and navigate care. You will research options, set up services, provide support, and bring huge relief.
You will report to a full-time Wellthy Care Manager who will provide ongoing guidance and support to make sure you have what you need. You will work virtually, set your own hours, and be part of the Wellthy community of Care Coordinators who are working together to provide a new and modern-day version of traditional care management.
In the first few months at Wellthy, you will:
Work directly with families as their expert, partner, and support-system
Utilize Wellthy's proprietary, cutting-edge online system to virtually manage care
Take on as many or as few clients as you're comfortable with
Join a fast-growing community setting out to modernize social work

You are:
An experienced care manager, social worker, care coordinator, or patient advocate
Empathetic and kind, with a warm "bedside manner" even in virtual communication
Incredibly responsive, especially in moments of need for a family
A stay-at-home parent or currently employed part-time (note: if you have a full-time job, you will need to be able to check email and respond to families while at the job)
A dependable and organized project manager, great with details and timelines
Passionate about helping families navigate complex healthcare situations
Mission-driven to create a better healthcare system for everyone
Click on the job titles above for full details and to apply. For more jobs like these, check our Newest Jobs & Gigs page. To be the first to hear about jobs like these, like our Facebook page and check your feed for our posts. May you be working from home soon!
PLEASE SHARE this post – turn your friends into Rat Race Rebels!