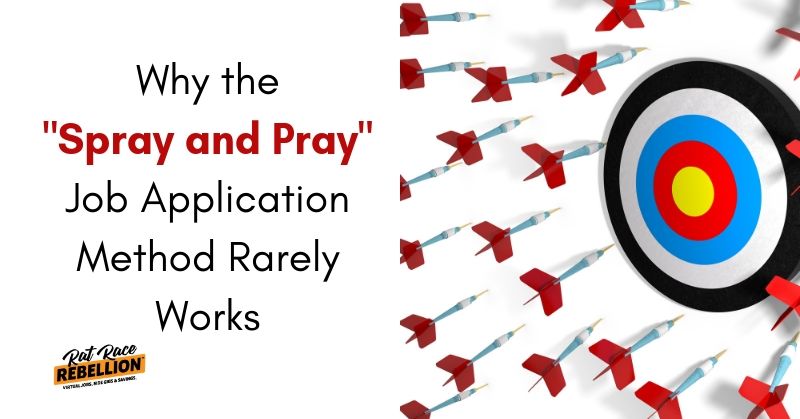 by Chris Durst    Updated Feb. 17, 2020
When you need a job "yesterday," it can be tempting to go into rapid fire mode – shooting resumes and applications out to every job you see. This method is often referred to as "Spray and Pray" — you spray resumes out everywhere and hope and pray you'll land a job.

While you may get lucky and actually get an interview, it's more likely that you'll be hit by a big wave of silence or rejections… followed by a heavy feeling of defeat.
WHY IT DOESN'T WORK
1. Your Application is Unremarkable
With so many job seekers looking for home-based work, companies posting jobs are usually flooded with applications. People using the Spray & Pray method don't generally take the time to customize their resume for each job while other more focused applicants will.
In short, your application very likely won't shine brightly enough to be noticed.
2. Applicant Tracking Systems (ATS)
ATS are designed to, among other things, match keywords in your resume and cover letter to keywords that have been set by the hiring manager. That means, if you aren't taking the time to mirror their language in your resume, you're not going to make it past the bots and into the hands of that hiring manager.
3. You're not qualified
The majority of people who use the Spray and Pray method apply for anything and everything – regardless of whether they're a good fit or not – and hope something will stick.
Back in the "old days," when you were applying to a local employer and before ATS came into the equation, this may have worked. After all, there was always a chance the hiring manager might have seen a fit for you elsewhere in the company. It's just not the case any more – particularly in the work from home arena.
4. It'll beat you down!
"I sent out 100 applications this week and not one of them replied!"
If you apply to dozens of jobs without taking the time to target carefully and tailor your application, the outcome will almost always be disappointing. You're actually creating a cycle that will leave you feeling defeated, applying to 100 more jobs, feeling defeated… you get the picture.
Your Spray and Pray ways may be working against you! If you're using this method, try swapping it out for the next couple of weeks. During that time:
Really read every job description carefully and only apply to those you are truly qualified for;
Edit your resume to mirror some of the language and terms used by the hiring manager who took the time to craft the job description (they used the words they'll be looking for);
Make sure your resume showcases your accomplishments and skills as they relate to the specific job you're applying for;
Take the time to write a carefully thought-out cover letter if their application form has a field to include one.
You may feel like you're cutting down on your chances when you cut down on the number of applications you send but, if you start conducting highly-targeted searches and applying for the right jobs with the right content in your resume, you're odds of actually landing a job skyrocket!
PLEASE SHARE this post – turn your friends into Rat Race Rebels!
[social_warfare]