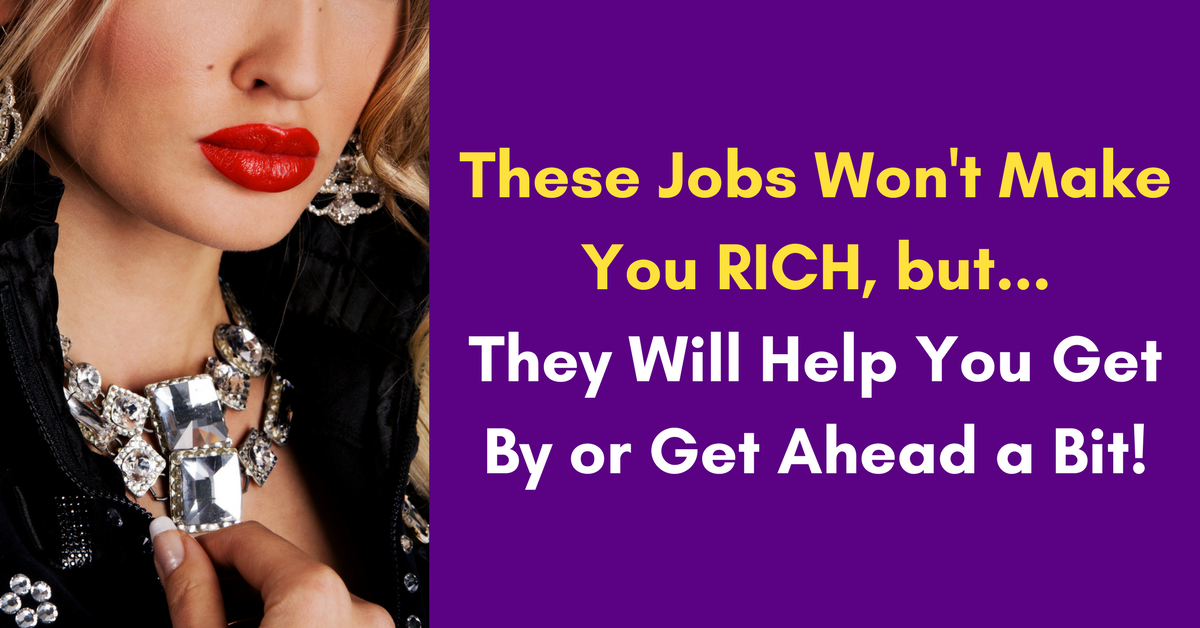 By Mike Haaren – Co-Founder – Sep. 8, 2017
Work from Home Jobs & Gigs to Help "Bridge the Gap"
Almost every day we hear from readers who need to start making some money, and preferably quickly. Many people need cash for bills, other folks need a regular supplemental income.
While the suggestions I've made here aren't for the long term, these jobs and side gigs may fit "for the time being."
Bear in mind that workflow can vary — in some jobs it can even dry up completely, and suddenly. (Many Rat Race Rebels have experienced this with temp work with ZeroChaos, for example. Temp jobs can be very "temp.") But at least if you know what to expect, you won't be blindsided.
Consider a "Job Mosaic"
You can also sign up with a number of companies to help you manage cashflow fluctuations. Some Rebels regularly combine these jobs and gigs, and others like them, to make a more sizable total income — a "mosaic" approach. Everyone has unique needs, but it's something to keep in mind.
Disclosure – This post also contains affiliate links, which pay us a small fee when you use them. We screen them, too, for legitimacy. They help us keep the computers running. Thanks!




WeGoLook
Job: "Looker" – Get Paid to Go Look at Things
Lookers are folks who get paid $15 to $200 to do things like:
— Look at a car that's for sale outside the buyer's region
— Check the condition of a vacation home the customer would like to rent this summer
— Check out an expensive item that's for sale on eBay or Craigslist
Use Their App for "Looks"
You'll use the WeGoLook app to do your assignments, called "Looks." If you have a smartphone and a car, and you can pass a background check, you're in business.
However, if you live in a rural area, this may not work for you, as you may not get many "Looks."
***
Leapforce
"Applicants must be self motivated and internet savvy. As a search engine evaluator, you may participate in a number of different evaluation projects, including web search, video evaluation, maps, local, automation projects, etc."
What's the Pay?
According to contractor reviews on Glassdoor, and confirmed by a number of Rat Race Rebels who have worked with Leapforce, the pay is about $13/hr.
For details and to apply, click here.




***
Cracked
Job: Get Paid for Your Sarcasm and Wit
If you're the "life of the party," or the one with the wry sense of humor, or the modern-day Mark Twain who just has a way with words, Cracked — the humor magazine — wants to hear from you. No experience necessary.
They're looking for funny videos, written work, photoshoppers to create humorous pics, and infographics creators (even if you only have a funny idea, they'll buy it and create the graphic themselves).
Show Me the Money
We don't have all the pay details, but Cracked says, "For your first four accepted articles, you will get $150 each. From your fifth article onward, you will get $250. If your article becomes one of the ten highest traffic-pullers of the month, you'll earn an additional bonus payment of $100."
***
Ebates
Job: Get Free Cash and a $10 Signup Bonus, Too
Rebate companies like Ebates, which has been around since 1998, are fighting for your business, and this spells opportunity for consumers. We're seeing more and more apps that let people automatically get money back on everyday purchases.
This is about the easiest money you can make. You're "getting paid" for the shopping you do anyway, online or off — at Walmart, or Amazon, or Kohl's, or the 2,000+ other stores that Ebates works in. Get your cash back via check or PayPal.
How Does It Work?
Rebate companies know that the key is to make the rebate as easy to get as possible. And make it as big as possible. Ebates simplifies online rebates and savings with a browser button that automatically applies coupons and promo codes when you buy.
For in-store rebates, just link an Ebates offer to your credit card before you go, and use that card when you shop. You can also link offers with your phone, via an app, while you're shopping.
But Ebates isn't perfect. For example, they issue payments every three months, in May, August, November and February. Hopefully, they'll be shortening that soon. If you want payments faster, within 48 hours, check out Ibotta.
For more on Ebates, click here.
***
Amazon
Job: *Seasonal Work from Home Customer Service Associate – These Come with a Free Chromebook & Headset, Too! (*Apply or share quickly – These jobs always fill fast.)
Amazon just announced more hiring for its Seasonal Customer Service Associate jobs — part of its huge work from home recruiting drive. These jobs also come with a free Chromebook and headset, RRR Facebook members report. (We've included their insider feedback in the post we've linked to above and below.)
Facebook Rebels who have been hired also say that these jobs are supposed to last 3-6 months. However, if you do a great job, they can become long-term at $12/hr. The seasonal roles start at $10/hr., with "bonus opportunities."
For more detail, click here. But don't wait to apply or share — these could be gone very quickly!




For more options like these — and permanent jobs, too — check our Newest Jobs & Gigs page. To be the first to hear about RRR jobs, like our Facebook page and check your feed for our posts. We wish you every success in your work from home plans!