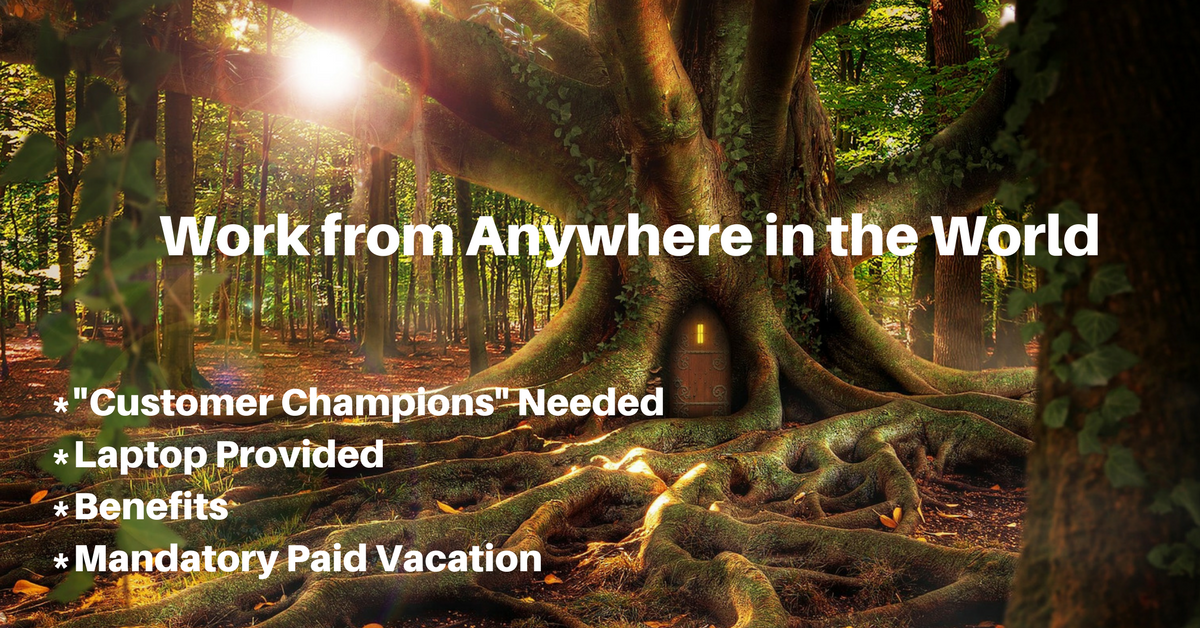 By Mike Haaren – Co-Founder – July 12, 2017
Work from Home Jobs – Work from Anywhere in the World – Benefits, Laptop, Mandatory Paid Vacation
If you've been looking for a job with no location restrictions, here's one.
Zapier is a growing young virtual company with 80 team members in 13 countries. They produce "Zaps" — software that links apps, so customers can automate information processing. They're looking for one or more Customer Champions to work from anywhere in the world.
Their current support team, per their site, is in Washington, Maryland, Florida, Connecticut, Wisconsin, Michigan, Oregon, California, Indiana, Pennsylvania, Australia, England and Spain. Pick one or add a new one!
You can also pick your own equipment. "We'll set you up with whatever laptop + monitor combo you want plus any software you need," the company says.




Besides its "work from anywhere in the world" and free equipment deal, Zapier is unusual in offering a mandatory minimum of 2 weeks' vacation annually.
Duties
You'll be helping customers via email or chat, troubleshooting their problems and answering their questions. You'll also be writing support materials to help customers help themselves, and assisting the product team with new tools.
Compensation, Benefits, Vacation Policy
Here's what they have to say:
— Compensation — Based on experience
— Great healthcare + dental + vision coverage
— 401k retirement plan with 4% company match
— Profit sharing
— 2-3 annual company retreats to awesome places
— 14 weeks paid leave for new parents
Unlimited vacation policy (plus we insist you take at least 2 weeks off each year – this isn't a vague policy where unlimited vacation means no vacation).
Requirements in Brief
The company is looking for someone who's empathetic, detail-focused, dedicated to solving problems, persistent, effective and loves to write.




"About You" in Their Words
Here's the ideal candidate in Zapier's words:
You're empathetic to users and can easily put yourself in their shoes. You realize that not everyone has the same skill set and that smart people sometimes make mistakes. You make customers feel empowered after interacting with support and not stupid because of a small mistake.
You obsess over the details. Maybe you have a one emoticon and one exclamation point rule of thumb for every email. Maybe it's only two sentences per paragraph. Either way, you make sure each word and each punctuation mark makes the customer delighted to work with you.
You love solving problems. Every customer is different, many times radically so. You relish being able to meet their specific need, and also solving their problems that may have gone unsaid.
You love to write. Almost everything at Zapier is done via written communication (both with customers and between teammates).
You're persistent. Support at Zapier is much different than at many software companies. It's not the same questions over and over again, and often involves researching technical nuances of the apps we support. You love the opportunity to solve new problems every day and won't give up when you don't know the answer right away.
You love doing things efficiently. At Zapier, the work you do will have a disproportionate impact on the business. We believe in systems and processes that let us scale our impact to be larger than ourselves.




You love to set your own course. At Zapier, we have quick team meetings each week and one-on-one meetings every month and then we go make things happen. You get to make things happen without someone saying so.
We believe giving the best support to our customers is important. For that reason, we only consider candidates who want to dedicate at least the next year or two to giving great support to Zapier customers.
How to Apply
The job is listed on Zapier's about us/hiring page. The company says it adds Customer Champions often, so it has a standing listing on the job description page. This is where you'll apply. Zapier gets 5 stars out of 5 on Glassdoor (two reviews). For more jobs like these, check our Newest Jobs & Gigs page. To be the first to hear about jobs like these, like our Facebook page and check your feed for our posts. May you be working from home soon!
PLEASE SHARE this post – turn your friends into Rat Race Rebels!