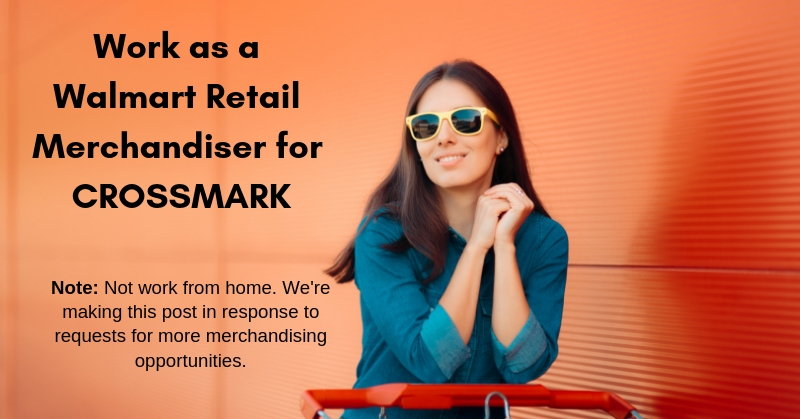 by Chris Durst          April 24, 2019
This is not an at-home position, but many RRRebels like the flexibility and autonomy that merchandiser jobs offer and they've asked us to post more of them.
CROSSMARK, a sales and marketing agency, is looking for Part-Time Walmart Retail Merchandisers in many areas across the US. Per Glassdoor reviews, the pay is around $12/hr., but that's not official. HS diploma or GED required. Retail experience preferred but not required.
In this role you will, "execute activities including selling in features and promotions to Walmart store management, stocking shelves, resetting product categories to the most up-to-date modular / planogram, building displays, correcting product voids, and working out-of-stocks."
People who do this job rate it an average of 2.6 our of 5 stars on Glassdoor.
Here's what the company has to say about this opportunity:
"Responsibilities:
Execute in-store retail merchandising activities as outlined in project plans.
Ability to sell-in promotional displays and features to Walmart store management.
Communicate effectively with store personnel regarding tasks, sales activities, promotions, and client objectives.
Successfully execute work independently and/or as part of a team.
Provide support to shoppers in store as required.
Manage scheduling of work to ensure work is completed on time.
Accurately report all completed retail activity via the appropriate designated systems on the day the work was performed.
Access web based applications to check schedule for work assignments, report project status, record time and mileage, and complete training activities.
Ensure proper handling of all company provided equipment.
Qualifications
High school diploma or general education degree (GED); prior retail experience is preferred, but not required.
Strong interpersonal, organizational and decision-making skills.
Basic computer and internet skills.
Access to the internet, a printer and phone.
Access to reliable transportation.
This position requires the ability to stand, walk, use hands and fingers, reach with hands and arms, talk or hear, stoop, kneel, crouch, climb, or balance. You must be able to regularly lift up to 25 pounds and to occasionally lift up to 60 pounds from the floor to waist or chest high. Product resets can be very physical in nature. Reset activities could include removing items from the shelf, moving shelves, building fixtures, and displays, reorganizing the products according to the planogram provided, replacing shelf tags, filling new products, and retrieving additional stock when necessary.
Position Type: Regular Part-Time
Average hours per week: Hours will vary according to territory requirements. May require overnight and/or weekend work.
At CROSSMARK, you can get the job that gets your lifestyle. Whether you are seeking a career in retail merchandizing, the flexibility of a part-time job or full-time corporate employment, we have a place for you. Join our U.S. team of over 30,000 dedicated and talented individuals in providing expert sales and marketing services for the consumer goods industry."
Click here for full details and to apply. For more jobs like these, check our Newest Jobs & Gigs page. May you be working from home soon!
PLEASE SHARE this post – turn your friends into Rat Race Rebels!
[social_warfare]