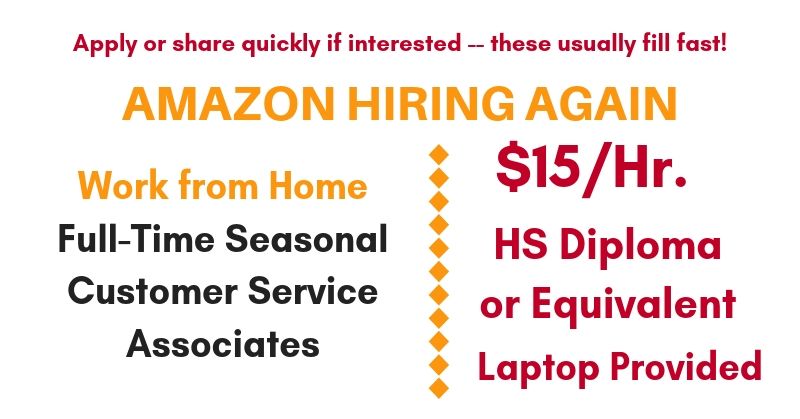 By Mike Haaren – Co-Founder Rat Race Rebellion – Oct. 12, 2019
UPDATE 10/13/19: AS NOTED, THESE POSITIONS FILL QUICKLY AND IT APPEARS THAT AMAZON HAS REMOVED THE LISTING FOR THE TIME BEING. We'll let you know when they resume hiring. Good luck to everyone who applied!
*******************
Apply or share quickly if interested — these jobs usually fill quickly! 
Amazon just announced that it's hiring more f/t Seasonal Customer Service Associates. Pays $15/hr., HS diploma or equivalent required. No college required.
"Equipment provided." It's probably laptops and headsets, as before. But that's not official. They may still be offering health benefits after 90 days, but we'll update here if we hear more.
Hiring States
For these openings, Amazon is hiring from Alabama, Arizona, Arkansas, Delaware, Florida, Georgia, Indiana, Iowa, Kansas, Kentucky, Louisiana, Maine, Maryland, Michigan, Mississippi, Missouri, Nebraska, New Jersey, New Mexico, New York, North Carolina, North Dakota, Ohio, Oklahoma, Pennsylvania, South Dakota, Tennessee, Texas, Vermont, Virginia, Washington, West Virginia, Wisconsin and Wyoming.
Here's what the company has to say about the openings (excerpted):
What is Amazon Customer Service All About?
As a CSA, majority of your time will be spent helping a variety of Amazon customers and drivers by phone, and sometimes via email and chat. You will use tools and programs to navigate the site, research accounts, review options and solutions for customers, and communicate them effectively. CSA's will learn other areas of the business and support specialty departments as needed.
What Does Amazon Need from Me?
— This position is 40 hours per week, additional hours, up to 60 hours per week, if there's a customer need.
— Commitment to work when our customers need us the most. Shifts can vary to include mornings, afternoons, evenings, and nights, including one or both weekend days. Being available to work a flexible schedule that falls within our operating hours is required and expected.
— Commitment to change your schedule frequently, with a two-week advance notice.
–You must have an internet connection with a minimum of 10 Mbps download and 5 Mbps upload speed from a reliable internet provider (Cable, DSL or Fiber Optic/Fios providers only). Satellite internet providers cannot be used.
— Cannot use a wireless connection. Your device must be directly connected to router/modem via Ethernet cable.
— Agree to Amazon's Work from Home Agreement.
— Amazon provides paid mandatory training and resources for new associates.
— Associates are measured on several areas including, but not limited to, schedule adherence, contact quality, efficiency, and process compliance.
— Learn a variety of skills within the Customer Service organization to support the customer and move to the area of business that needs you the most.
— Candidates who will be flexible in their work schedule based on customer need. Flexibility is expected and required of all associates.
— Your mailing address must be current (apartment, suite, etc.) P.O. Boxes are not supported; A physical address is required for you to receive your equipment.
To go to the jobs and to apply, click here. For more jobs like these, check our Newest Jobs & Gigs page. To be the first to hear about jobs like these, like our Facebook page and check your feed for our posts. May you be working from home soon!
PLEASE SHARE this post – turn your friends into Rat Race Rebels!