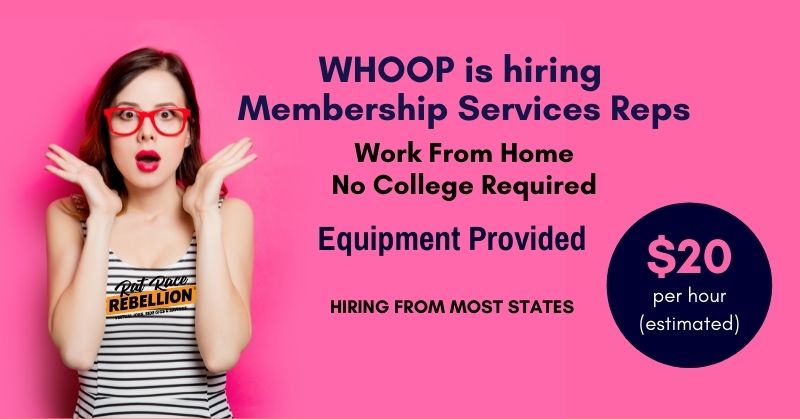 By Mike Haaren – Co-Founder, Rat Race Rebellion – Aug. 25, 2021
Whoop — a growing young company that specializes in fitness tracking — is looking for full-time Membership Services Reps. Per Glassdoor reviews, the typical salary is $43,812. But that's not official. No college required. Training and benefits included.
In an earlier listing, the company also mentioned that equipment is provided. We assume this hasn't changed, but we'll update if we hear more. 
You'd be helping customers via email, phone and chat.
They're hiring from AL, AZ, CO, CT, DC, FL, GA, IN, MA, ME, MD, MN, MO, MS, NC, NJ, NH, NV, OH, OR, OK, PA, SC, TX, UT, VT, VA, WA and WI.
Whoop's key product is a strap that "collects physiological data 24/7 to provide the most accurate and granular understanding of your body…" The company also offers community memberships and an app.

Here's what they have to say about the job:
WHOOP is seeking a Membership Services professional who loves supporting communities, and geeks out on identifying underlying issues. These could range from hardware challenges with the WHOOP Strap, to software problems with the app, to analytical questions about the user's data. As a Membership Services Representative at WHOOP, your first responsibility will be to field, troubleshoot, and resolve issues that arise in our user base…
RESPONSIBILITIES:
Resolve client issues in an acceptable time frame via email, phone, and chat.
Meet or exceed the department's metric-driven goals and KPIs (FCR, CSAT, SLAs, etc.)
Follow company guidelines while thinking quickly to offer solutions to meet the customer's needs
Provide onboarding product demos via phone and video to new members
Provide clear documentation of all cases
Ability to leverage multiple applications (Zendesk, Stripe, Admin Console, UPS)
Be actively accessible, available, and responsive to customers, peers, and management during the duration of assigned work hours
Meet attendance and punctuality expectations while properly recording work hours in the Company timekeeping system
QUALIFICATIONS:
Ability to work remotely
Excellent written and oral communication skills
Ability to diagnose and solve problems
Ability to remain calm, professional, and communicative while troubleshooting member concerns
Proven track record of analyzing information, troubleshooting problems, and resolving or escalating issues as needed
Positive attitude and high energy performer
Ability to thrive in a dynamic, fast-paced, team-based environment
Ability to flourish within a startup environment and adapt to change
NOTE: The qualified applicant must reside in one of the following states to be considered: AL, AZ, CO, CT, D.C., FL, GA, IN, MA, ME, MD, MN, MO, MS, NC, NJ, NH, NV, OH, OR, OK, PA, SC, TX, UT, VT, VA, WA, WI.
Click here to apply. (Scroll down and click on "Membership Services" to see the jobs.) For more jobs like these, check our Newest Jobs & Gigs page. To be the first to hear about jobs like these, like our Facebook page.
PLEASE SHARE this post – turn your friends into Rat Race Rebels!