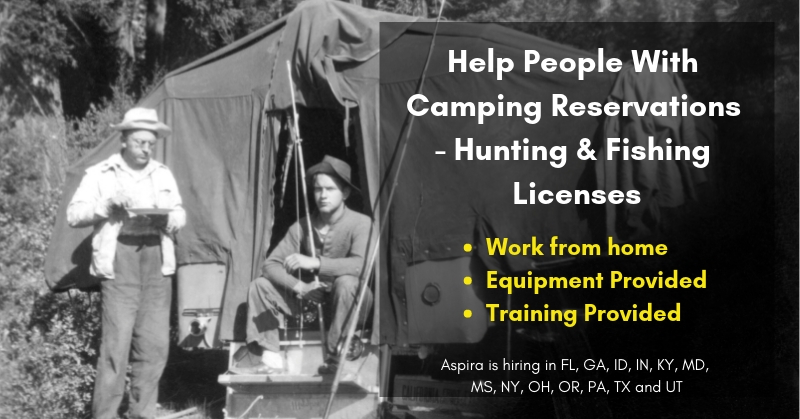 by Chris Durst         Feb. 22, 2019
Aspira is hiring to Work at Home Reservations and Licensing Sales Agents connect customers with camping, tours & activity reservations as well as hunting & fishing licensing needs across North America.
Pay varies depending on your state and is based on your state's minimum wage.
Equipment is provided.
Currently, the company is hiring in FL, GA, ID, IN, KY, MD, MS, NY, OH, OR, PA, TX and UT.
Please note that while the site lists specific cities, the job descriptions indicate they hire STATE WIDE.
Here's what the company has to say about these roles:
"Aspira is looking for remote customer service agents. This is a remote position working from the comfort of your own home.
Together with our customers, we're on a mission to cultivate a connected world through shared experiences.
Our Work-At-Home Department has been connecting customers with camping, tours & activity reservations as well as hunting & fishing licensing needs across North America since 2006.
There are no out-bound calling or sales/commission requirements; we pay hourly, paychecks are bi- weekly, direct deposit is available, and W2 provided.
What makes a successful Reservation and Licensing Sales Agent?
A quiet work environment that provides the following:
Standard phone line. First choice is POTS/Analog phone landline. We can accept some cable/digital providers. Please, no cell, satellite or VoIP providers.
High Speed internet connection and be able to be connected directly to the vendor's modem by Ethernet cable.
Direct wire to modem and phone line accessible to your intended work station.
Have a desk top monitor that is not an all-in-one computer, tablet, laptop or TV.
**No need to use your personal computer. We supply equipment with preloaded programs needed to train and work, including a dial pad and headset for phone calls, keyboard, and mouse.**
And be able to meet basic job duties that include:
Accessing company programs and query information within the company data bases to meet customer requests.
Assist your customers over the phone and/or chat and messaging with their requests, answer questions, and light trouble shooting.
Communicate effectively using scripted material, policy, guidelines, and procedures.
Maintain productivity goals and quality assurance standards.
Observe overall company policies, procedures, and maintain good attendance.
Attend scheduled virtual training sessions, including ongoing training and development plans.
Meet our seasonal needs as expected to run through the end of September 2019.
Basic requirements of the position are:
Excellent communication and customer service skills;
Ability to communicate remotely by phone, email and instant messaging (IM);
Basic computer skills including internet knowledge (such as basic searching and queries), IM, email, some basic technical terminology;
Must be organized and self-motivated as well as highly responsive to communication;
Suggested typing speed of 20 to 30 wpm;
Be able to provide a minimum of 25-29 hours of schedule availability, including weekend availability.
Perks:
Work and train from the comfort of your own home and save on transportation costs.
Paid guided training.
An employee of Aspira, not an independent contractor!
Internal growth opportunities"

Click here for details and to apply. For more work from home jobs see our Newest Jobs & Gigs page. To be the first to hear about jobs we post, like our Facebook page. May you be working from home soon!
PLEASE SHARE this post – turn your friends into Rat Race Rebels!
[social_warfare]