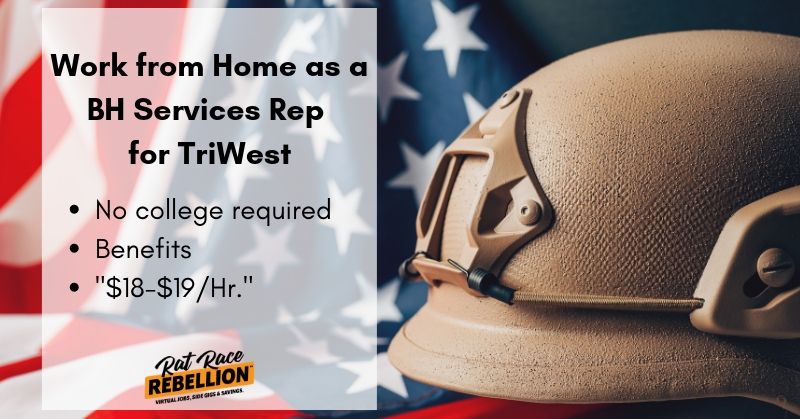 by Chris Durst Aug. 7, 2019
Update Aug. 8 — Looks like they got all the applications they needed and pulled the job. Good luck to everyone who applied!
****************
TriWest Healthcare Alliance manages health benefits for the US Department of Veterans Affairs. They're looking for people to handle inbound and outbound calls from / to Veterans, providers, VA and other customers to obtain and communicate appointment information.
Glassdoor reviews estimate the pay at $18-$19/hr. However, this is not official.
College is not required. Comprehensive benefits package.
No state hiring restrictions mentioned. (We learned from Angela P. after she applied that they are only hiring in MST and CST.)
Here's what the company has to say about this role:
Job Summary
Handles inbound and places outbound phone calls from / to Veterans, providers, VA and other customers to obtain and communicate appointment information.
Reviews and enters complex authorizations and referrals from VA and providers.
Processes healthcare authorizations received from the VA or directly from the Veteran and places outbound calls and receives calls to schedule Veterans' appointments.
Ensures accurate data entry and completion of authorization from referral/authorization forms, medical documentation.
Contacts providers to obtain missing medical documentation to assure compliance with timelines.
Effectively communicates medical information, test results, diagnoses and or proposed treatment in a manner easily understood by the Veteran.
Works in a detailed, fast-paced production environment.
Key Responsibilities
o Review and respond to complex referral requests from VA and civilian providers with appropriate coding and provider selection.o Researches and contacts the VA POC for essential missing information that cannot be located in the TriWest medical management system.
o Enters referral requests into the medical management system with appropriate coding and provider selection.
o Responds to inquiries from Veterans and providers regarding specific aspects of the VA program. Information and assistance includes referrals, authorizations, and the location and use of network and certified providers.
o Answers inbound calls from Veterans and providers in a timely manner
o Consistently displays professional and courteous service skills to internal and external customers.
o Schedules appointments for Veterans using the medical management appointing function for specialty care in the provider network in accordance with VA guidelines and TriWest desk procedures.
o Contacts network providers to schedule, reschedule or cancel Veterans' appointments.
o Works with standard coding systems including: standard medical taxonomy, International Classification for Diseases, Current Procedural Terminology, and Health Care Common Procedure Coding System.
o Demonstrates proficiency with the medical management system for tracking and updating medical documentation from the network providers for every patient encounter.
o Protects the privacy of health information of patients when using or disclosing Protected Health Information (PHI). PHI is any information about health status, or healthcare services that is linked to an individual.
o Takes appropriate measures to comply with HIPAA regulations to protect privacy of beneficiaries' health information.
o Tracks, receives, reviews medical information for completeness in accordance with VA and TriWest requirements.
o Documents every aspect of appointing, patient transfers, inquiries or complaints thoroughly in the medical management system.
o Documents all communications involving Veteran and provider contacts.
o Coordinates complete resolution of service issues by interfacing with the TriWest Complaints & Grievance Specialist and other departments
o Receives and reviews faxed documents to ensure appropriate entry into the medical management system.
o Understands and utilizes the grievances and appeals process available to dissatisfied beneficiaries and providers.
o Identifies potential discrepancies in the medical management system to assure quality program compliance.
o Consistently meets department productivity and performance metrics.
o Performs other duties as assigned.
o Regular and reliable attendance is required
Education & Experience
Required:
o High School diploma or G.E.D.o At least one full year experience working in an inbound/outbound call center and/or medical appointing
o Experience using Microsoft Office, the Internet and medical/health systems
o Knowledge of medical terminology normally obtained through a medical certification OR work experience using and understanding ICD and CPT codes
Preferred:
o More than two years experience working in a call center and or/medical appointing in a medical office
College coursework in healthcare or equivalent field
More About Working at TriWest Healthcare Alliance
We're more than just a health care company. We're passionate about serving others! We believe in rewarding loyal, hard-working people who are willing to learn as they grow. TriWest Healthcare Alliance values teamwork. Team members work from home or in one of our state-of-the-art facilities. Join our team, fulfill your responsibilities, and you may also be considered for frequent pay raises, overtime opportunities to earn even more, recognition and reward programs, and much more. Of course, we also offer a comprehensive and progressive compensation and benefits package that includes:
Medical, dental and vision coverage
Generous paid time off
401(k) Retirement Savings Plan (with matching)
Short-term and long-term disability, basic life, and accidental death and dismemberment insurance"
Click here for full details and to apply. For more jobs like these, check our Newest Jobs & Gigs page. To be the first to hear about jobs like these, like our Facebook page and check your feed for our posts. May you be working from home soon!
PLEASE SHARE this post – turn your friends into Rat Race Rebels!