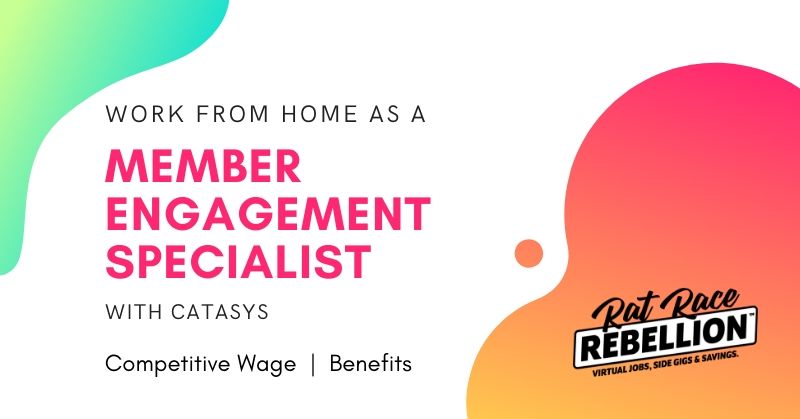 by Chris Durst             Nov. 14, 2019
Catasys is seeking Member Engagement Specialists for inbound and outbound calls to/from targeted health plan members.
They're looking for "smart go-getters" with solid interpersonal and communication skills with a great phone presence.
Wage is not mentioned, but they do state, "excellent compensation," as well as, "In addition to a competitive wage, we offer comprehensive benefits, including medical, dental and vision insurance; a 401(k) plan; paid holiday and sick time; flexible spending accounts and more."
Here's what the company has to say about these roles:
"As Member Engagement Specialist, you will make outbound calls to, and receiving inbound calls from, targeted health plan members. Your key goal will be to generate interest in our program, which is designed to help members better manage their health and wellbeing. In most cases, you will be a prospective member's first contact from Catasys, and you'll pave the way to facilitate enrollment by the Care Coach team.
Success will require a softer touch — an overly pushy approach will backfire. The emphasis will be on educating people about the program and the benefits it offers. The program is covered by the prospective member's insurance, so you'll never need to ask for money. It may take many calls to a prospect to get them to make the first step, and you'll continue to reach out until they say "yes" or ask us to stop.
At the same time, you'll have goals, so you'll need to be gently persuasive and persistent. On the initial call, your challenge will be to establish rapport in short order with someone who wasn't expecting the call. Then you'll build on that rapport on every call with a prospect, and each call should move the process forward.
More specifically, you will:
Make outbound calls to identified members regarding the program.
Engage targeted members in a discussion about their health, and effectively present how the program may benefit the member.
Educate the member on all three tiers of the program: care coaching, counseling and medical treatment.
Ensure the member understands the value of the program, leveraging your ability to recognize and overcome objections to program enrollment.
Accurately document and update records in required systems.
Work collaboratively with Care Coaches through the use of instant messaging, email and telephone calls.
Receive inbound calls and route appropriately.
Utilize internal systems to view and complete assigned tasks.
Comply with all HIPAA regulations.
Deliver world-class customer service skills and demonstrate an overwhelming desire to make lives better, one interaction at a time.

Requirements:
To meet the basic qualification for this role, you must be at least 18 years of age and have a high school diploma or equivalent. In addition, to be a good fit for the Member Engagement Specialist opportunity, you will have:
1+ years of experience in EITHER (ideal candidates will have BOTH)
A consumer sales environment, preferably in some type of telesales.
Healthcare outreach and/or member support.
A demonstrated ability to establish trust quickly, overcome objections and be persuasive over the phone.
Excellent oral and written communication skills with strong listening/comprehension abilities.
Great telephone presence, including the ability to:

Engage and motivate using patience and a conversational approach.
Convey confidence and a positive attitude.

The ability to:

Adapt to a regularly changing environment.
Navigate and multi-task in several computer applications while holding a conversation.
Proficient personal computer skills, including Microsoft Office.
Additional requirements:
A quiet, private, distraction-free home office work environment.
A reliable high-speed Internet connection (cable, DSL or fiber) with speeds of at least 10Mbps download and 5Mbps upload.
Willingness to do constant sedentary work.
Discipline to work from home while following a set schedule.
Preferred but not required:
Bilingual skills in English and Spanish.
A background in healthcare/wellness.
Certification or licensure in a healthcare field.
A bachelor's or advanced degree.
Click here for full details and to apply. To see more jobs like these, check our Newest Jobs & Gigs page. To be the first to hear about jobs like these, like our Facebook page and check your feed for our posts. May you be working from home soon!
PLEASE SHARE this post – turn your friends into Rat Race Rebels!