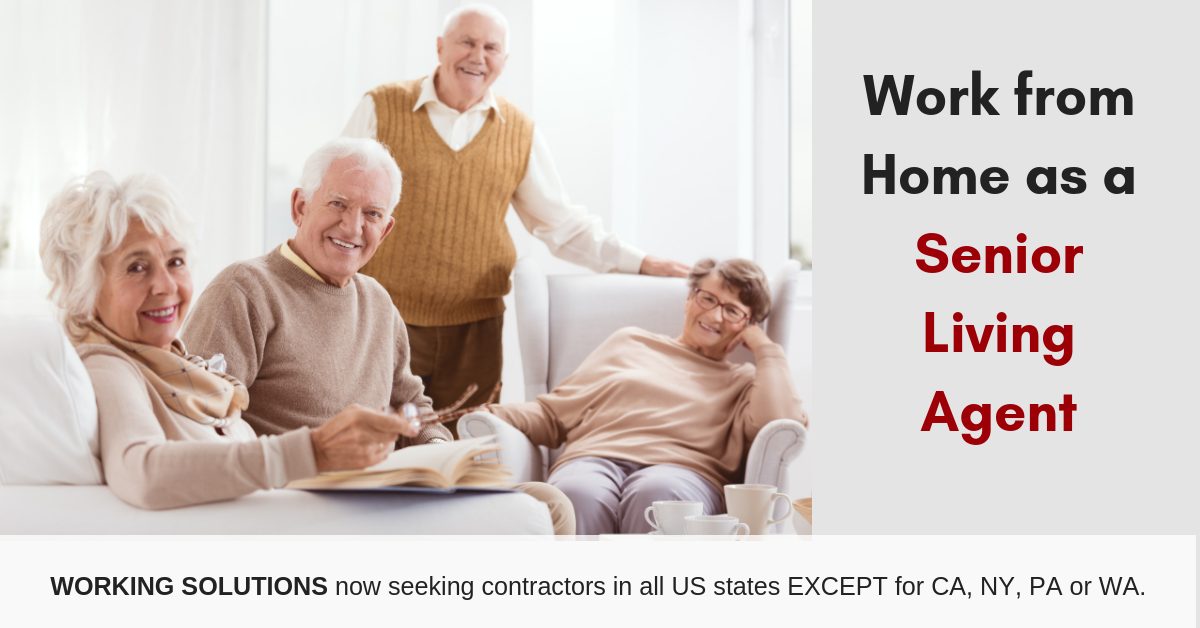 by Chris Durst           Jan. 14, 2019
Working Solutions is not new to the "work from home" arena – they've been around since 1996 and they have a good reputation. On Glassdoor, the company has been reviewed by 420 people and they rate the company 3.9 out of 5 stars.
Currently, the company is seeking independent contractors to assists seniors and their families to find senior living care. These Senior Living Advisors must be able to work at least 20 hours per week.
Note: Working Solutions is currently not accepting applications from candidates residing in CA, NY, PA or WA.
Here's what the company has to say about this opportunity:
"Provide compassionate customer care support through inbound calls and outbound calls. The work assists seniors and their families to find senior living care. You'll place outbound calls to family members who have recently inquired online regarding placement services, matching them with appropriate online tools or a Senior Living Advisor. The job focuses on compassionate interactions. Listening to the needs of the recipient or family member is of upmost importance. Works in a fast-paced, work at home, customer service environment.
Responsibilities
Excellent verbal and written communication skills.
Positive attitude, flexible and adaptable to change.
Ability to independently research, navigate and locate answers from webpages and resources in a variety of different situations.
Ability to effectively communicate, based on a customer's frame of mind.
Demonstrate a sincere desire to assist customers, putting their needs first.
As an independent contractor, you must be able to work at least 20 hours a week on this program during the client's operating hours.
Qualifications
Education and Experience:
At least 1 to 2 years of experience in a high-volume, customer service role, such as a call center, retail or similar environment.
Have achieved a satisfactory level of technical skill or knowledge. Familiarity with operating systems, including Windows OS versions and/or Mac OS versions.
Experience in senior care industry preferred, or a strong desire to learn about senior care.
Competencies:
Technical Skills: Proficient, data-entry skills. Ability to achieve a "Meets Expectations" rating or higher on scorecard.
Problem Solving/Analysis: Ability to solve problems through systematic analysis of processes with sound judgment. Have a realistic understanding of relevant issues.
Organizational Skills: Ability to organize people or tasks, adjust to priorities and learn systems— all within time constraints and with available resources. Must be detail-oriented.
Multitasking/Time Management: Prioritize and manage actions to meet changing deadlines and requirements within a high volume.
Information Management: Ability to manage large amounts of complex information easily, communicate clearly and draw sound conclusions.
Independent Thinking/Self-initiative: Critical thinker with ability to focus on things that matter most to achieve outcomes. Commitment to produce outcomes without direction and capable of finding necessary resources.
Empathy/Customer Service: Customer-focused behavior, exhibiting a helping approach that includes listening, patience, respect and empathy for another's position.
Coping/Flexibility: Resiliency in adapting to a variety of situations and individuals while maintaining a sense of purpose and mature problem-solving approach are required.
Computer Literacy: Ability to function in a multisystem Microsoft environment—using Word, Outlook, intranet, the internet and software applications.
Communication/People Skills: Ability to influence or persuade others under positive or negative circumstances. Adapt to different styles, listen critically and collaborate.
Commitment to Task: Ability to conform to established policies and procedures. Exhibit high motivation.
Quality Orientation: Accomplishes tasks by considering all areas involved, no matter how small. Shows concern for all aspects of the job. Motivated toward constantly improving. Sets high standards for self-performance. Takes responsibility and accountability for successfully completing assignments or tasks.
Contractors on this program will need to successfully pass a background check to work. This check will consist of a Social Security number verification, National Sex Offender Registry report and a criminal history check.
We are currently not accepting applications from candidates residing in CA, NY, PA or WA."
Click here for full details and to apply. For more jobs like these see our Newest Jobs & Gigs page. To be the first to hear about jobs we post, like our Facebook page.
PLEASE SHARE this post – turn your friends into Rat Race Rebels!