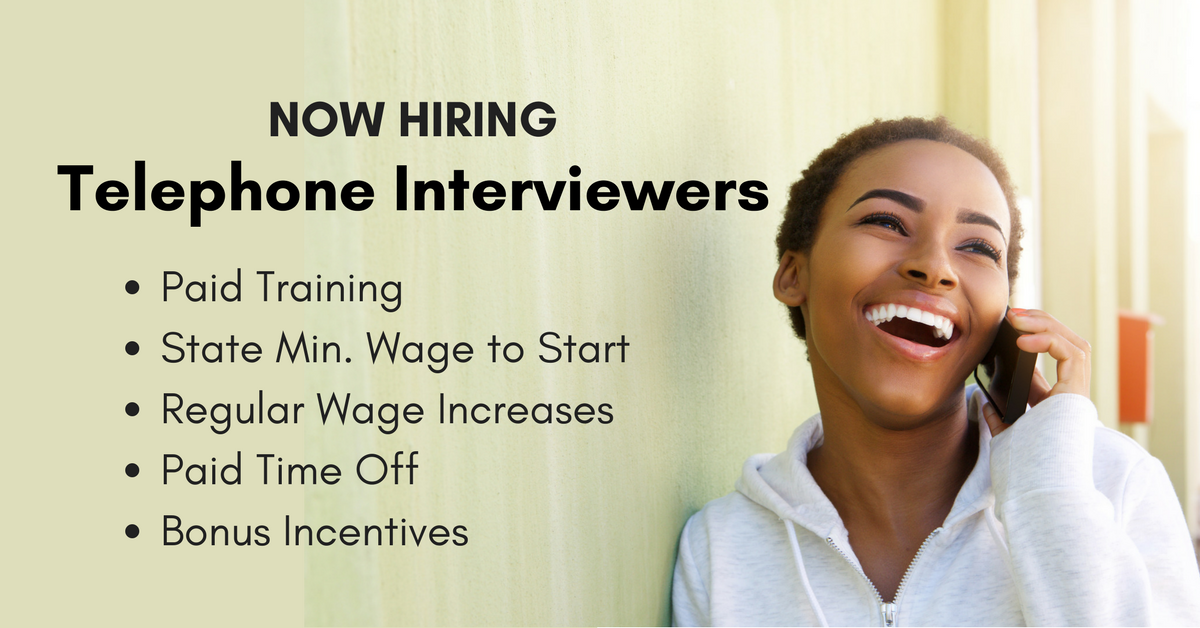 by Chris Durst       May 4, 2018
MaritzCX (the "CX" stands for "Customer Experience") is still recruiting part-time Market Research Interviewers to conduct telephone interviews. No state hiring restrictions mentioned.
In their words:
This part-time position will work out of your home to conduct Market Research interviews by telephone with various individuals, gathering valuable information regarding products, services and experiences that will assist our clients in producing a higher level of customer satisfaction.  Successful candidates are expected to represent MaritzCX and our clients in a professional manner, providing the highest level of customer service possible.  Successful candidates will interact with the customer and record data through our CATI system (Computer Assisted Telephone Interviewing).  Successful candidates must be comfortable with the operation of a personal computer and be comfortable with data entry processes and procedures.
This position requires the following:
Familiarity with Computer/PC/Telephone
Clear speaking voice, good grammar, and strong reading skills
Maintain client confidentiality at all times
Maintain a productive workstation that is quiet and free of any background noise
Ability to read and speak English fluently and in a conversational manner
Ability to explicitly follow verbal and written instructions
Ability to maintain a friendly, professional rapport with customers over the phone
Adhere to the attendance policy by being punctual and working designated shifts
High tolerance for repetitive tasks
Maintain a team oriented, cooperative spirit
Behaving in a friendly and professional manner at all times
Self-motivated to uphold production and quality standards
This virtual position also requires the following:
Access to a PC with the ability to open Microsoft office documents and access to Internet Explorer 5.0 or above, Safari or other compatible web browser.
Broadband connection to the internet – Reliable and high speed
Access to a stable and reliable telephone connection (landlines are preferred)
Access to a secure, private, and safe workspace
Access to a workspace that is quiet and free of background noise and distractions
Access to a noise cancelling headset
Active email account
All technology requirements must be provided by the employee and must be maintained in good working condition.  All costs to meet these requirements, including repairs, monthly telephone and internet charges are the responsibility of the employee and are not reimbursed by MaritzCX.
Wage:

We start at your state/county minimum wage/hr. Top performers can increase their hourly rate by $1.25 per hour over the first twelve months.  Actual increase is based on individual performance.
30 day perfect attendance = $.50 increase.
Other wage increase opportunities may be given at time of performance appraisals (first appraisals come at 2 month, 6 month and yearly after two years of employment).
Schedules:
Schedules submitted weekly to work around any personal obligations.
20 hours/week requirement, 28 hours max.
Weekends required.  No exceptions, sorry.
Perks & Incentives:
Direct Deposit of weekly pay checks each Friday
Monthly incentive programs based on project performance – gift cards Employee referral program – gift cards
Flexible weekly schedules that you create based on project hours
Paid time off
Paid training raises at time of performance appraisal
Click here for full details and to apply. Pay is on the low side and it won't be a fit for everyone. On the other hand, jobs like these can get your cashflow started, update a stale resume, and/or give you the work from home experience that companies are increasingly looking for. For more job choices, check our Newest Jobs & Gigs page. Good luck in your virtual career plans!
PLEASE SHARE this post – turn your friends into Rat Race Rebels!
[social_warfare]