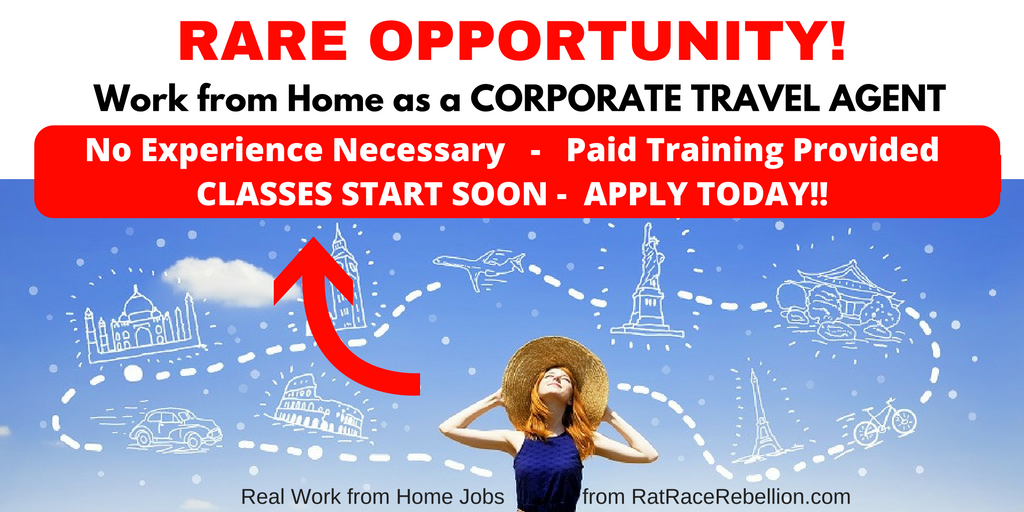 by Chris Durst    Nov. 21, 2016
Here's a Rat Race Rebellion insider! (It's great to have relationships with so many wonderful hiring companies – it allows us to share their jobs with you before others even know about them so you have a "leg up" on the positions!)
Before you slow down for Thanksgiving, you MUST check out this GREAT NEW WORK FROM HOME JOB with Working Solutions!
So many people have told us they love the work from home travel agent jobs we post, but they don't qualify because they don't have any experience in the travel industry. Well, I was on the phone with a rep from Working Solutions on Friday, and she told me about a new opportunity that's a real game-changer!
Here's the scoop:
Working Solutions has a HUGE NEED FOR CORPORATE TRAVEL AGENTS – with or without experience! They are looking for people who fit the following criteria:
Love to travel for leisure and book their own trips online
Love travel in general
Self-motivated go-getters who love to tackle any challenge and are able to pick up on new technology quickly
Thrive with multi-tasking while running many technology systems at once
Want to learn a new system & start a new career as a travel agent booking travel for corporate clients
They need people to work 25+ hours, and they have the highest demand early mornings, evenings and weekends.

Training
While they would love to have people with travel agent experience/GDS system experience, it's OK to come to them without it as long as you have a great attitude, skills and motivation to ace their EXTENSIVE TRAINING PROGRAM. (IT'S FREE!)
Even better, when you meet training and program milestones, you'll qualify for two different stipends (yep, you'll get paid).
APPLY QUICKLY – They have several classes coming up, with the first class at the beginning of December. If you can't do December, there's a class in mid-January, and another six weeks after that. Either way, apply NOW as they are starting the screening process right away for all of the classes!
CLICK HERE FOR FULL DETAILS AND TO APPLY TODAY!
PLEASE SHARE this post – turn your friends into Rat Race Rebels!