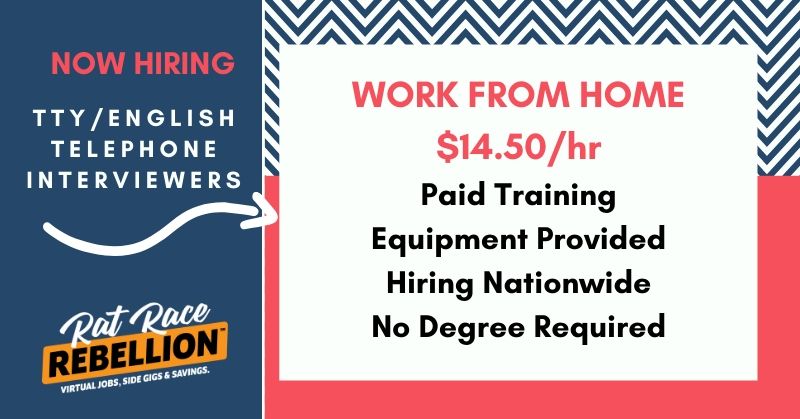 by Chris Durst         Nov. 19, 2019
$14.50/hr – Paid Training – Equipment Provided – Nationwide  – No Degree Required
Headway Workforce Solutions is currently recruiting on behalf of IMPAQ International to help them hire TTY/English Telephone Interviewers.
These are part-time positions with the possibility of moving to full-time based on your performance and the availability of projects.
Pay is $14.50/hour and paid training begins on January 20, 2020.
Here's what the company has to say about this opportunity:
"On behalf of IMPAQ International, Headway Workforce Solutions is currently seeking TTY/English work from home Telephone Interviewers. Interviewers will ask questions over the phone regarding Medicare benefits. This position pays $14.50 per hour, offering at least 20 hours of work per week, and the position lasts from February 10, 2020 – May 29, 2020. Required paid training will begin January 20, 2020 and will conclude by February 7, 2020. Training will be a combination of at-home study and classroom/webinar.
Benefits:
Work from home! (Or from IMPAQ's Survey Center based in Columbia, Maryland)
$14.50 per hour
Paid training
Consistent schedule offered – 20 hours per week with the possibility to work up to 40 hours per week based on performance, availability, and project needs
Available shifts are listed below; qualified candidates must be available to work the full shift hours for the selected shift, and maintain the selected shift Monday through Friday for the duration of the assignment.
8:00 AM – 12:00 PM Monday – Friday
10:00 AM – 2:00 PM Monday – Friday
12:00 PM – 4:00 PM Monday – Friday
2:00 PM – 6:00 PM Monday – Friday
4:00 PM – 9:00 PM Monday – Friday
All times are in Eastern Time Zone.
>>> IMPAQ to provide IT equipment and resources (laptop, headset, system access)
As a TTY/English Telephone Interviewer, you will:
Contact health plan call centers across the country to help Centers for Medicare and Medicaid Services (CMS) evaluate healthcare compliance
Be on the phone the full shift and be comfortable making a high volume of calls with specific time constraints
Read the questions clearly and verbatim to the participant
Accurately record outcomes and issues
Position Qualifications:
High school diploma or GED required
Strong attention to detail
Ability to read and speak English fluently
6 months of customer service experience preferred; preferably in a government agency, hospitality, financial/banking, or professional office setting
Background check required
Click here for details and to apply. To be the first to hear about jobs like this, like our Facebook page and check your feed for our posts. May you be rocking your Rebellion soon!
PLEASE SHARE this post – turn your friends into Rat Race Rebels!