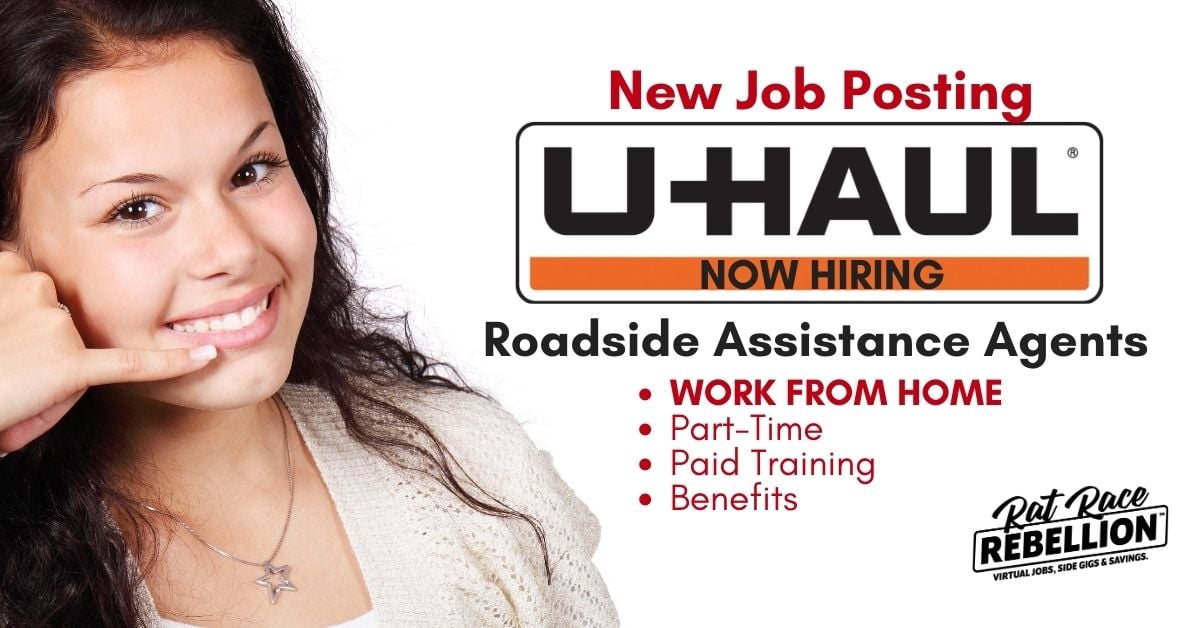 by Chris Durst         June 9, 2022
U-Haul has posted openings for work from home Roadside Assistance Accident Agents. While you don't have to live in Arizona, you do have to be available to work AZ time hours.
In this role, you'll be taking calls from U-Haul customers who encounter issues with their rented vehicle.
Typical pay is about $16/hr. per Glassdoor, but that's not official.
Here's what the company has to say about this role:
"The U-Haul Roadside Assistance department is now hiring for part-time or full-time team members who can assist with customers who experience an accident involving one of our pieces of equipment.
If you enjoy helping people and providing solutions in real-time, this position may be for you.
Roadside Assistance Accident Team Members assist callers who need to report an accident that may or may not require roadside assistance. Customer safety is our number one priority and, as a team member, you will be expected to follow established processes and procedures. You will be expected to handle all files with calm urgency, professionalism and care while meeting all quality-related metrics and goals.
U-Haul offers its Roadside Assistance Team members:
Education and work from home!
Career paths available including work from home!
Hourly base pay.
Opportunity for base pay merit increases based on performance and acquired skillsets.
Bilingual differential hourly base pay.
Part-time benefits include: Medical Reimbursement Indemnity
Plan, Rx Savings Plus Discount Plan, Dental Plan, Vision Plan,
Retirement Savings 401(k) Plan.
Minimum Qualifications:
Intermediate keyboarding and computer skills.
Active and Attentive listener.
Ability to type while talking (40 WPM or higher is a plus).
Ability to formulate sentences through written text.
Ability to navigate and use multiple computer programs at once.
Excellent verbal communication and listening skills.
Clear speaking voice.
General knowledge of U.S. and Canada geography.
General knowledge of how to map a location using various programs or applications.
Willingness to incorporate feedback to constantly improve performance.
Possess can-do-confidence.
Education and Development Explained:
Self-motivated education at our very own U-Haul University.
Self-motivated supplementary eLearning.
Assist customers within the first week of employment.
Customer interactions with instructors' support during initial education.
Skillset-driven continued education coordinated by your manager.
Fast-paced, hands on instruction with a set schedule.
Learn and begin performing some of your job duties with customers the first day.
Training/Orientation:
A Class Time Slot
Student Orientation Week 1 8am-10:30am (Arizona time)
Student Week 2 Training 8am-1pm (Arizona time)
B Class Time Slot
Student Orientation Week 1 2pm-4:30pm (Arizona Time)
Student Week 2 Training 2pm-7pm (Arizona Time)
Scheduling for the Business Need
Total number of hours scheduled each week will be based on business need.
We need coverage 24/7.
We need you to work at least one weekend day. If you want to work both that's great!
Working holidays is possible. We are open and customers need our help.
A note about how we schedule: Availability to work that aligns with the business need may increase the opportunity to be scheduled more hours. We pride ourselves on working with you to make a schedule that works. However, if availability to work does not align with the needs of the business, the result may be less hours scheduled.
The following is required to work from home:
You must have a quiet, private work area.
Dependent and child-care arrangements must be made as if you were working at a U-Haul site.
All work duties, including education, must be performed at your home address.
If you want to switch or substitute computers at any time, manager approval is required in advance.
CLICK HERE for full details and to apply. To see more jobs like these, check our Newest Jobs & Gigs page. To be the first to hear about jobs like these, like our Facebook page and check your feed for our posts. May you be working from home soon!
PLEASE SHARE this post – turn your friends into Rat Race Rebels!