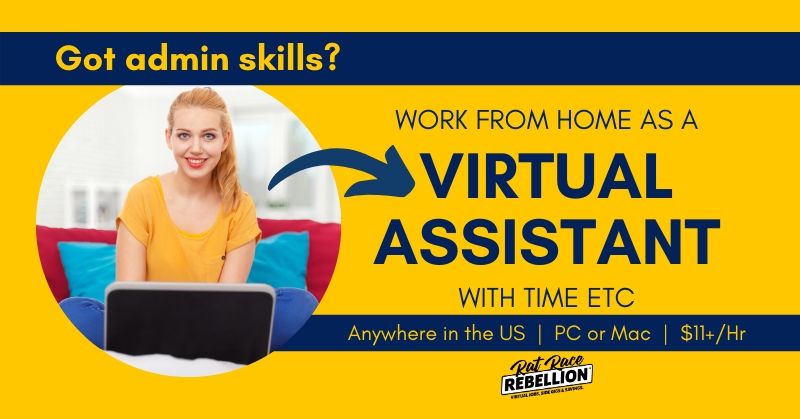 by Chris Durst      Feb. 3, 2020
Time etc continues to recruit part-time freelance Virtual Assistants to service their clients. Tasks "vary depending on client needs and your skills, but it might include things like general executive assistant duties, administration, formatting and typing documents, making travel arrangements, managing calendars, arranging meetings and appointments, making telephone calls, sorting expenses, updating social media, or writing articles and content."
Work from anywhere in the US.
Several RRRebels have reported being hired there. Pay starts at $11/hr. and reportedly can go up to $16. If you have a background in any of these areas, you may want to check them out. (Note that each job at Time etc comes with a general administrative support component, so you'll need to be able to provide that, too.)
Current Time etc rate the company at 4.9 out of 5 stars.
Here's what Time etc says about this opportunity:
"If you have a background as a personal assistant, executive assistant, secretary or admin assistant or you have your own Virtual Assistant business, we want to hear from you.
We're particularly interested in people looking for flexible, part time work they can do at home. If you have experience in any of the careers listed above and are available for at least three hours per week to complete administrative and personal assistant tasks, please read on.
You will be working as a Virtual Assistant, using your experience and skills to complete a wide variety of personal assistant and administration tasks, such as schedule management or document editing, for a number of different people.
What is a Virtual Assistant?
A Virtual Assistant is just like a personal assistant but works from home, normally for a small number of different clients. Clients benefit because they get the help they need to run their business without the cost, risk and hassle of employing someone. You benefit because you get to work from home, choosing your hours to suit you."
Requirements:
"You have at least 5 years work experience
You have experience working from home
You're available during the working day
You're happy with fees of $11 per hour to start (this is negotiable later!)
You're based in the US
You have a PC, Laptop or Mac
At least 2/3 years commercial experience
Ability to work during the working week (Monday-Friday)
Ability to work part time
Ability to work from home
Your own computer and Office software suite"
"So, how does it work?
If you make it past our rigorous selection process, you'll be able to connect and start working with clients. Our clients are made up of entrepreneurs, managers, and everyone in between! You'll be able to enjoy a starting rate of $11 per hour and a variety of work, all on your own terms.
The work you'll do will vary based on client needs and your skills, but it might include things like general executive assistant duties, administration, formatting and typing documents, making travel arrangements, managing calendars, arranging meetings and appointments, making telephone calls, sorting expenses, updating social media, or writing articles and content.
Like anything in life though, the more you put in, the more you get out. If you just want to do one-off tasks for money, we are not the service for you. We want Champions who will prioritise and take pride in their work, go above and beyond, make the most of their skills, and build valuable, long-term relationships with clients. If you can take the time to do this, we guarantee the rewards are huge!
You're not alone at Time etc – throughout your journey as a freelance Virtual Assistant, you'll have unlimited access to the support, help, and guidance of our friendly team."
Click here for full details and to apply. Please DO NOT CALL THE COMPANY — READ THEIR FAQ for answers to your questions. (Last time we posted this opportunity, the company was bombarded with phone calls from people who did not take the time to read the information posted to their site. Don't be that person!)
For more jobs like these, see our Daily Jobs & Gigs page. To be the first to hear about jobs like these, like our Facebook page and check your feed for our posts. May you be working from home soon!
PLEASE SHARE this post – turn your friends into Rat Race Rebels!
[social_warfare]