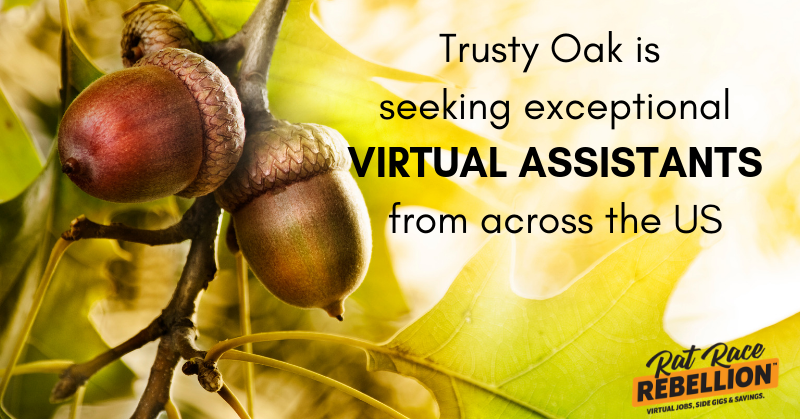 by Chris Durst       Apr. 8, 2019
UPDATE: Apr. 10, 2019 – Trusty Oak has informed us that they've received all of the applications the need at this time. We will let you know when they are hiring again!
The Marketing Manager for Trusty Oak, a virtual assistant company that works with well-qualified independent contractors, asked us to share their opportunities with our RRRebels.
She mentioned that the company offers "competitive pay rates and flexible, remote work to virtual assistants all across the country in marketing, administrative services, and other work!"
They describe the opportunity and qualifications as follows:
"Our VAs are independent subcontractors, so they make their own schedule and choose which projects they want to take on. Plus, they can work from anywhere in this great nation – day or night. It's a pretty sweet gig that is perfect for individuals with a professional background who need a flexible alternative to traditional employment.
We support independent subcontractors by providing:
A brand that is a trusted, reliable resource for business owners seeking assistants
A free trustyoak.com Google account that includes Gmail, Google Calendar, Google Drive, Google Hangouts and more
Weekly direct deposit
A personal page on the website each VA can use to promote his/her business
Free training and resources (HubSpot certifications and more)
Competitive pay and the opportunity to earn commissions
Camaraderie with other like-minded, hard-working people
Join the Team
We're always looking for new professional partners, so if you think you meet the requirements below, we hope you'll submit your résumé today!
Trusty Oak Virtual Assistants Minimum Requirements
At least two years of experience as an executive assistant, project manager, office manager or similar role
A nerdy obsession with getting the details right the first time
A dependable computer (Mac or PC) with Microsoft Office
Access to high-speed internet
A dependable phone
A work environment conducive to working distraction-free
A willingness to learn new things nearly every day
A desire to build a business as a virtual assistant (part-time or full-time) without doing it alone
A positive attitude despite challenging situations
We're especially looking for assistants with experience in:
Microsoft Office (Word, Excel, PowerPoint)
Google Apps for Business (Gmail, Google Calendar, Google Drive, Google Hangouts)
Microsoft Office 365
MailChimp, Constant Contact, or another email marketing program
Quickbooks (basic invoicing)
CRMs such as Hubspot, Salesforce, Zoho, Capsule, AgileCRM, or others
WordPress
Social media for business
Outside Sales (for those VAs who want to earn commissions by selling Trusty Oak plans)
Advanced experience that can be beneficial:
Graphic design
Ghostwriting
Advanced Excel

Click here for full details and to apply. For more jobs like these, see our Newest Jobs & Gigs page. To be the first to hear about jobs like these, like our Facebook page. Good luck in your work from home plans!