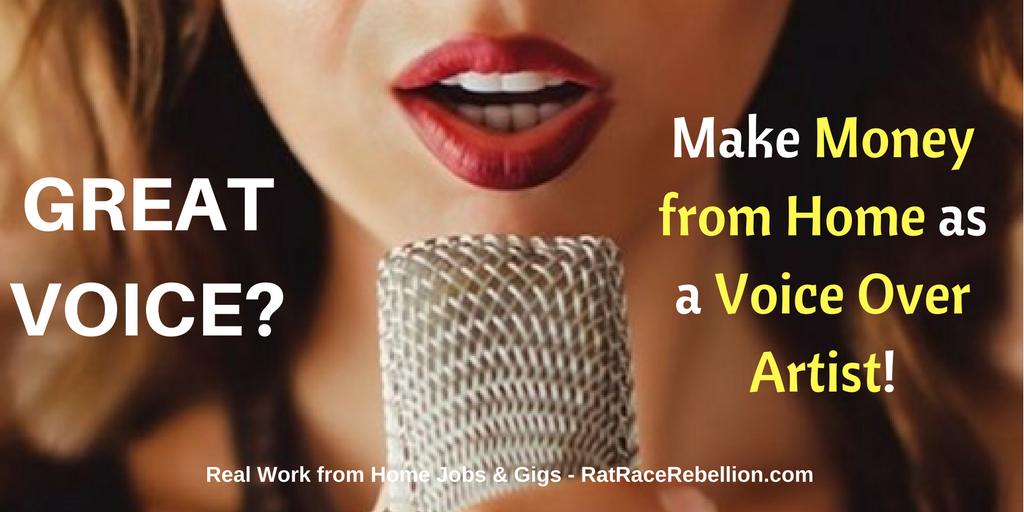 By Mike Haaren – Sept. 27, 2016
Work from Home as a Voice Over Artist – Anywhere in the World
Do people say you have a nice voice? If so, you can earn money working from home as a Voice Over Artist.
Projects and Pay
Gigs are open now at Snap Recordings and Filmless, among other sites. As with most freelance work, your ultimate income will depend on your goals and efforts.
Snap Recordings is advertising for people to do phone system recordings — company greetings, on-hold messages, etc. You'll be reading scripts and uploading the audio to their site. They pay $10 for the first 100 words, increasing from there.
"Typically our Voice talents can read about 500 words in less than ten minutes. The pay and time required varies per script, For example you may have several orders in an assignment adding up to 1500 words for $90.25. Or you may have one 30 word order and make $10 for only a few minutes of your time," Snap says.
Filmless hires Voice Over Artists for video work. (You'll need experience for Filmless gigs.) You can see a sample video here. They do videos for a wide range of clients, from startups to Fortune 500s. Pay rate isn't mentioned, though in general Voice Over Artists can make $20/hr. on up, depending on the project and your credentials.
______________
For extra cash, see our 5 Legitimate Survey Sites that Pay Cash Signup Bonuses.
_____________
Requirements
Besides a good voice and the ability to turn work around quickly, you'll need a home studio, but don't let that stop you if you're interested. (You won't need a musician-grade studio.) If your budget permits, home voice studios can be set up for just a few hundred dollars. For tips on how to do it, there are many videos online. This one is a few years old, but can get you started. For more, Google phrases like "how to set up home studio for voice" (without quotes).
For Snap Recordings, click here. Scroll down to the bottom of the page for application details. For more on Filmless gigs, click here. For Filmless's main site, click here.
PLEASE SHARE this post – turn your friends into Rat Race Rebels!
BE SURE TO CHECK OUT OUR OTHER RECENT POSTS FOR MORE JOBS