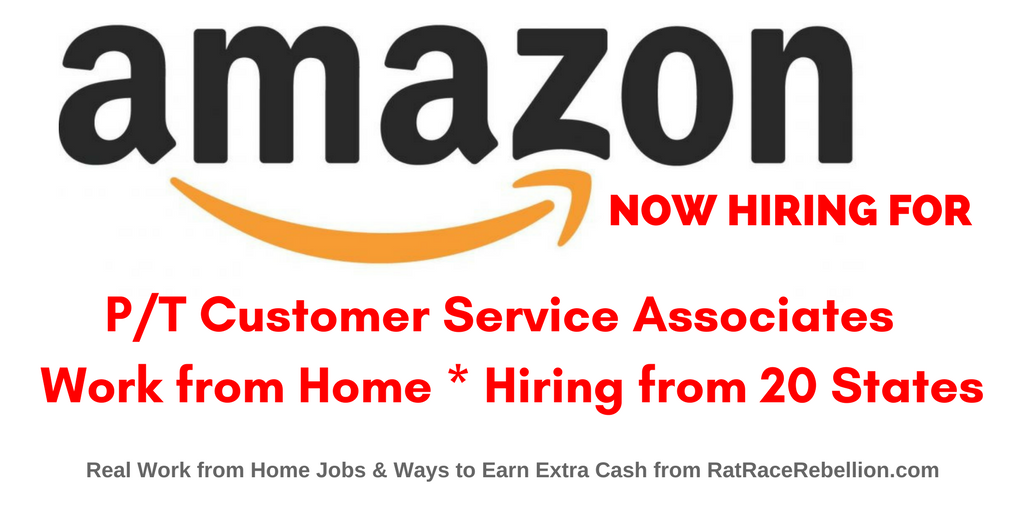 By Mike Haaren – Feb. 8, 2017
Work from Home Jobs – Customer Service Associates – Part-Time – $10/Hr. – Paid Virtual Training
[Update Feb. 13 — Amazon removed the job listing today, so it looks like they've received enough applications. For more options, see our
Daily Jobs page
, and we'll post more Amazon jobs as they open! Good luck!] Amazon just announced hiring for Customer Service Associates in its Reserves program. These are part-time positions at $10/hr. with paid virtual training.
Hiring is from Arizona, Colorado, Delaware, Florida, Georgia, Kansas, Kentucky, Michigan, Minnesota, North Carolina, North Dakota, Ohio, Oregon, Pennsylvania, South Carolina, Tennessee, Washington, West Virginia, Wisconsin and Virginia.
In Amazon's words,
This is our work from home Customer Service Associate position in our brand new Reserves Program! The mission of this program is to swiftly respond to spikes in customer need.
The ideal, work from home Reserve is internet savvy and has technical aptitude when it comes to online tools and research. You will think outside the box, solve problems, answer questions, and resolve concerns presented by our Amazon customers, primarily over the phone.
This job is an hourly position and pay rate nationwide is $10.00 per hour. Training for this role is paid, fully self-directed and demanding!
In the Reserves Program, you have the freedom to work the schedule that YOU build by choosing from a pool of available hours, posted weekly to our online scheduling portal. From the start of the year through the fall, you will have the opportunity to work anywhere between 1 and 30 hours per week, with the average Reserve working 12 hours per week. Hours are not guaranteed, but are chosen on a first-come, first-serve basis and are made available according to business needs. Working hours will increase during our peak season (November through January), and you may be required to work between 20 and 40 hours per week during this time. You may also be required to work on any/all major holidays.
* * *
Requirements
High School Diploma or equivalent
Basic typing, phone, and computer navigation skills
Ability to navigate the Internet, email, and Instant Messenger tools
Ability to participate and complete mandatory training
Ability to complete I-9 work authorization paperwork in person
Ability to take any shift Sunday through Saturday from 3:00am to Midnight Pacific Time zone
Employees give Amazon 3.5 stars out of 5 on Glassdoor. You'll also find a discussion on our Facebook page today under our Amazon post. To go straight to the job listing, click here. Good luck!
PLEASE SHARE this post – turn your friends into Rat Race Rebels!