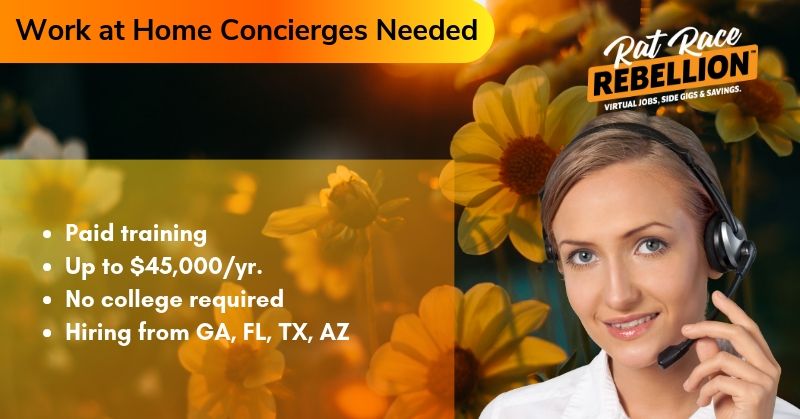 By Mike Haaren – Rat Race Rebellion Co-Founder – June 12, 2019
Work from Home Concierges Needed – $15.50/Hr. Base Pay – Benefits – Paid Training – No College Required – Up to $45,000/Yr. Based on Performance & Hours
If you'd like a Concierge position with benefits and paid online training, Aspire Lifestyles continues to recruit. Starting pay is $15.50 hourly. Full-time or part-time not mentioned, but the jobs come with benefits, so they may be full-time. "Earn up to $45,000 annually" depending on performance and hours worked.
You'd be handling concierge calls from premium American Express card members.
The company is hiring from Georgia, Florida (except Ft. Lauderdale and Miami), Texas, and Arizona (except Phoenix).
Here's the position in their words:
As a home-based Lifestyle Consultant/Concierge, you are part of our world class customer service team that provides extraordinary care to our clients with the goal of delivering superior customer service and brand loyalty. We are experts at creating memorable experiences.
As a part of our team, you will fulfill Concierge requests for premium American Express Card Members and enhance the American Express brand in those interactions.




Aspire Lifestyles is a global leader and Concierge industry pioneer with nearly 30 years of experience designing and managing high performance Concierge programs and customer loyalty solutions. Join a dynamic and leading concierge company that offers a competitive package:
— $15.50 hour base pay; opportunity to earn up to $45K annually, depending on performance, and hours worked.
— Eligible for merit increase (based on performance) in annual performance review program
— Paid Training
— Overtime potential
— Monthly and Quarterly performance based bonuses
— Quarterly Pay for Performance Bonus
— Health, dental and vision benefits after 30 days of employment
— 401(k) program with company match
— Paid time off program
— Paid holidays and floating holidays
— Career opportunities
— CURRENT SHIFTS: afternoons and evening
— Please note: MUST be able to complete Monday – Friday DAY SCHEDULE Training program.
— MUST be able to work on Weekends**
Job Responsibilities
— Deliver white glove Concierge services to an elite clientele, assisting with tasks including placing dining reservations and suggestions, flower orders, entertainment and ticket inquiries, assistance while travelling and more.
— Utilize a variety of resources including search engines, websites and internal resources to research customer requests with the goal of delivering meaningful, valuable solutions and customized recommendations and services.
— Utilize multiple complex systems to accurately document and research customer information
— Provide meaningful and relevant insight to customers regarding the services that their Concierge can provide for them.
— Maintain acceptable performance standards including effectiveness, efficiency and quality through inbound and outbound virtual channels (phone, chat, email, etc.).
— NO SALES REQUIRED
— High school diploma or equivalent is required.
— Superior customer service and communication skills are a must, with a minimum of 2 years of customer service experience, preferably in a call center environment.
— Experience in a white glove or luxury industry is an asset. Prior experience in the Hospitality, Travel, or — Entertainment industries preferred.
— Must be internet savvy and proficient at navigating multiple systems at one time.
— Able to work in a fast paced, structured 24/7 call center
— Excellent written and oral communication skills.
Work Environment Requirements
Reliable, high-speed Internet connection and dedicated land-based phone line (not VOIP)
Must be able to establish a home office that provides and maintains the following equipment: cross-cut shredder, desk and chair.
Dedicated work-space that is quiet with door that can be locked. Computer equipment must not face hallways or windows.
**Internet and Phone provider CANNOT be the same**




For details and to apply, click here. For more jobs like this, check our Newest Jobs & Gigs page. To be the first to hear about jobs like this, like our Facebook page and check your feed for our posts. May you be working from home soon!
PLEASE SHARE this post – turn your friends into Rat Race Rebels!