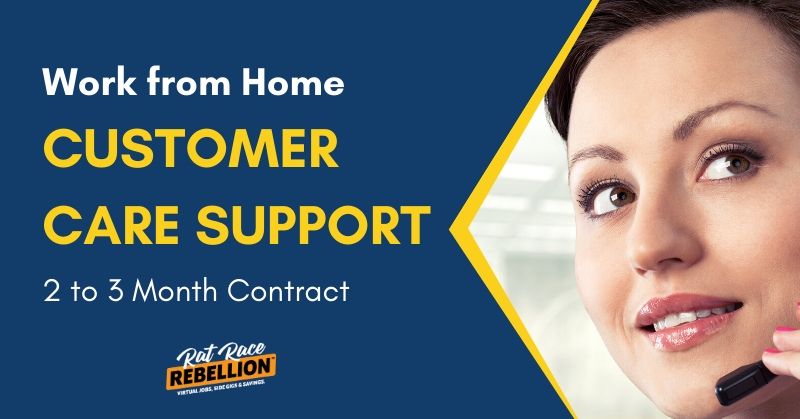 by Chris Durst       Feb. 7, 2020
Sutherland has a listing for Work-at-Home – Customer Care Support – 2-3 month contract positions on their jobs page.
If you're a multi-tasker with a passion for helping others, this may be a good fit for you.
There are no geographical limitations noted in the job posting, nor are there details about pay and hours.
Here's how the company describes this opportunity:
"Some people know exactly how to make others feel special. They pay attention, listen carefully, and remember important details. These people have an eye for beauty – in others, in moments, in life. Maybe they have a calming presence or a no-nonsense manner or a peaceful approach or maybe they're just great at keeping cool in a difficult situation. No matter what their unique perspective is, they're the type of person you turn to when you have a question, need advice, or want guidance on the path forward. We're looking for these special people to help us support an award-winning client.
You:
Have a passion for others. You are invested in delivering outstanding customer service in each and every interaction.
Multi-task with the best of them. You think nothing of juggling multiple conversations, tasks, or priorities.
Own the story. Once you start something, you're not satisfied until you've seen it through to completion. It's important to you to be able to sign your name to everything you do.
Fearlessly jump right in. Nothing intimidates you; no one gets under your skin. You have a knack for keeping your head when those around you back down.
We:
Give you the chance to work from the comfort of your own home. No commute, no business professional wardrobe, no terrible office coffee. Your home and all its perks.
Are the springboard to a great career. There are so many amazing opportunities at Sutherland.
We want people who can create the extraordinary – people who are passionate about inspiring the types of experiences that others never forget. Can you touch hearts and brighten days? Do you have what it takes to build loyalty and turn customers into fans for life? Are you ready to join one of the world's most powerful brands and share your passion, creativity, and dedication?
Don't miss this opportunity to work from home with Sutherland.
The world is waiting. Leave your mark.
Our most successful candidates have:
High School diploma or equivalent
Basic PC keyboarding skills; Microsoft Office experience (Outlook, Word, Excel)
Direct client contacts technical support experience
Excellent verbal and written communication skills
Strong problem-diagnosis and problem-solving skills
Multi-tasking skills, showcased using several applications
Experience working with CRM applications (preferred)
Ability to be goals oriented
Strong communication skills and ability to express ideas clearly
To work from home you must: 2.0 Ghz Dual Core or better processor,2 GB RAM (some employment opportunities require a minimum of 4 GB RAM),10 GB available hard drive space,Sound card,Windows 7, including Windows 8 and 8.1, Internet speeds of 1 Mbps upload and 15 Mbps download, Dual ear (designed to minimize audio interference from outside sources). Noise cancelling microphone."

Click here for full details and to apply. For more work from home ideas, see our Newest Jobs & Gigs page. To be the first to hear about gigs like these, like our Facebook page. Good luck in your next work from home steps!
PLEASE SHARE this post – turn your friends into Rat Race Rebels!