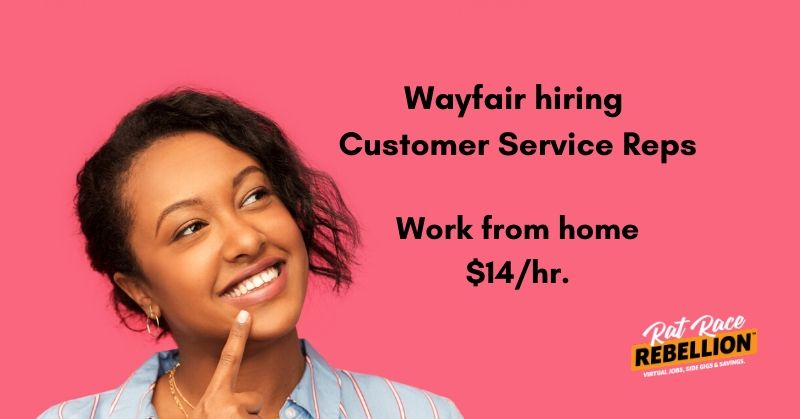 By Mike Haaren – Co-Founder, Rat Race Rebellion – Jan. 17, 2020
Wayfair — a busy company that sells home furnishings and related merchandise — is looking for virtual Customer Service Reps. They're also hiring virtual Customer Service Managers, Sales Trainers and Site Directors. Customer Service jobs start in February, so apply or share quickly if interested.
We'll focus here on the Customer Service Rep positions. But we'll include instructions on finding the other openings. Starting pay $14/hr., college not required. Schedules not mentioned. Hiring from the following locations:
KS
TX – Brownsville
WA
CO
GA – Valdosta
MO
TN – Clarksville
ME – French bilingual
VT – French bilingual
FL – French bilingual
Here's what the company has to say about the jobs.
This role is starting in February. The starting rate of pay is $14/hr.
At Wayfair, we care about our customers! Our award-winning Customer Service Team balances technology and human empathy to build customer trust and loyalty. From the time the customer orders with Wayfair through delivery to their home, our team works to make it easier than ever to shop for the home. The Customer Service Team works proactively in a fast-paced environment to monitor customer orders and ensure a seamless delivery to the customer. In the event a customer should contact our support team via phone, email, chat, social media, or in other ways, we empower our Customer Service Team to resolve the issue. We are passionate about our customers and work to delight them on every interaction with Wayfair.
What You'll Do
You will troubleshoot and resolve customer service inquiries while building a relationship with the customer
Provide service to customers seeking assistance with post-order issues such as returns, replacements, refunds, delivery status, back order inquiries, and any other issues that may arise in the order fulfillment process
You will exceed customer satisfaction, efficiency metrics and issue resolution targets
Continuously look for areas of improvement and communicate trends in customer calls to leadership as appropriate
Simultaneously navigate multiple software applications and technologies
You will demonstrate conflict management skills and maintain professional composure
What You'll Need
Strong problem-solving skills and the ability to think analytically while working in a fast-paced environment
Excellent communication and relationship building skills
Passion for helping others
A successful track record working in a high-volume environment
Regular and reliable attendance
Bachelor's Degree or equivalent customer-facing work experience
Ability to maintain the required internet speed of at least 25 Mbps (download) and 5 (upload) to support voice traffic and HTTPS web traffic using a hard-wire Ethernet internet connection (no WiFi)
A workspace that is free from noise or distraction (Wayfair provides all necessary computer equipment)
To see all of the work from home positions at Wayfair, click here. For more jobs like these, check our Newest Jobs & Gigs page. May you be working from home soon!
PLEASE SHARE this post – turn your friends into Rat Race Rebels!