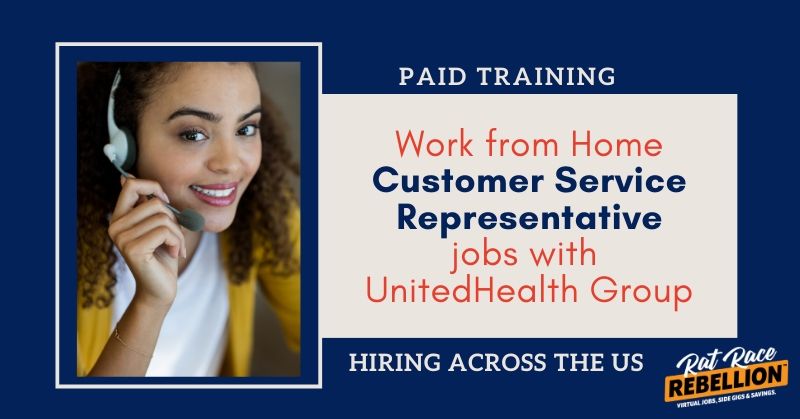 by Chris Durst    Nov. 4, 2019
Update – The company apparently received all the applications it needed and has removed the listing. We'll post again when they resume hiring. Good luck to everyone who applied!
**************
UnitedHealth Group just posted openings for Full-Time Customer Service Reps.
Applicants must have a high school diploma or GED OR equivalent work experience, but the company will provide you with all job-specific knowledge during their paid training program. No training date is mentioned, but they do state, "Training classes start soon – apply today!" So apply or share quickly if interested!
Here's what the company has to say about these roles:
"If putting a smile on someone's face puts one on yours, you belong on our team. Here at Optum and UnitedHealth Group, we've brought together teams of incredibly compassionate and absolutely positive people to help serve our members when they call us with questions regarding their health care coverage, eligibility or reimbursement. Your helpful personality combined with our support, training and development will ensure your success. This is no small opportunity. This is where you can bring your compassion for others while building a career.
This position is full-time (40 hours/week) Monday- Friday. Employees are required to have flexibility to work any of our 8 hour shift schedules during our normal business hours of (8:00am – 8:00pm). It may be necessary, given the business need, to work occasional overtime. This is a telecommute (work at home) role.
Primary Responsibilities
Answer 50-70 incoming phone calls per day from customers and identify the type of assistance the customer needs
Ask appropriate questions and listen actively to identify specific questions or issues while documenting required information in computer systems
Contact care providers (doctor's offices) on behalf of the customer to assist with appointment scheduling or connections with internal specialists for assistance when needed
Assist customers in navigating UnitedHealth Group websites while encouraging and reassuring them to become self-sufficient in using our tools
Research complex issues across multiple databases and work with support resources to resolve customer issues and/or partner with others to resolve escalated issues
This role is equally challenging and rewarding. You'll be called on to research complex issues across multiple databases. It requires fluency in computer navigation and toggling while you confidently and compassionately engage in dialogue with the caller. Be assured that our training will provide you with knowledge of the various products, plans and levels of benefits available to members and you'll soon find yourself creating positive experiences and earning the gratitude of callers on an hourly basis.
You'll be rewarded and recognized for your performance in an environment that will challenge you and give you clear direction on what it takes to succeed in your role as well as provide development for other roles you may be interested in.

Required Qualifications
High school diploma or GED OR equivalent work experience
Familiarity with computer and Windows PC applications, which includes the ability to navigate and learn new and complex computer system applications
Demonstrated ability to listen skillfully, collect relevant information, build rapport and respond to customers in a compassionate manner
Proficient conflict management skills to resolve issues in a stressful situation
Preferred Qualifications
1+ year of experience in a related environment (i.e. office, administrative, clerical, customer service, etc.) using phones and computers as the primary job tools
Prior health care experience
Telecommuting Requirements:
Required to have a dedicated work area established that is separated from other living areas and provides information privacy
Ability to keep all company sensitive documents secure (if applicable)
Must live in a location that can receive a UnitedHealth Group approved high-speed internet connection or leverage an existing high-speed internet service
Click here for full details and to apply. For more jobs like these, check our Newest Jobs & Gigs page. To be the first to hear about jobs like these, like our Facebook page. Good luck in your search!
PLEASE SHARE this post – turn your friends into Rat Race Rebels!