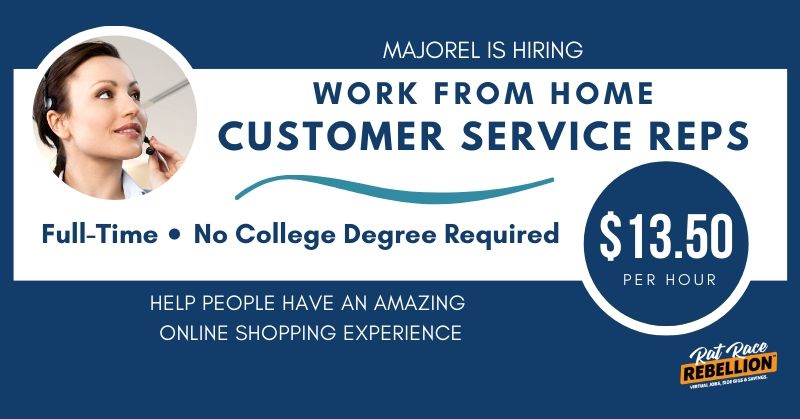 by Chris Durst         Apr. 22, 2020
Majorel has posted job openings for full-time, work from home Customer Service Representatives. If hired, you will be "answering inquiries related to products available through an online store as well as previously placed orders. Inquiries range from order status and shipment/delivery to requests to cancel or change orders."
Pay is listed at $13.50/hour and no state hiring restrictions are noted in the job posting.
There is a note that those hired will start on May 28th, so don't wait to get into their hiring pipeline!
Here's what they've posted about this opportunity"
"The Client Online Store is responsible for supporting customers of a leading player in the technology industry. The position involves answering inquiries related to products available through an online store as well as previously placed orders. Inquiries range from order status and shipment/delivery to requests to cancel or change orders.
Overall Responsibilities:
Providing high caliber Customer interaction as measured by call monitoring, call audits, and customer satisfaction surveys;
Presenting to the public a strong working expertise in all client supported products;
Ensuring innovation and quality in all Customer interactions as measured by call monitoring and customer satisfaction survey;
Capturing all required data elements in internal Online Store and other systems of record as required by training and operational procedures;
Maintaining a general awareness of client's strengths in the industry; and
Assisting Customers by answering queries relating to their order status, changes and delivery time frames.
Other duties as assigned
Job Requirements:
High School Diploma or equivalent required.
Fluent in English written grammar and spelling and able to communicate in business writing style
Prior Customer Service Experience
Prior Work From Home Experience A Plus
Strong understanding of online shopping
Demonstrated ability to question logically and effectively to identify the root cause of a problem
Engaging conversationalist to build rapport with customers.
Ability to position situations positively
Understanding of state of the art telecommunications and related devices.
Ability to be a flexible and adapt to new situations quickly, anticipate the next question/issue, with a focus toward first contact resolution
Demonstrates self-assurance in communicating with customers and possess excellent rapport building skill
Must be fluent in professional verbal communication in English
Understand and comply with all company and departmental rules and regulations, policies and procedures
Typing and computer navigation skill
Must be a self-starter, organized, detail oriented and have ability to handle multiple tasks simultaneously
Regular predictable attendance required
A separate room/office with a door that can be closed and locked during working hours is required. Guests, family members and others may not be present in the designated office area during working hours
Work conditions of the employee's residence (office area) are appropriate and safe and must meet the occupational safety and health standards for work from home employees
The designated office area should be reasonably soundproof so that you may work uninterrupted by noise
Monitors must be able to be positioned in such a way as to not face ground-level windows
Must have a hardwired high speed home internet connection (DSL, Cable, Fiber) providing a minimum of 10 Mbps download and 2 Mbps
upload speeds as verified by a speed test. A wireless connection is not permitted
Designated office area must have a surge protected electrical outlet(s)
Job Type: Full-time
Salary: $13.50 /hour"
CLICK HERE for full details and to apply. For other jobs like these, check our Newest Jobs & Gigs page. To be the first to hear about jobs like these, like our Facebook page and check your feed for our posts. May you be working from home soon!
PLEASE SHARE this post – turn your friends into Rat Race Rebels!