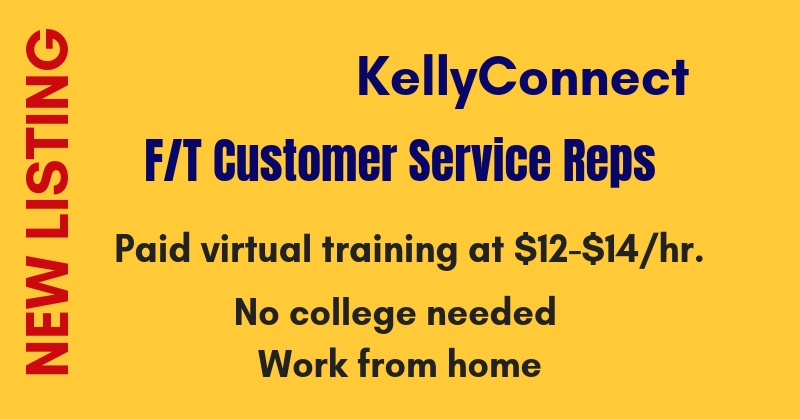 By Mike Haaren – Co-Founder Rat Race Rebellion – March 5, 2019
Yesterday KellyConnect posted new f/t Customer Service Rep openings. Pay during virtual training is $12-$14/hr. Post-training pay isn't mentioned, though we assume it goes up. But that's not official. We'll update here if we hear more.
"Explosive growth opportunities into departments such as Leadership, Quality Assurance and Training Etc.," the company says.
Requirements include a HS diploma and at least six months' call center experience.
KellyConnect has hired many RRRebels and has been growing its virtual workforce as companies like Apple outsource their customer service needs.
No state hiring restrictions mentioned. But in their chat jobs, for example, they reportedly were not hiring from AK, CA, DC, HI, NJ, or the city of Seattle, WA. Not sure if that's the case for these jobs, too. We'll let you know if we get more details. (If this isn't a fit for you, you might want to check out our new course, How to Find a Work from Home Job or Side Gig in 30 Days or Less. Our 55% discount ends March 7, so be sure to act quickly if you're interested.)
Here's what the company has to say about these openings:
Are you enthusiastic when helping customers? Are you always assisting your family and friends with technology issues? If so, this position supporting media management software and personal electronic devices is for you! Join the KellyConnect team and provide best-in-class support for our customers.




What you'd be doing each day
You'd begin by supporting media management software as a stepping stone for learning our client's other technologies, including smart phones, tablets, and related software applications. You'd help with questions like these:
• Locating media purchases (music, apps, movies, etc) on various devices (smartphone, tablet, Mp3 player, etc)
• Billing issues/concerns
• Product feature inquiries
• Resolving user ID and password issues
· Data sharing & synchronization troubleshooting
· Uninstalling/reinstalling basic software applications
· Verifying proper hardware and software configuration and setup
· Power cycling devices
· Navigating customers through application menus, and troubleshooting email issues




Other details about the role
• Exemplary attendance and punctuality is required
• It is full time and includes working evenings, weekends, and holidays for all employees
• You'd receive continuous education and feedback, including 1:1 coachings with leadership and Quality Assurance, self-guided learning modules, and SMART plans to help you reach performance goals
• Openness to constructive feedback is critical for performance assisting customers and individual growth
• It's fast-paced and requires the ability to interact with a customer empathetically while logging case notes in the case management tool simultaneously
• The ability to respond to multiple chat/IM conversations from your team, leadership, Quality Assurance, and support groups is required
• Comfort and experience with technology, especially mobile devices, is a must
• Adaptability to changes in technology and team structure is needed
• Proper phone etiquette, clear speech/articulation, accurate typing, and correct grammar usage are all required
• Ability to maintain stable performance under pressure (call length, customer escalation, ambiguity, first call resolution, etc.) and to respond positively in the face of adversity is critical
What you bring to the role
In addition to being comfortable with all the position details listed above, you as a qualified candidate would need to meet the following criteria:
• High School Diploma required
• 18 years or older and legally authorized to work in the US
• Minimum 6 months call center experience required
• Must provide phone and internet services and quiet work environment, as the position is virtual
What KellyConnect offers you
• Paid training at $12-$14/hour
• Explosive growth opportunities into departments such as Leadership, Quality Assurance and Training Etc.




To go to the jobs and to apply, click here. For more jobs like these, check our Newest Jobs & Gigs page. To be the first to hear about jobs like these, like our Facebook page and check your feed for our posts. May you be working from home soon!
PLEASE SHARE this post – turn your friends into Rat Race Rebels!