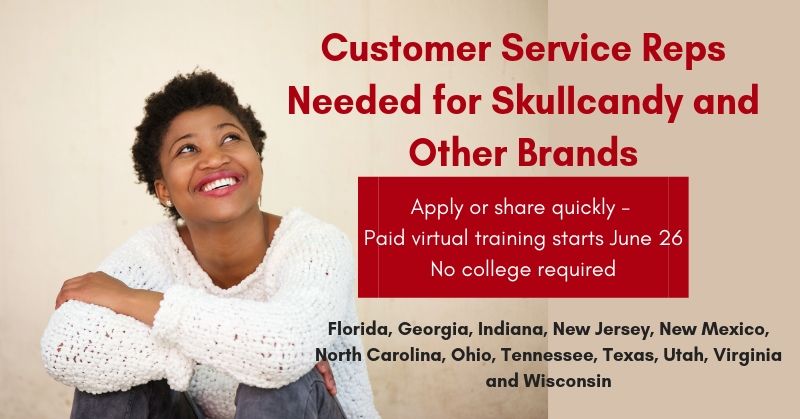 By Mike Haaren – Rat Race Rebellion Co-Founder – May 31, 2019
Work from Home Jobs – Customer Service Reps for VIPdesk Connect/Skullcandy – No College Required – Paid Virtual Training – $11/Hr.
VIPdesk Connect is hiring Customer Service Reps for its Skullcandy account and other brands. "Work 34-40 hrs. per week." But apply or share quickly if interested — virtual paid training begins on or about June 26.
Skullcandy makes popular audio and gaming headphones and related accessories. After paid virtual training, you'll be doing support via phone, chat, email, social media, etc., for Skullcandy as well as brands such as ASTRO Gaming.
The pay is $11/hr.
Hiring States
For these openings, "applicants must live in Florida, Georgia, Indiana, New Jersey, New Mexico, North Carolina, Ohio, Tennessee, Texas, Utah, Virginia, or Wisconsin."




Here's the gist in VIPdesk's words:
Requirements
— Six (6) or more months experience sales with consumer products brands
— Six (6) or more months with tier one troubleshooting
— Two (2) or more years related customer service experience
— Able to work at a desk/computer for 95% of each scheduled shift
— Due to the home-based nature of this job, the Brand Ambassador is required to have a home-office environment, internet access, USB headset, router, modem, web camera and a computer system that meets VIPdesk Connect policies and maintenance requirements, including system upgrades as applicable, which may change over time
— Able to work weekend and holiday hours
— High school diploma or equivalent
— Working knowledge of Microsoft Office Suite, Office 365
— Able to successfully pass a credit, criminal and employment reference security check
— Must live in Arizona, Florida, Georgia, Indiana, New Jersey, New Mexico, North Carolina, Ohio, Tennessee, Texas, Utah, Virginia, or Wisconsin
Essential Responsibilities Include, but are not limited to:
— Interact with customers via all channels (phone, email, chat, SMS, social and other channels) to provide information in response to inquiries about products and services
— Meet our clients average handle time targets, quality standards, productivity metrics, and adhere to policies and procedures
— Attend training and meetings as required to obtain new and pertinent information about our clients products and services offered
— Apply high-quality customer service guidelines while servicing customers
— Applying client and VIPdesk Connect policies as applicable whenever interacting with customers




Employee reviews on Glassdoor give VIPdesk Connect 3.7 stars out of 5. To go to the job listing, click here. For more jobs like this, check our Newest Jobs & Gigs page. To get a jump on job offers, like our Facebook page and check your feed for our posts. May you be rocking your Rebellion soon!
PLEASE SHARE this post with other Rat Race Rebels!