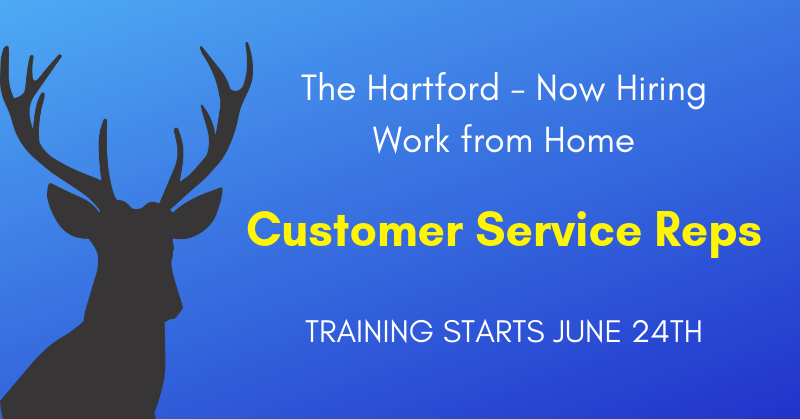 by Chris Durst      May 13, 2019
Update May 14, 4:47PM ET — It looks like The Hartford just deleted this job. However, the company has many other remote positions open. To see them, click here, scroll down, and check YES in the "Remote Worker Option" box. Then click the search button. Good luck, and may you be working from home soon!
—————————–
The Hartford is a Fortune 500 company that specializes in property and casualty insurance. They regularly hire people to work from home in a variety of positions.
They're currently looking for work from home Customer Service Reps, no college required. The pay is $18.27/hr., according to one of our Facebook members who works in this position. She also reports that a laptop and two monitors are provided. (However, that's not official.) Training starts June 24th, so apply or share quickly if interested!
Here's what the company has to say about this opening:
"Care, Compassion, and Service…. It's what we do.
Interested? Ask us about our truly diverse and inclusive environment and tremendous community spirit.
As a Customer Care Representative on the Group Benefits team, your primary role is to provide excellent customer service by answering customer questions about disability and leave management claims. In this role, you'll help our customers rebuild their lives and get back to work as soon as reasonably possible after an unexpected event happens. The Hartford will provide you with 6 weeks of paid training, as well as ongoing coaching and development to ensure your success.
This is a 100% Remote Position; representatives will work from home
Start Date: June 24, 2019
Training Hours/Days will be: Monday – Friday 8:00 am – 4:30 Pacific Standard Time
Post Training Hours will be: Monday – Friday 8:30 am – 5:00 Pacific Standard Time
Internet: For 100% remote positions, we require that (1) your high speed cable or DSL service have minimum upload/download speeds of 3Mbps/5Mbps and (2) your personal Internet modem be directly connected to the computer that The Hartford issues you. To confirm whether your Internet system has sufficient speeds, please visit http://www.speedtest.net from your personal computer.
Qualifications
AS A CUSTOMER CARE REPRESENTATIVE YOU WILL:
Handle calls daily within a virtual contact center to discuss claim status and ensure compliance with policy provisions and state/federal regulations.
Utilize active listening and critical thinking skills to quickly analyze and clearly understand a specific request or customer need, and then leverage the knowledge and resources to provide the appropriate solutions.
Take ownership to ensure that we go above and beyond to service each caller's needs, utilizing every touch point as an opportunity to build value and The Hartford brand.
Commit to learning and developing, including a better understanding of The Hartford products and business lines, both as an individual and as part of the group.
Act as a liaison with other departments to resolve problems.
WHO YOU ARE:
Have a demonstrated background in customer service, insurance, retail, restaurant or a related field; 1+ years experience
1+ years experience working in a production driven role/environment
You have the ability to multi-task; balancing both productivity and overall quality within established and measurable contact center metrics.
You're a good listener and find motivation in helping others.
You're an energetic self-starter with an entrepreneurial spirit, and a positive attitude.
You possess exceptional problem solving and critical thinking skills and have a strong attention to detail.
You have exceptional time management skills and are able to effectively multi-task in a fast-paced work environment.
High comfort level utilizing multiple systems and navigating through multiple screens.
Understanding of medical terminology a plus.
You're able to work collaboratively in a team environment.
You use excellent verbal and written communication skills (bilingual – Spanish/English is a plus) to develop and enhance strong customer relationships."
Click here for full details and to apply. To watch a video interview with people who are doing this job, click here. To be the first to hear about work from home jobs and side gigs, like our Facebook page and check your feed for our posts. Good luck in your work from home plans!
PLEASE SHARE this post – turn your friends into Rat Race Rebels!