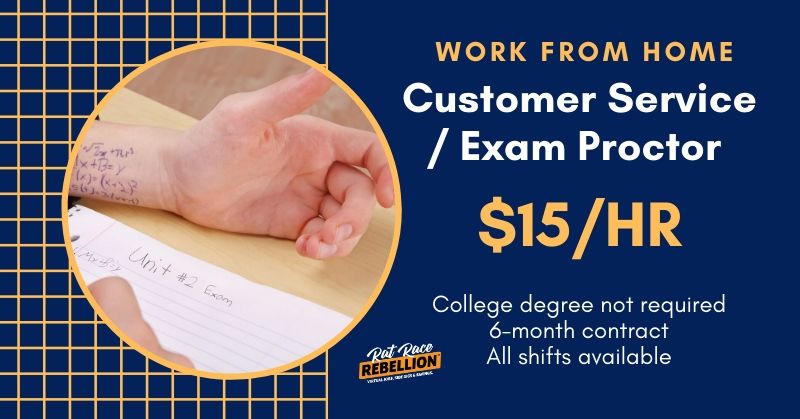 UPDATE 4/14/20: It appears Prometric has received all of the applications they need at this time. Good luck to those who applied!
by Chris Durst          Apr. 13, 2020
Prometric is a US-based test administration company that operates thousands of testing centers in 160 countries.
The company has posted openings for Remote Customer Service (Exam Proctors) on their careers page. This is a 6-month contractual role with the ability to go permanent based on availability and business need.
In this role, you will be greeting test candidates, answering their questions, and monitoring their behavior during the test to make sure they adhere to all policies.
The company is rated 3.6 out of 5 stars on Indeed.com and 3.2 out of 5 stars on Glassdoor.
COMPENSATION for this position is $15/hour and there are no excluded states listed.
Schedule: 8AM – 5PM (1st Shift); 11AM – 8PM (2nd Shift) 3PM – 12AM (3rd Shift)
Reports To: Global Candidate Care Manager
Department: Global Candidate Services
Location: Remote
Here's what the company has posted about this opportunity:
"Are you stuck at home and seeking work? Y/N
Are you a home body that would prefer to work from home? Y/N
Do you have high-speed internet access, a computer, microphone headset, and webcam? Y/N
If you answer yes to the questions above, we have the perfect job for you.
SUMMARY:
Prometric, the leader in global test development and delivery, is looking to hire a top-notch customer service professional to help kick-start our new, exciting remote proctoring concept. If you are truly passionate about customer service and making a difference in people's lives, this may be the job for you. At Prometric, your customer service expertise is valued and your opinions matter.
The Remote Exam Proctor is an integral part of our Best-in-Class Proctoring organization, helping to ensure that our candidates who wish to test can do so in a professional and secure manner. You will be responsible for both candidate readiness and exam proctoring. Work in a steady-paced, professional setting to ensure the integrity of our testing services by proctoring and controlling the computer-based testing experience under a newly developed Best-in-Class model.
This is a temporary 6-month contractual role with the ability to go permanent based on availability and business need.
CORE RESPONSIBILITIES:
The essential functions of candidate readiness include the following:
Greet the candidate, put them at ease and verify candidate's identity
Perform the following security checks:
Candidate – ensure no unauthorized items are in candidate's possession
Environment –ensure there are no security risks within the testing environment
Provide the candidate with information regarding their exam: time of exam, # of breaks (length), protocol for how to take a break/when, authorized items
Ensure that all required components of the check-in and security screening have been completed and communicate this to the Proctor
The essential functions of exam proctoring include:
Confirm the candidate's identify after hand-off from candidate readiness
Verify that the correct exam is launched for the correct candidate
Put candidates at ease, and ensure they have a comfortable and flawless testing experience
Monitor candidates as they work through their exam
Interact with candidates at key points during test delivery as needed; available to answer candidate questions or concerns during the exam
Recognize potential suspicious activities, as well as automated alerts, occurring while monitoring multiple candidates and taking necessary action such as verbally speaking with the candidate or transferring the candidate for security escalation
Control test area by maintaining a working knowledge of policies, practices and procedures
Monitor personal and operational productivity such as number of candidates served per hour, issue and time to resolutions, implementing changes in daily tasks to improve quality and lower costs of proctoring.
Essential Requirements:
Technology – This is a bring your own device & equipment role. You will need following to be eligible:
Laptop/Computer

Webcam external or integrated
Headset/Earbuds with microphone
Operation System

PC with Windows 7 or higher (10 preferred) or MAC OS

High Speed Internet Access (Ethernet plugin preferred); must be faster than DSL
Web Browser: Chrome

Work Environment:

Quite designated space void of audible and visual distractions
Qualifications & Experience:
Minimum High School Diploma required; college experience preferred
One to two years customer service-related experience required
Experience with Microsoft windows-based computer applications and internet browsers
Excellent attention to detail and organizational skills
Good judgment and strong decision-making abilities
Exceptional communication skills, both verbal and written
Focus on a single task for extended periods of time
"Think on your feet," make decisions and escalate issues as needed
Visual requirements include the ability to be observant, focused
Flexible working schedule; must be able to work weekends or late shift
Willingness to cross-train with other teams"
CLICK HERE for full details and to apply. For more jobs like these, check our Newest Jobs & Gigs page. To be the first to hear about jobs like these, like our Facebook page. Good luck in your work from home plans!
PLEASE SHARE this post – turn your friends into Rat Race Rebels!
[social_warfare]