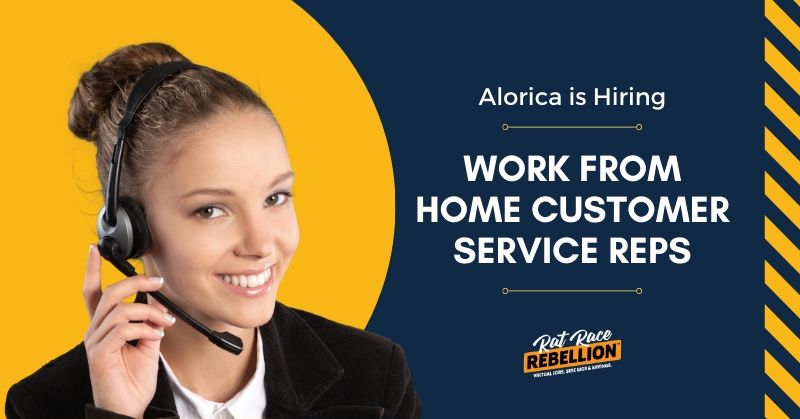 by Chris Durst         Mar. 25, 2020
Alorica, a legitimate and frequent hirer of work from home Agents, is looking for Customer Service Reps.
Pay is not listed in the job posting, however, current employees have indicated it's in the $9-$11/hour range. (Yep, don't shoot the messenger; we know this is on the low side. On the other hand, for many people, getting a full-time job working from home can make a big difference. This could be a good resume-builder while you are looking for your ideal job!)
Here's what Alorica has to say about this opportunity:
"Description:
Project based opportunity – work from home
You're literally the voice of the brand, and a strong relationship between our clients and their customers starts with you. So only the awesome need apply!
Alorica at Home gives you the opportunity to work from the comfort of your own home. No commute, no business professional wardrobe required, no terrible office coffee, your home and ALL of its perks!
KEY JOB RESPONSIBILITIES
Talks to customers over the phone, email, online chat or social media to resolve their questions or concerns
Maintain and update customer information as necessary
Calmly attempt to resolve and de-escalate any issues
Escalate calls to supervisor when necessary and appropriate
Respond to requests for assistance and/or possible processing of credit card authorizations
Tracks call-related information for auditing and reporting purposes
Provide feedback reports on call issues related to downtime and/or training issues
Upsell to customers as necessary
Schedule flexibility
WHY JOIN ALORICA?
Every day, we aim to live up to our mission of creating insanely great customer experiences. But as Alorica employees, giving back matters just as much – that's why we're so proud of Making Lives Better with Alorica, a non-profit, 501(c)(3) organization dedicated to providing assistance to employees, their families and the people, organizations and communities who support them.
Simply put, we want to make lives better…one interaction at a time. And to do that, we need the very best people to join us.
Working at Alorica means potentially having the freedom to explore all kinds of career options – from customer service, training, and tech support, to management, recruiting and more. Alorica offers fun, challenging opportunities to pursue your professional goals, and we want you to have fun and succeed – because when you're at your best, that's when we're at our best.
So what do you say? Ready to take the next step?
Qualifications
Minimum Education and Experience:
High School Diploma or GED required
Customer service experience a plus
Phone-related customer service a major plus
Familiarity with Microsoft Windows, Word, and Excel applications
Bilingual language skills a plus (but not required)
Knowledge, Skills and Abilities:
Stellar customer service skills – and an overwhelming desire to make lives better, one interaction at a time
Ability to use phone and computer systems
Excellent oral and written communication skills
Strong listening/comprehension skills
Ability to stay composed and objective
Conversational, patient and confident, with a positive attitude
Equipment Qualifications
At home positions will require you to independently have access to the following equipment:
Laptop/desktop (no older than 3 years), Intel i3 core processor or equivalent AMD Processor
Computer Type: PC compatible (no MACs)
Internet Browser: Internet Explorer 10.0 or higher
Internet Speed: High Speed internet access, 2MBPS upload/download minimum
Monitor Size: 17 inches or larger
Minimum OS Version: Windows 10
Minimum RAM: 2GB or greater
Minimum Processor Speed: 1GHZ (1000MHZ) or better on multi-core processors, 1.4 GHZ (1400MHZ) on single-core processors
Minimum Graphic Resolution: 1024×768
Sound card with speakers or headset for training audio (During call processing a headset that is attached to your phone is required)
Internet Connection: DSL, cable, or fiber optic (no dial-up, satellite, or 4G wireless connections)
Headset
*Equipment and Internet Speeds vary based on client needs, completion of the computer test will need to be submitted to determine compatibility, failing a portion of PC testing does not necessarily disqualify you from consideration*
WORKING CONDITIONS
Work Environment
The comfort of your own home!
Constant usage of phone and computer systems"
Click here for full details and to apply. For more jobs like these, check our Newest Jobs & Gigs page. To be the first to hear about jobs like these, like our Facebook page. Good luck in your next steps toward working from home!
PLEASE SHARE this post – turn your friends into Rat Race Rebels!
[social_warfare]