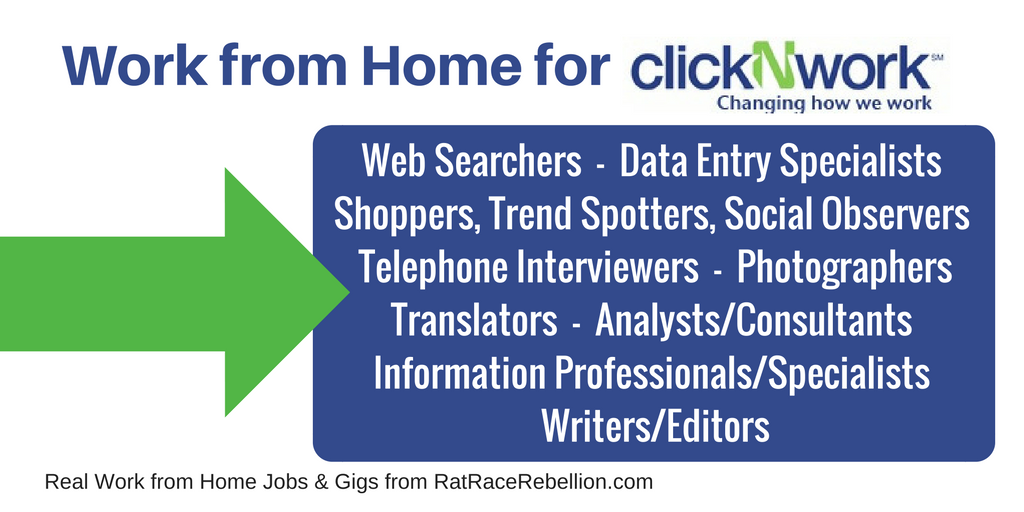 by Chris Durst    Oct. 13, 2016
INTERNATIONAL OPPORTUNITIES
We've been in the business of helping people find real work from home jobs since 1999, and we've seen a lot of companies adopt work from home programs over those years. ClickNwork has been around for ALMOST as long as we have and they been offering home-based work for all of those years.
ClickNwork works on a wide variety of projects for an even wider variety of clients and they work use the talents of people like you to get the outsourced jobs done.
The types of work we generally see them hiring for include research, analysis, writing, report preparation, data entry, telephone work and some primary research tasks. Some work is permanent, some temporary, some is full time, some part time, some regular and some ad hoc.
The work ebbs and flows, depending on the number and types of projects they are working on at any given time (and on what your skills are).
Here's the list from their site with the different the types of jobs they often need people for (don't let the date at the bottom of the list discourage you — it is current):
"Our work is varied and we work with people from a wide range backgrounds and skills. Although requirements fluctuate, we usually always need:
Analysts/consultants – people with specific analyst/consulting skills that wish to work from home.
Information professionals/specialists – business researchers with strong track records and proficiency at a range of information sources (Factiva, Lexis Nexis, Profound etc).
Writers/Editors – writers with experience at high quality business writing.
Web Searchers – individuals proficient at quickly finding information on the web to answer business questions.
Data entry specialists – individuals skilled at rapid and accurate data entry.
Shoppers, Trend spotters, Social observers – people keen to shop for certain products and adept at seeing trends, drawing parallels and generating valuable commercial insight.
Telephone interviewers – people skilled at interviewing senior business people, discussing business issues and surfacing opinion on often sensitive business questions.
Photographers – people able to take photos of buildings, inside stores and of products on shelves.
Translators – people qualified to translate between popular business languages"
Click here to learn more about the opportunities with ClickNwork.
Share This Post With Your Rebellious Friends!

BE SURE TO CHECK OUT OUR OTHER RECENT POSTS FOR MORE JOBS