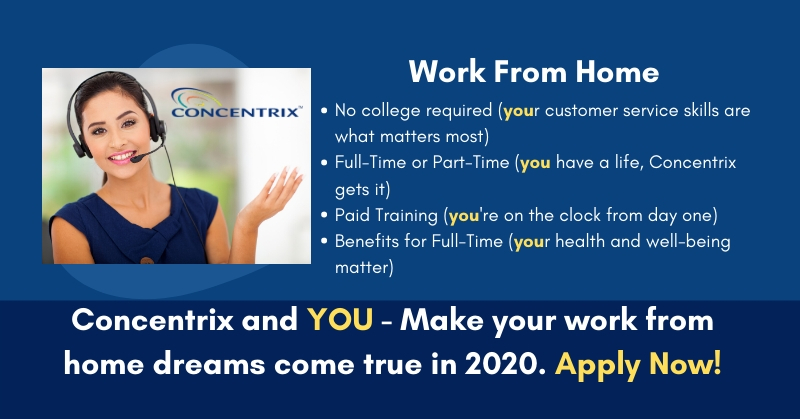 by Chris Durst       Dec. 3, 2019
If you're a RRR regular, you've heard us mention Concentrix many times over the years. They have a solid reputation as an excellent employer and, in addition to winning high marks from RRRebels who currently work for them, the company is highly-rated on job ranking sites:
Rated 3.8 out of 5 stars on Glassdoor
Rated 3.4 out of 5 stars on Indeed
Ranked in the Top 100 Companies by FlexJobs
In preparation for this sponsored post, I spoke with a Sr. Talent Acquisition Manager at Concentrix who informed me that the company is currently hiring for both FULL-TIME and PART-TIME positions, including:
Sales & Service
Customer Service
Technical Support Representatives
The company notes that, "Every position we have is centered around providing excellent Customer Service and some positions are more sales or technically focused. Your answers to the questions during the application process, your qualifications and your experience will all be reviewed as part of the evaluation process to determine which one is the best fit for you."
For the current jobs, the company is hiring from AL, AR, AZ, CO, DE, FL, GA, IA, ID, IN, KS, KY, LA, MI, MN, MS, MO, NC, ND, NH, NM, NV, OH, OK, PA, SC, SD, TN, TX, UT, VA, VT, WI, WV and WY.
Minimum Requirements/Additional Info:
High School Diploma or GED and at least one year of customer service experience (One year of sales experience required if you want to be considered for a Sales position).
We need you to have your own PC (less than six years old) and high speed Internet service, both of which will be tested as part of the application process. You can work from a laptop, but will need to be hard-wired while working.
Your monitor will need to be 17" – minimum (capable of 1024 x 768). A flat panel display is highly recommended, televisions cannot be used as monitors. (External monitors are permitted for laptops with less than 17" screen)
A quiet, distraction-free, location in your home to work.
A telephone (landline or cell) is required for part of your training and team calls. This phone is not used receive your incoming work calls; your Internet connection is used for that.
An approved headset and flash drive will be required before you start working with us. They are not required as part of the application process, so please do not purchase them before we extend a job offer to you.
A strong candidate will be computer/Internet savvy, comfortable operating in several applications simultaneously.
We need you to be a "people person" who enjoys talking and assisting others. Think about how much you enjoy receiving excellent customer service yourself? Well, we need you to take pride in providing that same great service to others.
We require 7 days/week availability, as customer service is something that is provided by most companies every day of the week.
Schedules vary and will be discussed during the interview.
Great benefit options include: medical, dental & vision benefits, and 401K. We also offer attendance based wage increases, performance bonuses, and some programs include sales incentives.
If you're ready to become part of the Concentrix team, click here to learn more and to apply today! Be sure to share with friends and family who would love to work from home!