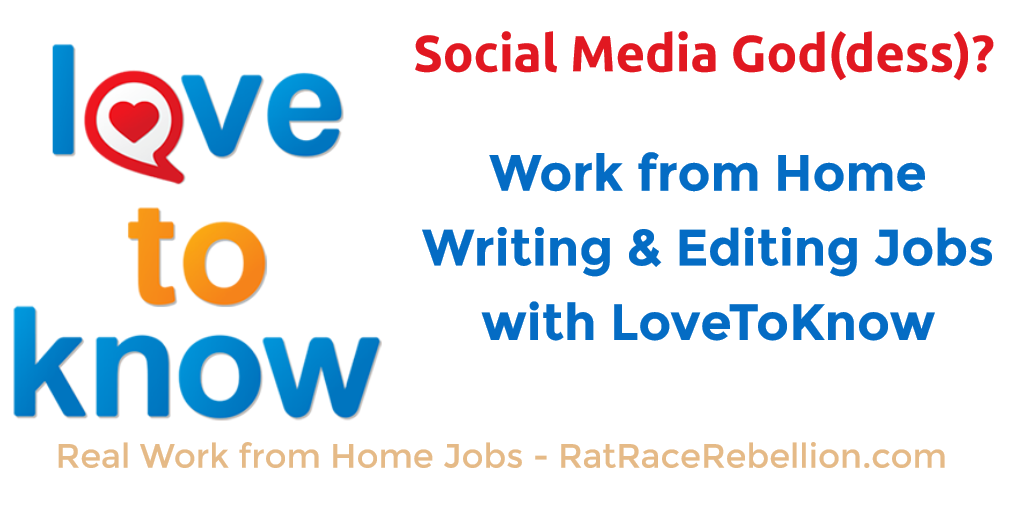 by Chris Durst       July 6, 2016
LoveToKnow is an online media company that regularly hires work from home Social Content Editors, Social Media Content Writers and Expert Topic Writers.
Content created for LoveToKnow if widely shared Twitter, Facebook, Pinterest, and Instagram. If you're active on social media sites, you likely read their content without knowing the original source.
Social Content Editors – "Must be the type of editor who is quick to take ownership, seek partners and have passion about the mission to grow our social media audience."
These editing positions require editing experience and they pay $20-$30 per article on average with current production at approximately 20 articles per month (and a target of 100 per month).
Social Media Content Writers – LoveToKnow wants writers with personality – funny, snarky, clever folks who can create readable, highly-shareable content.  As a writer, you'll pitch topics that are timely so it helps to be "in the know" about what people are talking about and what they are hungry to know more about!
Expert Topic Writers – In this role, you'll create, update, and merge a variety of topics based on the channel(s) you're assigned to. To qualify as an Expert Topic Writer, you will need to be a credentialed experts and they will provide a list of available assignments for you to choose from.
"Pay varies per individual article or assignment, but most range from $25 to $100 per article written."
To learn more about these opportunities with LoveToKnow, click here!
Please share this post and tell your friends and family about Rat Race Rebellion! 🙂

BE SURE TO CHECK OUT OUR OTHER RECENT POSTS FOR MORE JOBS